Seminar
The 5th ITPU International Seminar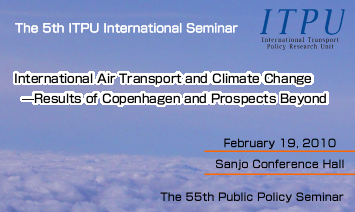 "International Air Transport and Climate Change"
—Results of Copenhagen and Prospects Beyond
Date: Friday, February 19, 2010
Venue: Sanjo Conference Hall (2nd Floor), Hongo Campus
Host: International Transport Policy Research Unit (ITPU), Graduate School of Public Policy, the University of Tokyo
Co-Hosted by:
Todai Policy Alternatives Research Institute (PARI)
Aviation Innovation Endowment Chair
Maritime Alliance
Objective
International Air Transport and Climate Change has been the one of the most urgently needed area for global policy formulation. The present policy framework through ICAO, after long discussion, has just begun to be finalized in 2009. In Copenhagen COP15, the major GHG emitting countries formed "Copenhagen Accord," but its treatment in the Convention system and COP process was somewhat unclear due to the strong opposition from several countries.
The remaining work will continue in the process towards COP 16, but the substantive progress seems very difficult, since the deep conflict of opinions not only among developed countries and rapidly developing counties but also among those plus most environmentally vulnerable / least developing countries. This process is more difficult especially under the present unpredictable situation from global economic downturn spearheaded in US 2008 and "Dubai shock"
Whatever the results and evaluations of Copenhagen COP 15, there is always more work to do since the climate change mitigation is the problem in the long term. Exchanging candid opinions and views about the results of COP 15 and discussing the factors and prospects for future policy formulation beyond 2009 is vitally important for all of us to move for the next step into 2010 and further.
In this seminar, participants are not formal delegates of their own countries, but they are experts, academics or practitioners on the issue of International Air Transport and Climate Change from their own area/country perspective. Therefore, we can discuss the issue both from academic and practitioner view points freely without restriction of "formal stances" for each country/area. Also the mix of participants are especially from Asia (including China) and Europe, which are the area of the present major players for GHG emission in the world.
The 5th International Seminar, therefore, invites renowned scholars, public policy implementation officers and business executives from the relevant regions, namely Asia, Europe and the North America to discuss candid expert opinions about International Aviation and Climate Change right after the COP 15. In the panel discussion, topics related to international maritime transport will be covered. The participants are expected to shed some light on the next policy formulation on this long term issues and the discussion can contribute to help bringing the sustainability to the international air transport.
Program
Opening Remarks
| | |
| --- | --- |
| 13:30-13:40 | Prof. Yoshitsugu Kanemoto, Dean, Graduate School of Public Policy, the University of Tokyo |
Lectures
| | |
| --- | --- |
| 13:40-14:10 | Mr. Tetsuya Tanaka, ICAO Secretariat |
| | (PDF, 1.51MB) |
| 14:10-14:40 | Prof. Yimin Zhang, Professor, China Europe International Business School,Shanghai,China |
| | (PDF, 553KB) * The presentation materials reflect only the author's view and do not represent the opinion of the Chinese government. |
| 14:40-15:10 | Mr. Frank Wetzel, Air Pollution Abatement and Energy Saving in the Transport Sector, Federal Environmental Agency, Germany |
| 15:10-15:40 | Dr. Annela Anger-Kraavi, Senior Researcher, Cambridge Centerfor Climate Change Mitigation Research(4CMR), Cambridge University ,UK |
| | (PDF, 773KB) |
| Break | |
| 16:00-17:30 | Panel Discussion |
| | Moderator: Prof. Yoshitsugu Kanemoto |
| | Panelists: Speakers above plus; |
| | Mr. Toru Sasaki, Director, ANA |
| | Prof. Hideaki Shiroyama, ITPU, Graduate School of Public Policy, the University of Tokyo |
| | Prof. Katsuya Hihara, ITPU, Graduate School of Public Policy, the University of Tokyo |
Closing Remarks:
| | |
| --- | --- |
| 17:30-17:35 | Prof. Akira Morita, Director, Todai Policy Alternatives Research Institute. Graduate School of Public Policy, the University of Tokyo |
Profiles
Summary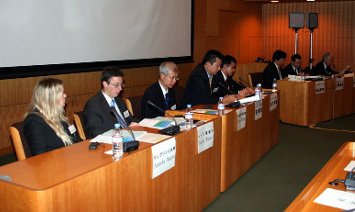 The 5th ITPU International Seminar was held on February 19, 2010, at Sanjo Conference Hall. About 90 people participated in the seminar.
Mr. Tetsuya Tanaka, Environmental Officer at International Civil Aviation Organization (ICAO) gave the first of the four presentations. He presented an overall picture of current policy issues related to international aviation and global climate change, including the global target for aviation sector agreed last year (i.e., global fleet-wide 2% annual fuel efficiency improvement up to 2050).
Next presentation was given by Prof. Yimin Zhang of China Europe International Business School, who strongly supports CBDR (common but differentiated responsibility) principle, since for China global climate change is not only an environmental issue but also a development issue.
His presentation was followed by Mr. Frank Wetzel at the Federal Environmental Agency of Germany. Mr. Wetzel told the cap setting goal for CO2 emission will be expected to produce more comprehensive, thus better, results than the efficiency-based target.
Dr. Annela Anger-Kraavi, Senior Researcher at Cambridge Centre for Climate Change Mitigation Research (4CMR), was the last speaker. She provided an explanation about economic theory of emission trading, the estimate of net effect of introducing international aviation to/from EU area into European Union Greenhouse Gas Emission Allowance Trading Scheme (EU-ETS), and the prospect of future cap level that will be a basis for EU-ETS.
After a break, Mr. Toru Sasaki of All Nippon Airways, Prof. Hideaki Shiroyama and Prof. Katsuya Hihara of ITPU, together with Prof. Yoshitsugu Kanemoto, Dean of the Graduate School of Public Policy, as moderator, joined the four speakers at the panel discussion.
As examples of sticking points to reach agreement, five aspects (targets, methods/measures, support for developing countries, principles, negotiation framework) were introduced. On these aspects, it was discussed that it might be necessary to agree on the first three out of five aspects simultaneously, and thus it would be important to overcome the fundamental conflict between CBDR and non-discrimination principle (the Chicago Convention).
Some panelists argued it would be critical to search for a practical solution to accommodate the two conflicting principles, CBDR and non-discrimination principle. Others mentioned that it is desirable to make the marginal costs of CO2 reduction uniform across countries in the world, ICAO's reduction target actually tried to approach that situation, and that EU-ETS may be a possible solution for reduction efficiency, but other global framework may be necessary since EU-ETS is only a local framework for a global problem such as climate change.
Related Resources