Seminar
The 6th ITPU International Seminar
"Further Liberalization and Cooperation in North East Asia"
Date: Friday, June 11, 2010
Venue: Hotel Nikko Kansai Airport (Osaka)
Host by: International Transport Policy Research Unit (ITPU), Graduate School of Public Policy, the University of Tokyo
Co-Hosted by: Todai Policy Alternatives Research Institute (PARI), Kansai International Airport Co., Ltd.
Supported by: Civil Aviation Bureau, Ministry of Land, Infrastructure, Transport and Tourism Japan
Objective
Air Transport in North East Asia has experienced dramatic growth in the last few decades and is expected to be one of the fastest growing markets in the 21st Century.
Aeronautical authorities of North East Asia have taken leadership in facilitating growth of the air transport service, however, as socio-economic relationship between the nations gets closer, we are faced with a new challenge of fostering a solid air transport industry that would support further integration of the North East Asian economy, in order to expand room for further growth through liberalization, but also to cultivate cooperation within the region.
This seminar is the 5th International Symposium on Air Transport Liberalization and Cooperation in Northeast Asia (6th International Seminar) hosted by ITPU, Graduate School of Public Policy, the University of Tokyo. The seminar is planned to serve as a continuing forum for further development of air transport in North East Asia. It has been planned to invite high-ranking officials and leading academics in North East Asia air transport to provide an opportunity of having an in-depth discussion about the future policy initiatives.
Program
Opening Remarks: Professor Yoshitsugu Kanemoto, the University of Tokyo
Welcome Address: Chairman Satoshi Iwamura, Kansai International Airport Co., Ltd. (Professor, the University of Tokyo)
Lecture 1 "Global and Regional Aviation Trend"
Canada
Professor Tae-Hoon Oum (the University of British Columbia)
"Global Air Transport Development and NE Asian Air Transport: Status Review and Future Agenda"
China
Professor Yunchun Cao (Civil Aviation University of China)
"Chinese Aviation Situation and Prospects for the Future"
Korea
Mr. Hyun-Churl Lim (Deputy Director General of International Air Transport Division, Ministry of Land, Transport and Maritime Affairs)
"New Aviation Policy for New Challenges"
Japan
Mr. Shigeru Yoneyama (Senior Officer for Air Talks, Civil Aviation Bureau, Ministry of Land, Infrastructure, Transport and Tourism)
"Air Transport Liberalization (Open Skies) of Japan: Present and Future"
(Lunch Break)
Lecture 2 "Further Liberalization and Cooperation in the Region"
Professor Yeong-Heok Lee (Korea Aerospace University)
"The Effects of Open Sky and the Growth of LCCs in NE Asia"
Dr. Yeon-Myung Kim (Director of Air Transport Research Department, Korea Transport Institute)
"Korea's Airport Development Plan for the Single Sky in NEA"
Associate Professor Hiroshi Ohashi (the University of Tokyo)
"Mergers and Acquisitions in the Airline Markets: Some Implications from Japanese Experience"
Associate Professor Yuichiro Yoshida (National Graduate Institute for Policy Studies & the University of Tokyo)
"Underestimation of Inefficiency in Social Efficiency Measurement with Non-Parametric Methods of Production Technology Identification"
Professor Katsuya Hihara (the University of Tokyo)
"Airline and Airport Relationship Case Study in Japanese Market"
Panel Discussion(moderated by Professor Kanemoto) "About Further Liberalization/Cooperation and Policy Implications"
Closing Remarks: Mr. Tsuyoshi Takeuchi (Senior Executive Vice President of Kansai International Airport Co., Ltd.)
Summary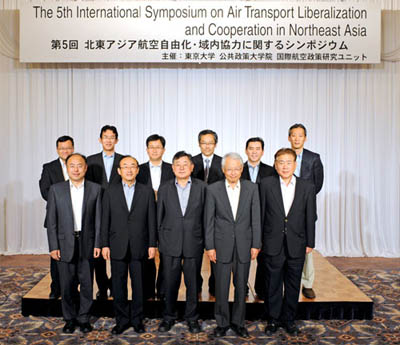 The summary of the discussions at the 6th ITPU International Seminar (5th International Symposium on Air Transport Liberalization and Cooperation in Northeast Asia) is as follows:
1) Potential for Air Transport in Northeast Asia
Demand of the air transport in Northeast Asia is likely to increase in accordance with the economic growth and increase in demand for tourism in the area.
2) Potential for Low Cost Carriers (LCC)
LCC has a great potential to grow in the Northeast Asia. This is because LCC transport expansion there is not as remarkable as in North America and Europe. "Democratization of transportation" may also contribute to the growth of LCC in the region.
3) Further Progress of Air Transport Liberalization
As the regional air transport liberalization within Southeast Asia is in progress, it was meaningful to discuss further progress of air transport liberalization in the Northeast Asia.
4) Possibility of Plural Airports in Large Cities
In Japan, functional demarkation of airports in metropolitan areas, such as Narita and Haneda, Kansai and Itami, and so on, and their governance structures are being discussed. The similar discussion has started on Inchon and Kimpo airports in Korea. Discussions on airport integration should be thorough and extensive, not only supply-side but also demand-side.
5) Future of This Symposium
In terms of public policy, it is tremendously important to hold an international symposium with participants from academia, government offices, and business community in attendance. To continue this symposium and to have an ongoing opinion exchange will be expected.
Related Resources