I studied at National University of Singapore, Lee Kuan Yew School of Public Policy as a Double-Degree candidate from August 2010 until May 2011.
I had two goals in my mind when I started the one year. My first aim was to think about my feeling towards Japan and my identity as a Japanese by looking at the country from outside. I wanted to know how people outside Japan, especially government officials from other countries, are looking at Japanese culture, history, politics, policies, and economy. My second aim was to improve my English skill to participate in academic discussions and persuade people from other countries in English. Conversation skill is not sufficient to argue and convince someone in English.
There were two reasons why I chose Singapore to study abroad. First, I was interested in Singapore's policies. Since Singapore has scarce natural resources and put emphasis on developing human resources, I first thought that Singapore and Japan have many things in common, and that I could learn many policies from Singapore to implement in Japan. In fact, I now realize that Singapore and Japan are very different countries. For example, Singapore did not have difficulty opening up as a trade-focused country as it did not have large agriculture sector, which is totally different from the situation in Japan. Still, learning about Singapore's policies enabled me to compare them with Japan's policies and think about Japan's policies from a different perspective. Second, I wanted to improve my Chinese, which I learned in university before for a year. Since local people in Singapore most of the time spoke to me in Chinese, my Chinese listening and speaking skills highly improved.
Among the classes I took in LKY, "Politics and Policies in Southeast Asia" and "Security in Asia-Pacific" were the most interesting. In "Politics and Policies in Southeast Asia", we learned and discussed histories after WWII, political regime and policies, and current issues, of Malaysia, Indonesia, the Philippines, Myanmar, Thailand, Vietnam, and Singapore. Learning about Southeast Asia's politics and policies let me understand deeper about the current situations in the region, and also made visiting the countries much more interesting.
North Korea's nuclear issue, the relationship between PRC and Taiwan, and territory issue in the South China Sea were the topics covered in "Security in Asia-Pacific". The professor was close to both Chinese and American policy makers and had information from both sides, and I learnt different perspectives from the perspectives I learnt in Japan.
I also took a few methodology classes, such as "Policy Research Design and Methodology". Experimental Designs and Field Research Techniques were some of the things taught in that class. The biggest assignment for that class was to develop a program evaluation scheme for an actual program conducted by an existing organization "Singapore Indian Development Association". This assignment made students apply the methods leant in the class to the real world and was useful.
Most of the classes were interactive. In fact, in one class, 50% of the final grade was "participation". Although at first I first could not get used to the style, I made it a requirement for myself to speak out at least once at each class, and gradually got familiar to actively say my opinion or questions in classes.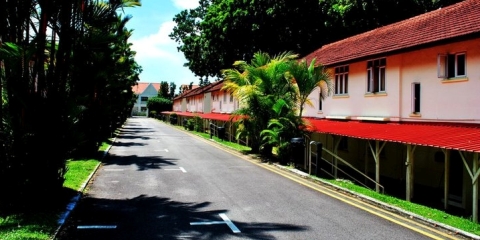 Classmates I studied together at Lee Kuan Yew School of Public Policy were very diverse. Most of them were working for government or government related organizations in Southeast Asia, China, and India. It was a precious experience to get to know them personally by casually talking with them and by doing school activities.
Lastly, Singapore was a perfectly suitable place as a base to travel around Southeast Asia. I traveled many times around the region on weekends and holidays by budget airlines. Although I could not visit all the countries in Southeast Asia, I travelled to many places and could feel the differences of culture, national characters, and level of development. Furthermore, histories, politics, and policies I leant in a class enabled me to relate those factors to the differences of each country. In addition, travelling with friends from different countries was a good opportunity not only for knowing my friends well but also to know what images and thoughts my friends were having on countries in Southeast Asia, which became a help to think about what can be done to make people have good impression on my country.