Admission Types + Schedule
Application Schedule for 2018 Enrollment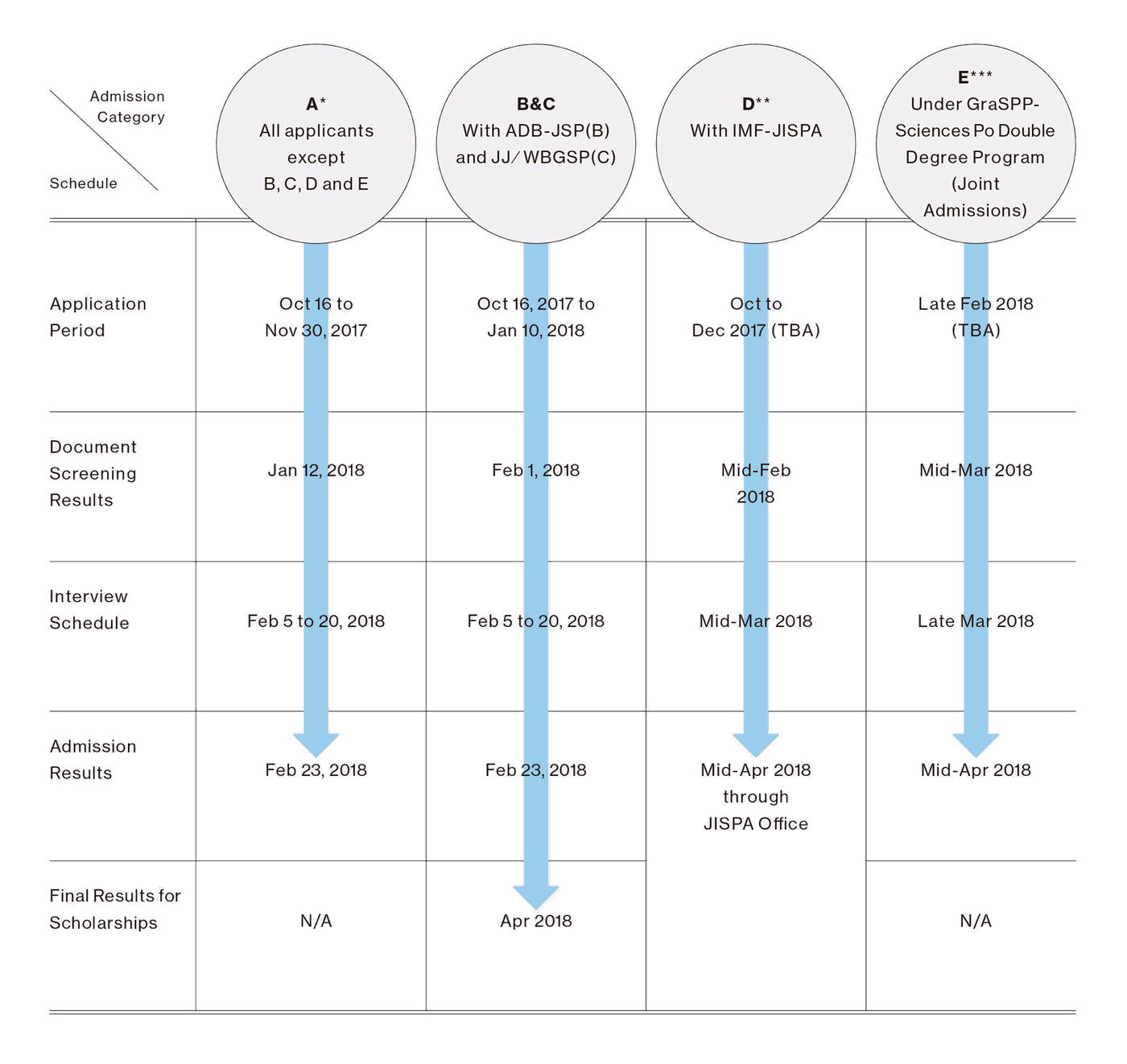 Notes by Admission Category:
* Category A: Enrollment on April 1, 2018 is also available to limited applicants. Applicants with CAMPUS Asia Program option should submit a separate application to the CAMPUS Asia Program Office.
** Category D: Applicants with IMF-JISPA option should follow the instructions on IMF's website.
*** Category E: Applicants under the GraSPP-Sciences Po Double Degree Program option (Category E) should check MPP/IP website in early autumn for applying through Sciences Po online application system.
* CAMPUS Asia Program:The CAMPUS Asia program has been initiated by trilateral cooperation of the governments of China, Japan and South Korea.  The BESETO Consortium comprised of Peking University, Seoul National University and the University of Tokyo offers an unprecedented three-way double degree and exchange program in the fields of International Studies, Law and Public Policy in East Asia. Participating Japanese students will be provided with financial support from each government to study in Beijing and Seoul, covering airfare, monthly stipend and accommodation. Chinese students are not eligible for this program due to the policy at Peking University. Maximum 10 students each year are accepted to this program.
*** GraSPP – Sciences Po Dual Degree Program:This two-year double degree program with Sciences Po's School of Public Affairs is designed for young professionals who want to gain an expertise in the management and evaluation of public policy in both Japanese and the European contexts. Students are selected separately through joint admissions by GraSPP and Sciences Po. Candidates must apply via online at Sciences Po's website. The First year students will study in Paris and second year in Tokyo. Students to be enrolled at GraSPP in April can also apply. About 10 students each year are admitted to this program.