Event report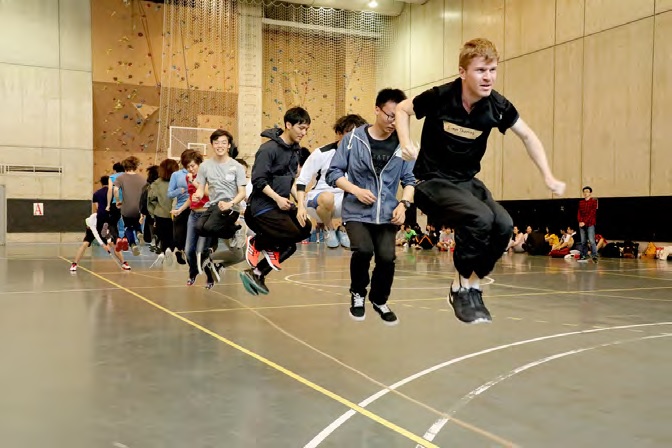 Akito Goto
2nd year of MPP/IP
Held for the first time last year, this year's GraSPP Olympics, an event for new entrants put on by the GraSPP Student Council, was held on April 4th. About 80 first-year students who had started at GraSPP between September last year and April this year gathered in the morning at the Gotenshita Memorial Arena on the Hongo Campus. Just like last year, the three events were tug of war, tamaire (a type of ball game), and long rope jumping. The participants looked on as if astonished to find themselves, now students at a graduate school, participating in events from an elementary school sports day. The Japanese students had first to overcome a language barrier to explain these games to those from overseas.
The first event, tug of war, tested teamwork. The hastily put together teams competed in rounds that were nominally set to last for 30 seconds.
Once underway, though, it took only a few seconds to settle victory one way or the other. The second event, tamaire, called for strategy. The rules were changed from last year, with a player chosen from each team to stand under a basketball goal holding a basket while the remainder of the team tried to throw their balls into the basket from the centerline some meters away.
Each round lasted for five minutes. Although success was simply a matter of timing the throw of each ball, the enthusiasm of the participants for toting up points saw the player holding the basket being subject to a sudden hail of powerfully thrown balls, like artillery shells raining down over a battlefield. While balls thrown by children of elementary school age are one thing, this event saw the player holding the basket being bombarded in face and body by balls thrown by adults of twenty or more as they went all out to get them to land in the basket. The final event of long rope jumping tested the ability to get everyone working together. Getting a bunch of people who had only just laid eyes on each other to all jump up and down together was a near-impossible undertaking. While some teams succeeded in racking up more than 20 consecutive jumps in their five-minute round of competition, the previous year's record remained in place.
With two students getting themselves injured amid all the excitement of the games, this year's Olympics leaves challenges for next year's event to grapple with, not least being how to prevent accidents. A long with al l the happenings, the camaraderie built up between the Japanese and overseas students as they formed themselves into teams and raised a sweat together was a testament to how there are no borders in sport.
No doubt the students were able to further deepen this camaraderie during the policy challenge that took place later that afternoon.