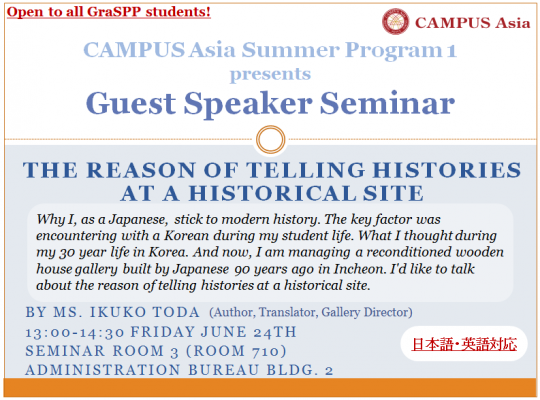 Open to all GraSPP students!
We will have a special lecturer from Korea for the CAMPUS Asia Summer Program 1.
Title: The reason of telling history at the historical site
Why I, as a Japanese, stick on modern history. The key factor was encountering with a Korean during my student life. What I thought during my 30 year life in Korea. And now, I am managing a reconditioned wooden house gallery built by Japanese 90 years ago in Incheon. I'd like to talk about the reason of telling histories at a historical site.
Lecturer: Ms. Ikuko TODA (Author, Translator, Gallery director)
Date & Time: Friday June 24th 3rd period
Place: Room Seminar Room 3(Room 710) Administration Bureau Bldg. 2
Language: Japanese and English