The 54th Public Policy Seminar
"The Post-Crisis Global Economy - Japan and Asia"
Dominique Strauss-Kahn, Managing Director, IMF
Venue: Koshiba Hall, Hongo Campus
Date: Monday, January 18th, 2010
Time: 13:10-14:50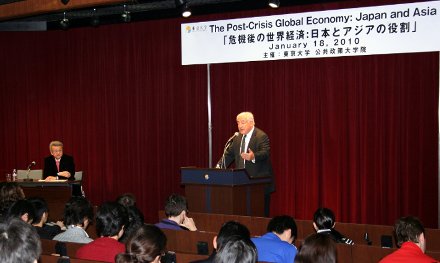 Summary
On Monday, January 18th, GraSPP welcomed IMF Managing Director Dr. Dominique Strauss-Kahn to the University of Tokyo's Hongo Campus. Dr. Strauss-Kahn's lecture was entitled, "The post-Crisis Global Economy—Japan and Asia," and was followed by a lively and frank Q&A session. University of Tokyo president Dr. Junichi Hamada gave the opening remarks, while Professor Takatoshi Ito moderated the event.
Dr. Strauss-Kahn opened with comments on the global economic outlook, and noted that while a recovery is currently underway, thanks in large part to successful inter-government collaboration, a return to sustained and stable growth is not yet assured. Public support, he said, and not private demand, is what is fundamentally behind the positive growth figures, and that most economies are still in need of government led support. Dr. Strauss-Kahn pointed to unemployment levels as a major source of concern, and said he expects these to continue to rise for at least for the next several months. As a response, governments will likely begin to redesign public support packages with an increased focus on boosting consumption.
Dr. Strauss-Kahn went on to address what the global economy might look like after the crisis is over, and what the IMF's role is and will be moving forward. He noted the system of old - American consumption, growth, and role as debt taker - will be replaced by a model of collective growth. While this move to a more even dispersion of debt and credit will help address some of the global imbalances rife in the international system, the transition will take time, and a concerted, collective effort by the global community will have to be made. Dr. Strauss-Kahn said that the IMF would do its part, and will advise the G20 on how to best evaluate and undertake the building of a new global financial framework. While he took responsibility for the IMF not predicting the recent financial crisis, he mentioned that IMF noticed the depth and severity of the downturn at the very beginning of the crisis and its guidance to the global community in the aftermath was appropriate and effective. He went on to say that even in the case of the Asian Financial Crisis, IMF policies, while controversial, did solve the problem at hand, albeit at a huge cost.
Dr. Strauss-Kahn opened the floor to questions from students, which ranged from specifics concerning country/IMF negotiations, growth as it relates to the environment and technology, issues surrounding Asian monetary integration, and the IMF's role in helping to avoid the financial recklessness that was at the heart of the recent crisis.
Photo Gallery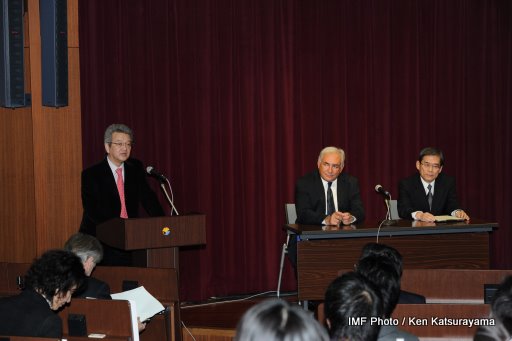 Related Resources