The 59th Public Policy Seminar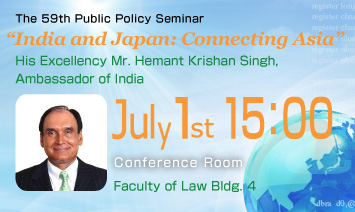 "India and Japan: Connecting Asia"
His Excellency Mr. Hemant Krishan Singh, Ambassador of India
| | |
| --- | --- |
| Date: | Thursday, July 1st, 2010 |
| Time: | 15:00-16:30 |
| Venue: | Conference Room, 8th Floor, Faculty of Law Bldg. 4, University of Tokyo |
| Language: | English |
On July 1st, 2010, His Excellency Mr. Hemant Krishan Singh, Ambassador of India gave the 59th Public Policy Seminar at Conference Room, 8th Floor, Faculty of Law Bldg. 4, University of Tokyo.
There was a lively discussion about "India and Japan: Connecting Asia".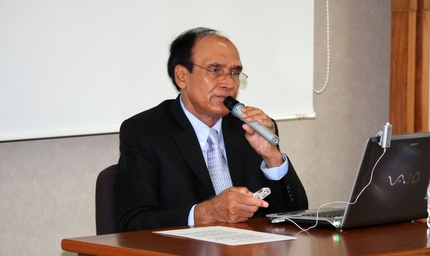 His Excellency Mr. Hemant Krishan Singh, Ambassador of India
Summary
On July 1st, 2010, His Excellency Mr. Hemant Krishan Singh, Ambassador of India to Japan, gave a lecture to Todai students and faculty entitled, "India and Japan: Connecting Asia." Professor Imura moderated the event.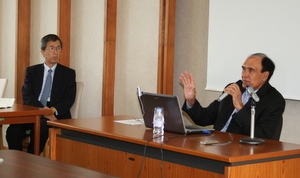 Ambassador Singh began by reviewing India's historic influence and close cultural interconnectivity with East and South East Asia. Tracing the flow of culture, economies, and people between ancient Asian territories, Ambassador Singh demonstrated the intimacy of the region's shared history. These connections, he said, are being revived with the growth of China and India. With this revival will come a host of opportunities and challenges as the current world order shifts towards a more Asia-centric balance of power.
Ambassador Singh then focused on the Japan-India relationship, noting, "it's hard to imagine two countries with such a prolonged historical connection which has never been marred by dispute or conflict." He drew similarities between Japan and India, both in terms of the importance of spiritual living - Buddhism and Shintoism - and shared ideals that reflect a common understanding of universal human rights. Describing the essence of modern India, Ambassador Singh said that what most defines the nation today is its dogged pursuit of the eradication of poverty through the championing of liberty and justice and democratic values. In this light, as two of the world's leading democracies, Japan and India are important strategic partners.
Speaking on Asia's security environment, Ambassador Singh warned, "the greatest threat to stability and security in our region emanates from the shelter terrorist find in the boarder areas of Afghanistan and Pakistan." In this regard, he said, it is essential for Pakistan to address the concerns of the international community to ensure the elimination of terrorist groups operating within its borders. Ambassador Singh confirmed India's posture of peace and transparency, and compared the functions of India's armed forces with that of Japan's Self Defense Force. He highlighted maritime security issues and disaster relief initiatives as key components of the Japan-India bilateral relationship, and while progress has been made in these areas, much work remains to be done.
Ambassador Singh noted several important bilateral initiatives, including railway freight infrastructure development (DFC) and the proposed Comprehensive Economic Partnership Agreement (CEPA). India's "Look Easy Policy" is now nearly twenty years old, and according to Ambassador Singh, it "is vitally important" for India's push towards further regional integration that Japan successfully revitalize its economy. By working together, both countries can take advantage of one another's expertise and knowledge base.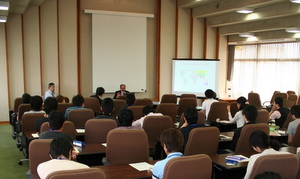 In addressing the recent discussion concerning an East Asian Community, Ambassador Singh stressed that the East Asia Summit was the optimal means of transcending regional discord, and that he awaits further leadership from Japan moving forward. "There can be no regional structure in Asia, whether in the field of security or of economic integration, which can be complete without the participation of both Japan and India." He noted that the major obstacles to realizing an EAC are the well document differences in regional political systems and values, and that the EU model cannot be transposed on Asia.
Ambassador Singh concluded the lecture by taking Q&A from the audience and reaffirming the importance of the Japan-India relationship. As the most advanced Asian democracy and the most populous Asian democracy, the positive implications of a close, efficient, and mutually beneficial relationship are immense. The degree of cohesion between Japan and India and the rest of Asia will, he said, determine how fast and how far the region's economies will grow. In describing the future potential of Japan-India collaboration, Ambassador Singh described the relationship in one phrase: "There is perhaps no other major relationship in the world with so much unrealized potential."
Related Resources