The 63rd Public Policy Seminar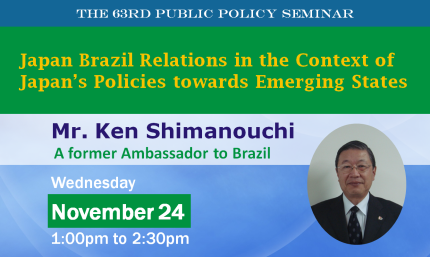 "Japan Brazil Relations in the Context of Japan's Policies towards Emerging States"
Mr. Ken Shimanouchi, Former Ambassador Extraordinary and Plenipotentiary to Brazil
| | |
| --- | --- |
| Date: | Wednesday, November 24, 2010 |
| Time: | 13:00-14:30 |
| Venue: | Conference Room, 8th Floor, Faculty of Law Bldg. 4, Hongo Campus |
| Language: | English |
| Co-Hosted by: | Todai Policy Alternatives Research Institute |
On November 24th, 2010, Mr. Ken Shimanouchi, Former Ambassador Extraordinary and Plenipotentiary to Brazil, delivered the keynote speech at the 63rd Public Policy Seminar, The University of Tokyo.
There was a lively "Japan Brazil Relations in the Context of Japan's Policies towards Emerging States" discussion following the lecture, with Mr. Ken Shimanouchi hosting Q&A from students, faculty, and staff.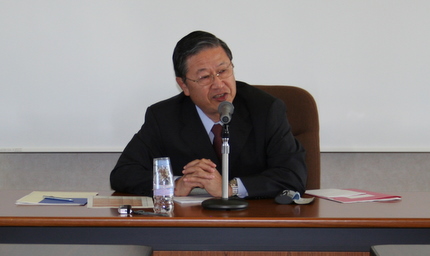 Mr. Ken Shimanouchi, Former Ambassador Extraordinary and Plenipotentiary to Brazil
Summary
On November 24th, His Excellency Mr. Ken Shimanouchi, Former Ambassador Extraordinary and Plenipotentiary to Brazil, delivered the keynote speech at the 63rd Public Policy Seminar — "Japan-Brazil Relations in the Context of Japan's Policies Towards Emerging States." Professor Keisuke Iida moderated the lecture.
Ambassador Shimanouchi began the lecture be recounting some of his personal experiences in Brazil, and relating them to strong Japan-Brazil relations more broadly. He commented on Brazil's robust economy and how its "best years are still yet to come." Speaking on how Japanese tend to view Brazil simply as a Latin American powerhouse, he urged that people enlarge their perspective to include it as a global player and not confine it to a narrow regional context. He then detailed Brazil's population (5th largest in the world), expansive landmass (twenty-three times the size of Japan), and abundant natural resource reserves and agricultural export dominance as a partial tribute to Brazil's potential moving forward.
The days of hyperinflation, economic and political instability that plagued Brazil until the mid-1990s are over, said Ambassador Shimanouchi. Today's Brazil, he said, "is a showcase of responsible economic management and vibrant democratic institutions." Ambassador Shimanouchi was impressed with Brazilian journalism, and noted the country's peaceful domestic environment and multiethnic population as a source of stability and dynamism. He believes much of the street violence and high robbery rates in large cities often reported by foreign media sources are blown out of proportion.
Turning to the rather special relationship between Japan and Brazil, Ambassador Shimanouchi recounted the 2008 celebratory events commemorating the anniversary of the first Japanese immigrants to Brazil in 1908. The Crown Prince of Japan traveled to Brazil for the festivities, and received an intimately warm welcome by Brazilian citizens, said Ambassador Shimanouchi, and highlighted what has become one of the world's most special bilateral relationships. Since 1908, Japanese immigrants have thoroughly integrated into Brazilian society, said Ambassador Shimanouchi, reaching the highest echelons of business, political, and civil service circles. The commander of the Brazilian Air Force, a Supreme Court justice, the Brazilian ambassador to Korea, members of the national legislature, and many locally elected leaders are of Japanese origin.
Ambassador Shimanouchi also spoke on the Japan-Brazil economic relationship. Brazil's lost decade of the 1980s combined with Japan's own economic decline in the 1990s to bring about a near twenty-year stagnated economic relationship between the two countries, in sharp contrast to the 1950-70s golden years of booming economic cooperation. Prime Minister Koizumi's visit to Brazil in 1994 sparked a return to strong bilateral relations, and correlated perfectly with domestic structural reforms in both countries.
Continuing on with examples of cooperation, Ambassador Shimanouchi mentioned how joint projects, including high technology cooperation and agricultural aid efforts in the African tropical savanna, have been growing in size and scope, and both deepen ties between the two countries while at the same time contributing to commitments of fulfilling active roles as responsible members of the international community.
Ambassador Shimanouchi noted the current shift in global power distribution. While "the alliance with the United States will remain the cornerstone" of Japan's foreign policy, he also urged for increased cooperation with emerging markets and ASEAN nations. He characterized BRIC member states as a group with "more divergence than convergence when it comes to economic interests," and that they differ greatly in political systems, basic values, and goals. In contrast, IBSA, made up of India, Brazil, and South Africa, may hold more promise in terms of cooperation because it is made up of like-minded democracies. For Japan, this group of emerging markets may prove most beneficial in terms of joint growth initiatives, said Ambassador Shimanouchi, as value systems are analogous and compatible between nations.
Ambassador Shimanouchi concluded by speaking on Brazil's President-elect Ms. Dilma Rousseff, saying that although some call into question her qualifications and leftist leanings, he believes she "may well be the right person for the job at this juncture." He characterized her as a strong leader with an excellent grasp of details. Ambassador Shimanouchi is also optimistic about Tokyo's relations with the incoming Brazilian administration, and believes Ms. Rousseff to be a strong supporter of ties and cooperation with Japan.
Related Resources