GraSPP >
Oct. 15th. 2012
The 72nd Public Policy Seminar
The University of Tokyo will host
a lecture by Her Excellency Madame Ellen Johnson Sirleaf,
President of Liberia and Nobel Prize Laureate 2011
on October 15, 2012.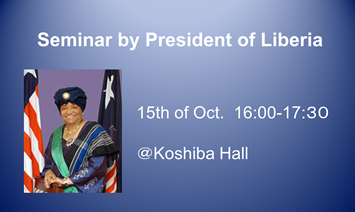 Her speech includes;
- current conditions and future of Africa, and the role expected from Japan as a donor
- how to achieve peace in countries with internal conflict and Liberia's own post conflict
- message to students, especially female students who aspire to become a leader in future
Date and Time: October 15th, Monday, 16:00-17:30
Venue: Koshiba Hall (MAP)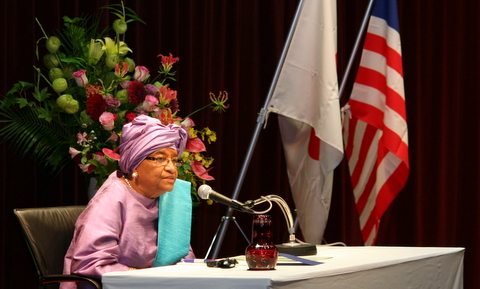 Her Excellency Madame Ellen Johnson Sirleaf, President of Liberia gave a speech at the 72nd Public Policy Seminar on the 15th of October.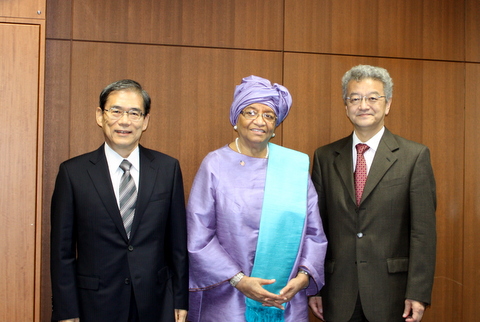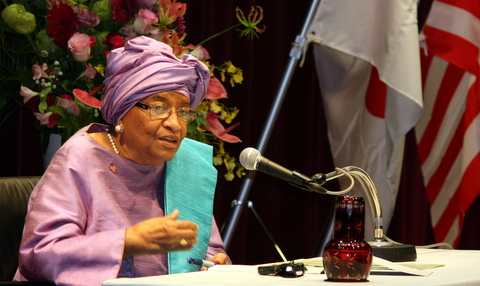 The summary of this lecture is available at the website, "Government of the Republic of Liberia".
Town Hall Meeting with President Sirleaf
Moderator (Dean Ito)
Let me give some comments on what the President mentioned about Asian tigers and African lions. Often, we in Asia say the 21st century is Asian century, implying that Asia will be the center of high growth. Indeed, the region called Developing Asia, including China, India, ASEANs, and others, has been growing at 8.9% for the period from 2003 to 2011. That's the highest growing region in the world. But, the second fastest growing region is not Latin America, not Middle East and North Africa, not Central and Eastern Europe, but of course, Sub-Sahara African countries. Now, the rival of Asia is Sub-Sahara Africa in the growth rate ranking.
Indeed, the World Economic Outlook of IMF just released last week, they list this regional ranking of growth rates and also individual countries. Liberia, I checked the number before I came here, has been growing at 7.2% since President Sirleaf returned to Liberia in 2003 and projected to grow at 8% this year and next. That's the IMF projection and this is a remarkable achievement.
So, it is possible that Asian century may be cut short and replaced by the African century, or the African latter half of the 21st century. But, of course, to realize that, the other African countries have to look up to President Sirleaf for good governance, investment friendly economic policies, and bring out the potentials of women and maintain peace.
This is my reaction to the President's speech.
Question from Mr. Akihiko Tanaka, President of JICA
I would like to share with the audience that Madam President is now playing a very important role in setting the target of international development cooperation beyond 2015. The United Nations Secretary General, Mr. Ban Ki-moon asked Madam President along with President Yudhoyono and Prime Minister David Cameron of Great Britain to act as the co-chair of the high-level panel to think about the development goals beyond 2015 by which the current Millennium Development Goals are supposed to fulfill their mission. So I wonder if Madam President would share with us some of your prospects about the goals that the international community has to set out beyond 2015.
President Sirleaf
Let me, first of all, say how honored Liberia is for me to have been selected as one of the three co-chairs for the 2015 high-level panel that will focus on the 2015 agenda.
The instructions from the Secretary General is to make sure that the panel adopts a realistic, achievable agenda that reflects the wishes of people around the world, particularly the poor, and so the process calls for rigorous consultation in all the regions, not only among government authorities but also civil society, the private sector, to ensure that the consensus that's reached would truly represent a global view.
Now, one of the first things is to look at the performance of countries under the MDGs and to use the last 3 years to see if there can be an acceleration of effort on the part of countries to make sure that they do not stop the work of the MDGs but try to achieve them by the date of 2015 as much as possible but now going beyond that to recognize that there have been since some changes, some of the MDG were launched in the year 2000 and that is environmental sustainability, taking into account things like climate change as was discussed in Rio, the G7+ group, of which Liberia is a part, wants to give special attention to ownership issues, and to recognize the specificity of fragile states. The ownership issue is one that also is coming up as an important thing, the management of natural resources and, at the same time, not to forget that poverty reduction still remains at the center of all one has to do to be able to achieve sustainability and overall development. So those are some of the thoughts. There's the secretariat in New York that's working with the Department of Economic and Social Affairs in the UN. Our own in Africa — that is our own institution such as the Economic Commission for Africa, the African Union— have commissioned studies and they were all leaders. At the end of the day, because the timeframe is short, the report has to be given to the Secretary General in May for presentation to the General Assembly in September, as much as the high-level panel will be able to do based on these consultations is to have a broad framework and I think then each country will have to take this framework and be able to reduce it based upon the specific country conditions and the specific country development objectives.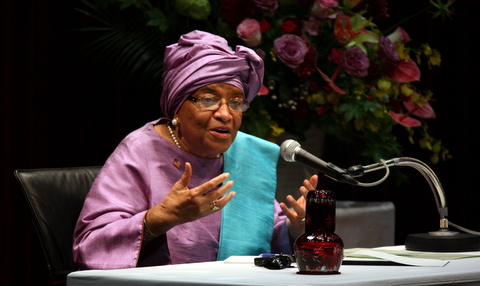 Question
What do you think the world can learn from Africa in terms of conflict resolution, peace talks, and those kinds of things?
President Sirleaf
We were not so good at that many years ago. But more recently, I think our institutions have taken firm policy measures as regard the importance of regular peaceful transfer of power thereby undermining dictatorships that lead to discontent, the promotion of regional cooperation and integration, thereby sharing experiences, the strengthening of our institutions in terms of their capacity to be able to respond to conflict and to be able to initiate the kinds of dialog through very quick action, determining early warning signals so as to prevent conflict, areas where in most recent years, Africa has developed to the place where we feel that we can now take a position and promote it and as a result, today, there are few spots of conflict and I have mentioned a couple of them. But generally, across the continent, peace is prevailing, dialog is succeeding, and democracy is spreading.
Question
I would like to have your advice on how to help countries of dictatorship to change to democracy? Also how did you keep the fire burning for nearly 4 years before coming back to your country and running for the election?
President Sirleaf
Today, our population is young. The communication revolution makes a demonstration effect so high in many of the places. Civil society is so vibrant and demanding. It's very difficult today for any dictator to carry on what was carried on before. I mean the young people would just not allow it. They are demanding accountability, transparency, their institutions are strong and so we've come to that era in the world when the things that could happen 20 years ago just cannot happen in our societies today. It just cannot. That's why you see most leaders are giving in, more countries are giving in to democracy and allowing people the freedoms because people are demanding it. Policies can help. Demonstration effect can help. Good examples and best practices are showed that if there's an open society with democracy, it tends to result in better economic growth and better development. Those are the things that we talk about in our institutions and so — but today, I think there may be one or two here and there, but I think they are the last.
What keeps the fire burning? For me, I always believe that our country had a potential that was untapped. A potential that has not been reached based upon our endowment both in natural resources and human resources and that Liberia, given what it had, should not be a poor country and what it takes is the collective effort, the leadership, the participation of all in the society to be able to achieve it. I think our 9 consecutive years of peace and the progress that has been made shows that that potential is indeed possible and can be realized. And so that's kept my fires and I hope the fire will burn after mine goes out.
Question
I'd like to know your opinion on how effective is the AU for the conflicts resolution in the continent and on what extent must Africa be looking towards advanced economies for the improvement of their economic environment. What incentives are you going to put in place as a bid for Japanese investors who are home biased?
President Sirleaf
Many years ago, the African Union's policy was non-interference in the internal affairs of member states. That has changed. Today, the principle of the responsibility to protect is one in which the African Union subscribes to, and this is why we have so many interventions, most times through dialog, which is appropriate, but that has brought about the kind of peace that the continent enjoys. Like I said, there are one or two exceptions and sometimes there are some reversals and some backtracking but by and large, if you want to admit, the African Union today is a strong unified body with protocols and understandings and institutions that are indeed promoting peace and development across the continent.
What kind of incentives will we give to Japan? I think we all have now investment incentive laws, policies, and arrangements that ensure participation with the government by sometimes there are tax waivers. Sometimes it's not so much the incentives in waiver, sometimes it's just the political environment, the stability that attracts investment, the skills that are needed to enable investors to operate at a level of efficiency and a level of competitiveness. We're not in all of our countries been able to offer those kinds but individual incentives — individual countries have come up with their own. We live in a competitive world. Harmonization across regions that are promoting custom unions and regional integration tend to make a particular region attractive for investment vis-à-vis others and going beyond borders and I think that is to be encouraged and the fact that we've mobilized the kind of foreign direct investment that I mentioned says that the continent is generally more attractive today because of some of those incentives.
Moderator
Let me elaborate the second question. It used to be that there are two divided worlds, the developed and developing. Now, we have a third category called emerging markets and some of the emerging markets made it to G20 status, which used to be G7 but now G20 seems to be more a running body, but G20 excludes 164 countries which are not in the G20 status and do you see the G20 as a friend of yours or the competitor of yours or how do you live in this complicated world?
President Sirleaf
We see G20 as bringing together a collective voice in some of the international discourse on economic performance and development. But today, globalization makes all of us part of an interdependent world. There's no escaping that. Whether you're like Liberia with a little less than 2 billion GDP, we are in the financial markets — global financial markets competing with countries that have trillions in GDP looking for same investment. You talk about the emerging economies, largely the BRIC countries. Today, we are in their supply chain and if growth falters as it is in the Euro Zone and growth is declining affecting the emerging nations, it affects us also because our own prices will rise so the prosperity of G20 countries rests on the fortune of the developed countries. It rests on the growth — the continuation of growth in all of those advanced economy because we have — we live in an interconnected world today.
Question
It is expected that, because of global warming, food production of Africa, especially Sub-Sahara Africa, will decrease while population of Africa will increase at an amazing rate. What should we prepare for lack of food?
President Sirleaf
Very true that the effects of climate change may well affect the production systems of our countries and clearly, it doesn't affect just Africa. You've had drought in places like the United States and you've had floods in other places that have affected the food supply that could result in rising food prices. Our response to that given the fact that only 1% of our land area — arable land is really under cultivation, if you leave aside the large — extractive — in this term the large export crops. So the response is now to focus on small farmers, to focus on food security as apart from export — exporting commodities and so you will begin to see more production and more effort at increasing productivity, increasing yields to be able to meet whatever changes would occur as a result of global warming and the climate change that results from that. But we all are monitoring this situation, I think, in all of our regions. We're looking at the effect of this. We're looking at the effective responses to that to see that we can maintain a certain amount of stability in the provision of our basic staples and in the promotion of our exports.
Question
You have mentioned that democracy and development are interrelated. But when we see Africa, most governments are focusing only on economic development, undermining democracy and human rights. Could you give us your opinion on this? Also, how do you see the role of China in Africa?
President Sirleaf
It is clear that some time ago, the record shows that authoritarian governments can indeed achieve growth and achieve development in those times but as I pointed out, things have now changed globally and for us, the African experience is very clear that democracy and development are reinforcing. One helps to strengthen the other and so the growth that you see today — the development you see today is coming from a more open society, a more participatory society, a society in which all feel a stake — all stakeholders are involved. It is not perfect. There are some places where there's unevenness in performance, unevenness in policies, but when we speak generally and we look at the record of experience, I think that is borne out by the facts.
Traditionally, many of our countries had partners that reflected our trading arrangements, north-south, specific areas in the north largely based upon the exploitation and export of our natural resources. Over time, every country has sought to diversify that partnership to make it more consistent with support for countries own homegrown priorities and so that has brought in other countries that may have not been part of the traditional trading relationship. China and other Asian nations also now form partnership. It is now up to each country to determine its own development goals and its own development priorities and to seek those partnerships that will support their determination of the country itself in what they want their priorities to be and so we applaud all of the countries that have been the strong partners to Africa and we'd like to see more and more of them, like I say, given the fact that we're so interconnected now where we can see these public private partnerships grow even more within this diversified setting. Did I cover all?
Moderator
I think so. Thank you. I think the role of Japan you'll learn in next semester or next year and President Tanaka will give that special lecture. It's a longstanding relationship.
Question
What was your strategy of forming your government especially the focus of the participation of females?
Moderator
We have a student who wants your personal advice so that she can become prime minister in the future.
President Sirleaf
There you go. There you go. I know you pointed to the 2000 women colloquium that we had in the country where we brought women leaders from all over, also rural women from within the country and that's served as a good example because these women came at a time when our country was not — was hardly developed. I mean everything were in ruins. Basically, we were just trying to reconstruct but they were courageous enough to come. We didn't have the kinds of comfort to which they were accustomed but they still came and they sent a lot of inspiration and motivation not only to Liberian women but to women around — around the world and I think maybe you are referring to the first police director who was a woman. She was teaching in the United States and we brought her in to be able to fight crimes. When it comes to — when it comes to how we selected women, I — you know, we ourselves did not have a 50/50 ratio of women to men because we did not have enough that we could identify that we're available and ready to serve so we did what we could. We tried to place them in strategic positions, nontraditional positions, so that they will serve as a model and an example so just like the case you cited out, I'm very pleased to hear you say you have one. What you say she is powerful. That makes a difference.
Question
Although Ethiopia, Ghana, Kenya and some other countries are growing fast, they are suffering from macroeconomic instability. How did you manage macroeconomic instability in your country?
President Sirleaf
There is a lot of macroeconomic stability that pertains in most of our countries. If we did not have that, if we had disequilibrium of the past, we would not achieve the growth and development that we have. Now, I grant you that our past experience and Liberia is a very good example of that. In the 1960s, Liberia's growth was second only to Korea, a country not far from here, but it was growth without development. So it's very easy to achieve growth but if that growth is not put back into productive endeavor to create employment and to have income, it can easily be reversed when external shocks begin to occur, but that is not the case today. I would dare say that even in Ethiopia to which you refer, there is a lot of work that has been done on macroeconomic stability and that has brought the kind of growth and development that you have. Please keep reading on that. Keep examining. Keep monitoring. I think you will find that I'm correct.
Question
You mentioned that Mr. Ban Ki-moon said that post MDGs should be realistic and achievable. What kind of ideas or agenda would you like to input into post MDGs in terms of the gender issues?
President Sirleaf
I think there are two areas that perhaps I did not mention that would like to figure very prominently in the dialog: youth employment to recognize the situation regarding our young people today; and more effort to continue women empowerment and women empowerment, of course, is indeed one of the indicators in the MDGs but one wants to see in the post MDG period that that also continues recognizing that a large percentage of women who are still not in the income chain can make a major contribution and thereby raise the level of GDP and development so, yes, you're right. It needs to be ambitious and as I said that will come from you. We're just looking at a framework but the actual dictates as to what that agenda should be like has to come from consultation with the people, with the institutions, and whatnot and to build as consensus that are really what the people want.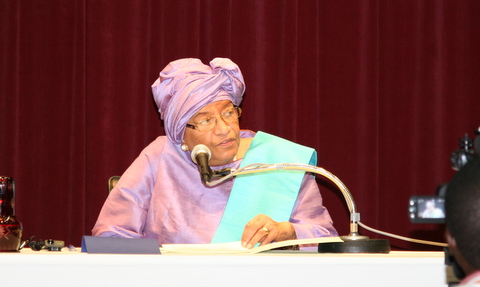 Question
What do you expect from Japanese people, not from the government?
President Sirleaf
What we'd like an individual to do aside from government effort is to get to know Africa better. Because that in itself we create the spirit of partnership and for those like yourself who have retired, we'd like you to come over there, spend your retirement with us, working with us in your professional field of endeavor. That would be nice.
Question
I hear that you are very admired and respected from young people in your country and I think they are very lucky to have a leader who can lead. What's your definition of leadership? What do you think is important for young people in the current situation to become a global leader?
President Sirleaf
I think a good leader is described as one that is able to motivate, to inspire people around a common agenda around shared values. Those who are able to do that tend to build a consensus that is necessary to achieve their development goals.
For youths, particularly in our context, it's ensuring that they get quality education, education that would enable them to compete with their peers in other regions of the world. That has — that's always been the experience in some of our countries where many of our young people because of the deterioration in the quality of institution may have lost some of their competitiveness. Our obligation is to try to restore that and to give them an opportunity for many, like my own, that come from a post conflict situation, it may be just giving them literacy training, enabling them to be able to learn a skill, and thereby become employable. So each country then has to address the youth issue in its own context even though the problem is general but the solution has to be country specific.
Moderator
President Hamada and I need your advice. How can we teach leadership? Is leadership something we can teach or students have to get it somehow?
President Sirleaf
A bit of both. I think students have to want to be leaders and that means they're going to apply their time. They're going to be active. They're going to take positions in their interactions and in their school environment, in their school institutions but at the same time, the tenets of leadership where there are good examples before us, in your country, in your region, in our region is those role models need to be pointed out and their own life story, their examples, you know, whether you're dealing with Aung San Suu Kyi or whether you're dealing with Nelson Mandela, whether you're dealing with some of those great leaders of our times, I think you need to teach a little bit more about them and what they stand for, what they stood for, and how they've been able — even going even back to Mahatma Gandhi, way back there. Martin Luther King and all those great leaders I think using them as an example can serve as an inspiration to many of the young people.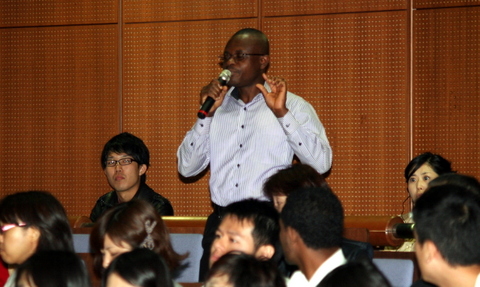 Question
You mentioned many great leaders. Who are the leaders that you read about or learned from when you were studying or even today when you're in the office and you need some inspiration or some guidance?
What are your views on what the government can do to make people more bankable or make banks more accessible, and what private companies or private citizens can do to contribute to progress on that area?
President Sirleaf
The leaders I have mentioned are all role models for me. You could go around the world and add a few others but those are base — those are basic ones. There are several others, some in your country, some in many other countries. I just mentioned a few as an example and many books and research has already been done on many of the world leaders and many of them are all role models for all of us.
Bankers are bankers. They finance based upon their assessment of risk, their assessment of being able to get the level of return that they want, and so you know what countries have done is to find those risk mitigated. In the case where you want a public sector investment, you would have come up with some guarantee scheme that helps to reduce the risk.
It's the collapse of some financial institutions tells us that at some point perhaps they deviated from the normal rule of being able to assess those risks properly and in their own drive for profits may have introduced some very aggressive instruments that led to the problem but right now, the global financial system is in stress and dialog is going on as to how that architecture can be remodeled but not losing sight of the fact that the fundamentals are there. The fundamentals of banking, the interplay of risk and return, will always be there and each country has to determine how they will work to be able to ensure that those returns are worth the risk and they have the condition whereby repayment of financial credits will be assured.
Moderator
What is your view on microfinance, those NGOs going into the village and arrange those small amounts lending?
President Sirleaf
Microfinance has been very successful in most of our countries. In Liberia, I think we have about 34,000 and I tell you the difference now, most of those who benefit from micro credit loans are women. The small women farmers, women traders, and women tend to take their credits seriously.
Moderator
Men don't?
President Sirleaf

No, I just think that because they're so committed to working hard and wanting to do well, their repayment rate on the micro credit loans, whether it's in Bangladesh or in India or in Africa, is far better than their recovery rate in major financial institutions where the larger type businesses, you know, many of them are failing in meeting their obligations and thereby damaging the portfolios of bank and undermining the whole credit system, so micro credits loans, I would like to see them expanded more and more to be able to support our women farmers and our women traders.
Question
I'd appreciate it very much if you could share some of your practical stories on peace building in your country?
President Sirleaf
Well, I think women organizations in most of our countries have played a very prominent and leading role in promoting peace and that's because women and their children are the most vulnerable in times of conflict and so they have much more of an incentive to promote peace for the sake of their children, for the sake of themselves and the vulnerability that they face and so what has happened in Liberia and other places is that women organizations have been in the forefront in advocating for peace and today, any time there's conflict in the society, you do find that the women will get together, will network, will promote peace, will argue for peace, and so that's an important part of peace building and peace maintaining and I'm glad that today their role has been recognized and many of them are getting the kinds of support that they need to enable them to continue to carry out this role.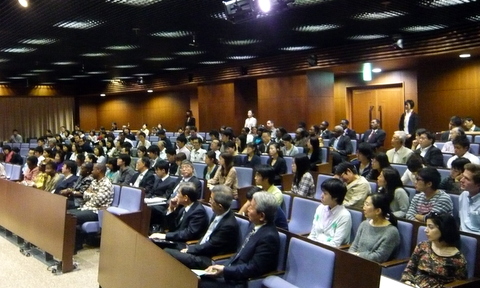 Question
There were some discussions in the Security Council on the reduction of the UNMIL military personnel. How much UNMIL has so far contributed to rebuild your country? How do you respond to that kind of discussion in the Security Council? Also the Security Council recently has passed the resolution which might lead to the possible international intervention to Mali. How do you respond to this development?
President Sirleaf
UNMIL has made a major contribution to maintain the peace in our country. As you know, Liberia was under and still is arms embargo and so the work done by UNMIL has enabled us to ensure peace, given us that time that we needed to be able to build our own army as we were building a new army and to professionalize the rest of our security forces, so they've made a major contribution. It's gone beyond peace keeping. They also work with us is some of the development areas and that has enabled us to also promote our development agenda.
The Security Council's discussion on Liberia recently had to do with the transition. The fact that after several years of peace, at some point, we know the peace keeping force must leave. They can't stay forever and so we have agreed with them on a transition that will have a slow draw down but will have enough flexibility to monitor the situation and address to any changing circumstance just to ensure that that peace continues until Liberia is in a position, based on an ongoing program, to assume full responsibility for its own security. So we're very pleased with that. The number has come down to 7000. There's a draw down plan, 3 to 5 years, and we hope that peace continues to prevail in our region and in our country to enable us to one day say, yes, Liberia now can stand on its own and provide its own security through its own internal organs.
The situation in Mali, as you know, ECOWAS took some very firm position that there would be no recognition of any means of power other than through democratic means and a dialog has been going on to restore democracy to Mali - dialog led by ECOWAS through one of our leaders, but the situation has elevated to the Security Council because of the situation in the north, in which an Islamic movement is tending to threaten the territorial integrity of Mali leading to a deficient of the country and that's something that nobody wants to see because it would undermine all the peace and development that Mali has been able to achieve to date, and dialog is ongoing even while the threat of military intervention is moving and we hope that the dialog will succeed and thereby preempt any chance of military intervention. But if it comes to that, I think the decision of ECOWAS now backed up by the Security Council says that we will watch and support dialog but if it fails, then other measures may have to be taken.
Moderator
Thank you very much and this is the end of time allocated to this town hall meeting.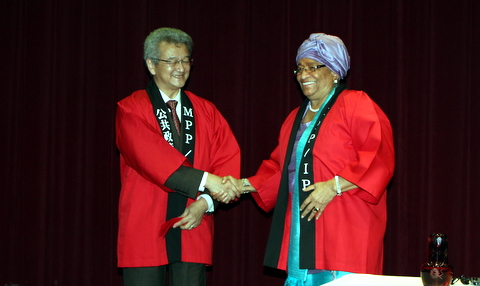 Related Resources