LKY-GraSPP Day 2014 / LKY Japan Trip 2014
Event Report
Kieran Hull
For any trip focused on Japan and its politics, it would be remiss not to consider the Great Earthquake which devastated the country in March 2011. Indeed, it was here where our trip started. Travelling around the Tohoku area, one could not help but feel a mix of emotions. At times, it was sorrowful. Hearing stories from the people of Onagawa about how their small village was irreversibly ripped apart was particularly touching. One man had lost his mother, his wife and one of his children—his recollection was deeply saddening. And yet, whilst the mood was sometimes sombre, the general feel of the area was one of hope and new beginnings. Travelling further around Tohoku, and south through Minamisoma and Fukushima City, the trip provided an insight into how the region is looking to regenerate. The strength of character and resilience displayed by the residents was remarkable.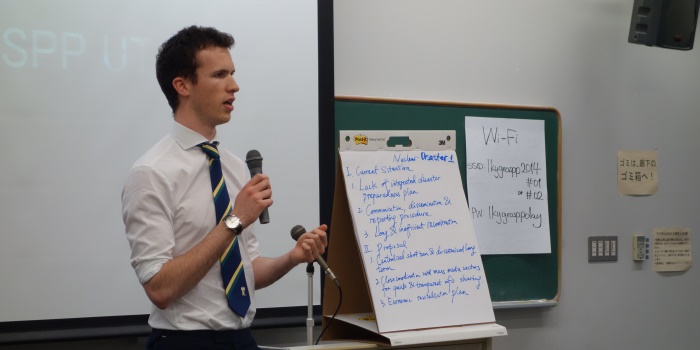 Moving to Tokyo, we began to view the disaster through the eyes of politicians and bureaucrats. Meetings with those involved during the period directly after the Tsunami, it was fascinating to get candid accounts of the time. For all budding public policy students, we were very lucky to get an insight into the quick decision making required. No option offered ideal solutions—making choices in this environment seemed extremely difficult. Of course, that is the role of politicians and bureaucrats. They brought a realistic approach to the problem—a balance is certainly required between the needs of those directly affected, who were unsurprisingly more emotionally involved, versus the desires of those in central government trying to rectify the situation.
Whilst Japan's nuclear conundrum and the cleanup after the Great Earthquake were significant focuses of the trip, there were many other elements. Learning about the Tokyo Olympics to be held in 2020 was definitely a personal highlight. Coming from London, a city which has most recently held the Olympics, I felt slightly nostalgic hearing about the wonderful journey Tokyo has just embarked on, knowing the impact the Games had on my own capital.
The trip finished off with a trip to Kyoto—the spiritual capital of Japan. It seemed very apt to spend the end of a week packed with meetings and appointments in a place of quiet reflection.
Looking back on the week, working with Lee Kuan Yew School of Public Policy was genuinely a pleasure. LKY School has a different demographic profile to GraSPP; as such, the opinions and viewpoints of the students are different too. Sharing time with such a mixed demographic, both in the learning environment of talks and presentations and in the more cooperative environment encouraged during the LKY GraSPP day organised at the University of Tokyo, was very 'eye-opening'. In my opinion, the trip can only be considered a success, and I hope it continues to build strong relations between two of Asia's top academic institutions.
Related Resources