The 2015 GraSPP Autumn Diploma Presentation Ceremony
2015年度9月修了生50名に学位記が授与されました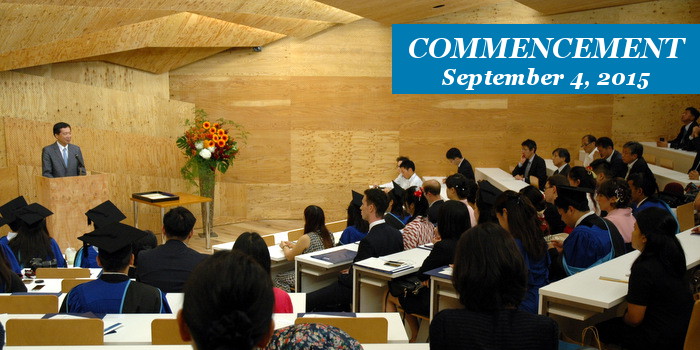 The 2015 GraSPP Autumn diploma presentation ceremony took place on Friday, September 4 at Daiwa House Ishibashi Nobuo Memorial Hall in Hongo Campus.
Fifty students were conferred the diploma.
The ceremony was attended by graduates and some family members.
The diploma was presented by Prof. Hideaki Shiroyama, the Dean of the Graduate School of Public Policy.
The commendation ceremony for high-achieving graduates was also held. Two students were given the Best Performance Award and the Outstanding Performance Award.
9月4日(金)2015年度公共政策大学院9月修了者50名への学位記伝達式が、本郷キャンパス内ダイワハウス石橋信夫記念ホールで行われ、修了生とそのご家族等が参列しました。
城山英明院長から学位記が手渡されるとともに、特別成績優秀賞1名、成績優秀賞1名が表彰されました。