I was looking for totally new cultural and civilizational experiences as well as a high level exchange in terms of academic content. In other words, my goal was not a "Club Med type exchange" but rather to achieve a new milestone in my professional career plan and put to test my capacity to adapt. Enrolling in the MPP/IP program matched my two objectives. I came in contact with a rich culture and attended classes in a reputable foreign University.
Furthermore, France and Japan share similar challenges such as public indebtedness, an aging population, and the imperious need to carry out energy transition. However, policy makers evolve and they implement reforms in different frameworks and geopolitical neighborhoods. I looked for the opportunity to think out of the box, in particular with regards to the EU's constraints. For instance, I wanted to know more about Abenomics. Last but not least, Japan remains a pivotal actor in the Asia-Pacific Region, the new nexus of international relations. By better understanding its interests and its functioning seems vital in grasping transformations occurring in the region.
About MPP/IP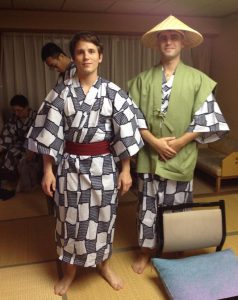 GraSPP offers a large and diverse range of classes with excellent professors who hold eminent positions. I was given the opportunity to try classes during the first four weeks before definitely registering. Finally, I choose nine classes, mainly related to energy or environment, but also about sovereign debt, innovation and technologies. Just to mention several instances and opportunities I had:  We visited the Ministry of Environment as part of the class  "Norms on the Environment: Creation and Compliance" with Professor Midori Tani. The course "Energy Security" taught by Professor Nobuo Tanaka was really stimulating. Inspiring guest were invited and we had interesting talks with them. I also had a class concerning energy policies with Professor Kazumasa Kusaka. We were very few in the class and I really appreciated the circumstances to interact with him in a casual atmosphere and learn from his experience and insight.
Last but not least, I was not expecting such an international backdrop in class. We were a very diverse group from all the continents and with many nationalities represented. I was able to expand my personal network and build new connections. The atmosphere was superb among the students.  During our leisure time we shared many activities together: parties, karaoke, sightseeing, sports and so on.
Studying in Japan
There are many benefits to studying in Japan. For instance, benefiting from the standard of living of a high-income country (food quality, transportation and education infrastructures) within a very safe society where insecurity and the feeling of insecurity almost do not exist. For a western student, the cultural enrichment offered in Japan is unrivalled. I found the Japanese people very hospitable and always curious about France. Moreover, I would like to thank the Japanese government for the JASSO Scholarship I was fortunate to have received. It was precious financial support in light of the high cost of living in Japan and reveals the desire of Japanese public authorities to attract foreign students.
In retrospect, I would have preferred to stay at Todai for one full year rather than just a semester. I did some sightseeing but not enough.  In particular, during holidays, I took the opportunity to spend one week in Kyoto.
I enlarged my vision of international relations and mingled with people from around the world. I acquired solid and credible knowledge on energy related issues and my awareness of their primary importance was strongly augmented as a result. It was during my journey in Japan that I made the decision to apply for the Master Sustainability at the HEC Paris business school where I am currently studying. In looking back, it was a good choice.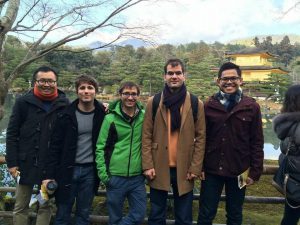 To be honest, studying in Japan requires a significant number of administrative processes which may be complicated especially for the non Japanese speaking student.
However, GrASPP administration was very supportive and the whole staff did its utmost to smooth out and remove any impediments and helped bridge the cultural gap. In particular, I must highlight quality of the tutoring system organized by GraSPP administration. I want to thank warmly Mr. Kazushige Yoshimaru who was my tutor. He helped guide me through the resident and health insurance registration process, opening a bank account, buying a cell phone, all this quickly upon my arrival in Japan.
I was fully integrated in the school regardless the fact that I was attending just one semester. At the beginning of the semester, the administration organized a welcoming trip in Izu for all the international students. It was a really luxury and an amazing experience where we discovered "Osen" and traditional Japanese food. I was always welcomed to attend all the events along the semester, such as for instance the 10 years birthday of GrASPP.
In other words, stop hesitating. Apply for MPP/IP exchange, you won't regret it.