Event
International Symposium Program 2017AY
Prospect of Decarbonization after the Paris Agreement
Date and Time
Thursday 8th February 2018 2:00pm - 6:00pm
Venue:
Fukutake Learning Theater (B2 Floor), Fukutake Hall, The University of Tokyo Hongo Campus
http://fukutake.iii.u-tokyo.ac.jp/english/access.html
Language:
Japanese, English (Simultaneous interpretation)
Organizers:
Graduate School of Public Policy, The University of Tokyo
INPEX CORPORATION
Co-Organizer:
The Institute of Energy Economics, Japan (IEEJ)
・Preregistration is required.
・Admission Free
・We will stop accepting applications once all the places are taken.
Registration is closed as we have reached our full capacity for the Symposium.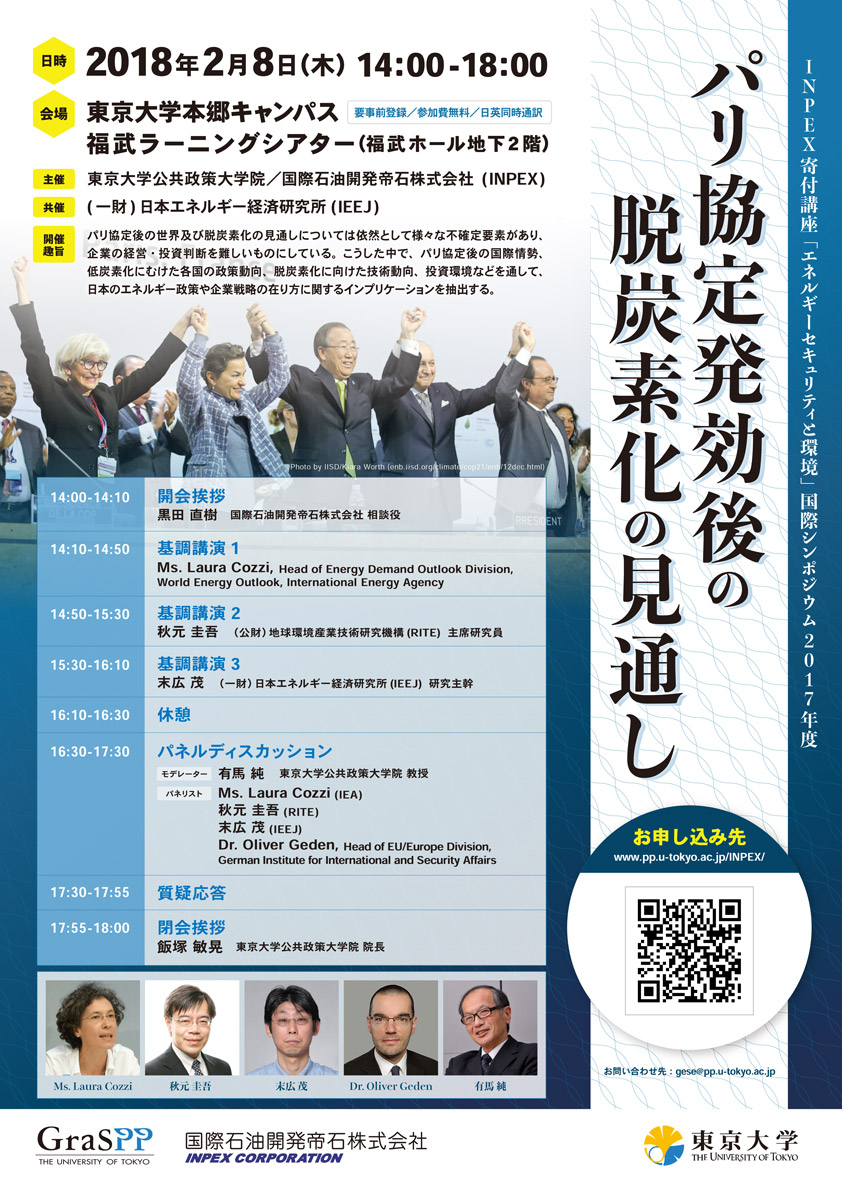 PDF(2.17MB/Japanese) 

Objective
There are still many uncertainties with regard to the speed and extent of decarbonization following the Paris Agreement, which is making business and investment decisions more difficult. With the participation of internationally renowned experts, this Symposium aims at highlighting international situation related to climate change, policy and technology trends towards low carbon economy and consequent investment climate and then elucidating key implications for Japanese policy/business direction.


Time Schedule
14:00-14:10

Opening Remarks:
Mr. Naoki Kuroda, Senior Corporate Advisor, INPEX CORPORATION

14:10-14:50

Keynote Speech 1:
Ms. Laura Cozzi, Head of Energy Demand Outlook Division, World Energy Outlook, International Energy Agency
[ PDF (510KB) ]

14:50-15:30

Keynote Speech 2:
Dr. Keigo Akimoto, Chief Researcher, Research Institute of Innovative Technology for the Earth (RITE)
[ PDF (2.8MB) ]

15:30-16:10

Keynote Speech 3:
Mr. Shigeru Suehiro, Senior Economist, The institute of Energy Economics, Japan (IEEJ)
[ PDF (614KB) ]

16:10-16:30

Break

16:30-17:30

Panel Discussion
Moderator :
Prof. Jun Arima, Graduate School of Public Policy, The University of Tokyo

Panelists :
Ms. Laura Cozzi (IEA)
Dr. Keigo Akimoto (RITE)
Mr. Shigeru Suehiro (IEEJ)
Dr. Oliver Geden, Head of EU/Europe Division, German Institute for International and Security Affairs


17:30-17:55

Question and Answer Session

17:55-18:00

Closing Remarks:
Dean Toshiaki Iizuka, Graduate School of Public Policy, The University of Tokyo