Event
International Symposium Program 2018AY
Future Scenarios for Global Energy Market under Growing Uncertainties
Date and Time
Monday 3rd December 2018 13:00pm - 17:30pm
Venue:
Fukutake Learning Theater (B2 Floor), Fukutake Hall, The University of Tokyo Hongo Campus
http://fukutake.iii.u-tokyo.ac.jp/english/access.html
Language:
Japanese, English (Simultaneous interpretation)
Organizers:
Graduate School of Public Policy, The University of Tokyo
INPEX CORPORATION
Co-Organizer:
The Institute of Energy Economics, Japan (IEEJ)
・Preregistration is required.
・Admission Free
・We will stop accepting applications once all the places are taken.
Registration is closed as we have reached our full capacity for the Symposium.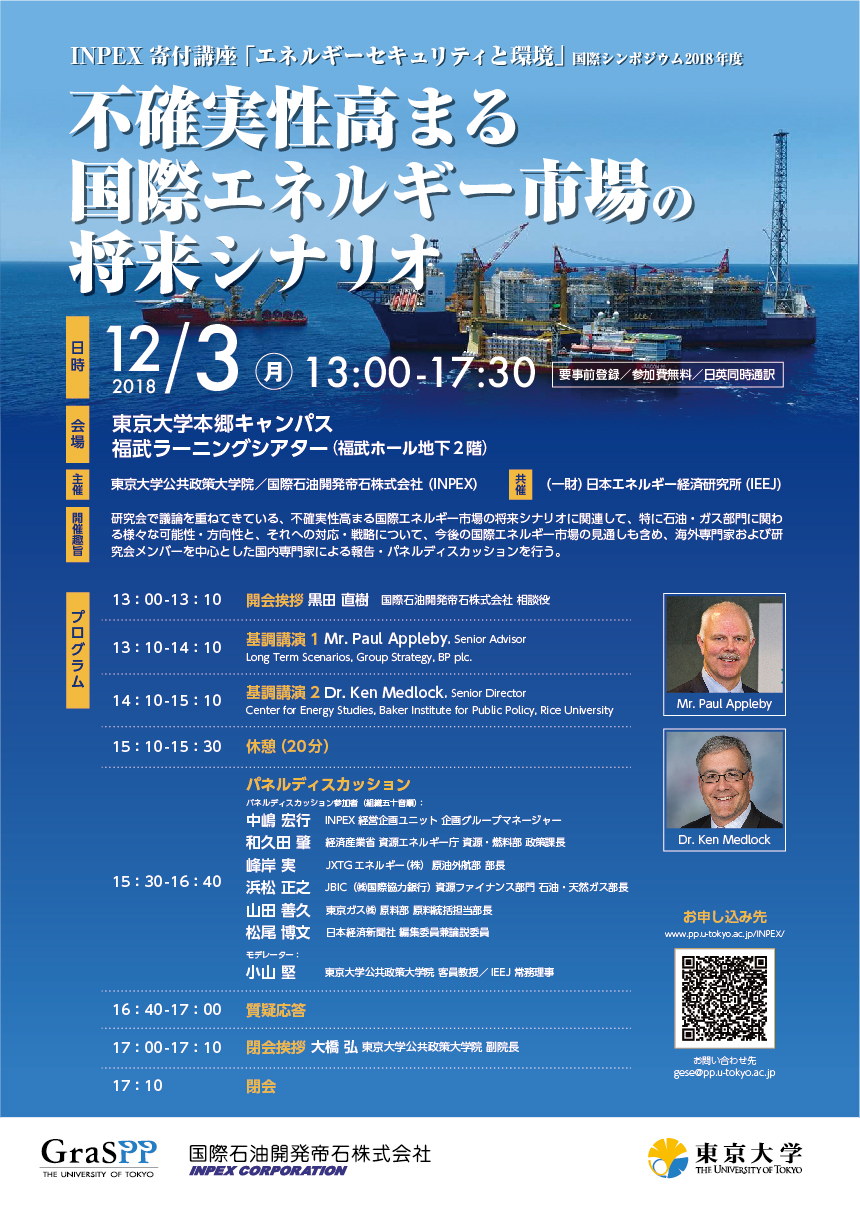 PDF(2MB/Japanese) 

Objective
The Symposium aims to discuss future scenarios for global energy market under growing uncertainties.

The discussion will highlight the challenges and opportunities for oil and gas sectors and the response measures and strategy taken to address the challenges.

For this purpose, the Symposium features keynote speech by prominent international speakers as well as panel discussion by Japanese experts, industry and government stakeholders.


Time Schedule
13:00-13:10

Opening Remarks:
Mr. Naoki Kuroda, Senior Corporate Advisor, INPEX CORPORATION

13:10-14:10

Keynote Speech 1:
Mr. Paul Appleby, Senior Advisor, Long Term Scenarios, Group Strategy, BP plc.
【PDF (2.3MB)】

14:10-15:10

Keynote Speech 2:
Dr. Ken Medlock, Senior Director, Center for Energy Studies, Baker Institute for Public Policy, Rice University
【PDF (1.8MB)】

15:10-15:30

Break

15:30-16:40

Panel Discussion
Moderator :
Prof. Ken Koyama, Visiting Professor, Graduate School of Public Policy, The University of Tokyo / Managing Director, The Institute of Energy Economics, Japan


Panelists :
Mr. Hiroyuki Nakashima, Manager, Corporate Strategy, INPEX
【PDF (3.7MB)】
Mr. Hajime Wakuda, Deputy Director, General, Natural Resources and Fuel Department, Agency for Natural Resources and Energy
【PDF (519KB)】
Mr. Minoru Minegishi, Deputy General Manager, Crude Oil Trading & Shipping Dept., JX Nippon Oil & Energy Corporation
【PDF (1.3MB)】
Mr. Masayuki Hamamatsu, Director General, Oil and Gas Finance Department, Energy and Natural Resources Finance Group, JBIC
【PDF (413KB)】
Mr. Yoshihisa Yamada, General Manager, Gas Resources Management Sect., Gas Resources Dept., Tokyo Gas
【PDF (1.8MB)】
Mr. Hirofumi Matsuo, Senior Writer / Editorial Writer, NIKKEI
【PDF (249KB)】


16:40-17:00

Question and Answer Session

17:00-17:10

Closing Remarks:
Vice Dean Hiroshi Ohashi, Graduate School of Public Policy, The University of Tokyo