Fukushima and Honest "I"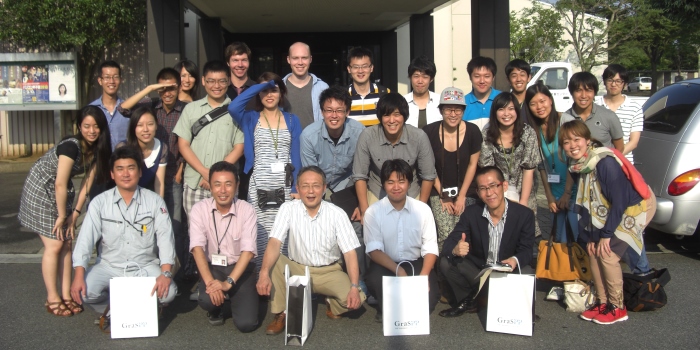 Prior to coming here, I have once visited Japan around late February and early March of 2011. After my pleasant trip to Tokyo, Kyoto and Osaka, I left Japan on March 10th with the hope of returning back someday. It was the day before the devastating earthquake and tsunami stormed the country and left a permanent mark in Japan's history. Back in Korea, I watched in disbelief at the seven o'clock news as huge tidal waves engulfed the coastal areas of Fukushima prefecture, recklessly and relentlessly destroying homes, buildings, sweeping away cars and trucks, as debris were washed away on the shore of nothingness. I felt sympathy for the Japanese people, especially those affected by the earthquake, who were in agony and distraught by the aftermath of the disaster. Soon after, news reports on the power plant breakdown and radiation leakage bombarded headlines, and a feeling of terror lingered for the future of the people's wellbeing and safety in the region. Korea's media began to expose Japanese government's inadequate response to the nuclear emergency, its futile attempt to stop the leakage, and the detection of high level of nuclear activity in the surrounding waters.
I didn't think I'd be back in Japan two years after my first visit to Japan, during which Korea – Japan relations was in predicament as tension heightened because of historical and territorial conflicts. Coming here, I was warned by many of the danger of being over exposed to nuclear radiation and was told to be careful when consuming possibly "contaminated" food produced in Fukushima. Much discussion was held on the decline of Japan and the crises Japan is now facing. Still, I find Japan to be a fascinating and admirable nation at the forefront of development in Asia. My determination to know Japan did not stop me from applying CAMPUS Asia Program, hence my decision to attend the Fukushima trip during the CAMPUS Asia Summer School, after much hesitation and consultation with the students and staff members who organized it.
Many people, including myself, thought Fukushima to be an inhabitable, a radioactive wasteland. This was not true as we saw children running around, people riding their bicycles and cars driving past like any ordinary town in Japan. Yet, the city was undergoing recuperation after the disaster as houses were being reconstructed. As we toured around the city in the bus, we witnessed much of the land along the coastline washed away by the tsunami. A 4km circumference was drawn from the inactive Daiichi power plant as a restricted area, the nearest distance we were able to reach was 4-5km away from the power plant. We also visited a farm where an environmental activist kept several contaminated cows in a fenced farm to oppose slaughtering of innocent animals. Later, we interviewed inhabitants of Minami-soma city who told us of their experience during the event, and how they managed to pick up from what was left and coped with the challenges ahead. I was moved by their stories and admired their courage for remaining in the city despite the risks and dangers.
The Fukushima trip triggered quite a few thoughts and emotions. As a Korean, I felt sorry for the people of Fukushima because of the exaggerated interpretation and biased attitude portrayed by Korean media. It is very unfortunate to see that that point of contention lies on the guesstimate of the radiation level as both sides pounce at each other based on each subjective interpretation. It may be the case that the Japanese have a low estimate and the Koreans have a high estimate of the nuclear radiation. Thus, the real issue here isn't which argument on the level of nuclear radiation is more compelling. It is more important to realize how policy makers introduce preventive measures to resolve the crisis, and how the international committee should work together to build trust. Instead of shunning the truth, Korean and Japanese people need to have a broader understanding of the problem, and to acknowledge both sides of the argument. On the other hand, I would also like to ask my Japanese friends. If it were the alternative scenario, in which it was Korea, not Japan, that suffered the great disaster, would the situation have been any more different? Would Japan have warned its people of visiting certain locations in Korea and imposed trade sanctions on certain importing goods from Korea?
Suffice it to say, my concern for the future of Fukushima, Japan and the region remains, and truth be told, I am still not quite convinced by the Japanese government that everything is safe and under control. This is what I choose to believe for my own comfort, not based on nationality or representation. I continue to tell my family and friends in Korea that the situation is not bad and they should come to this wonderful country. It is my sincere hope that both Korea and Japan, along with China, continue to foster good relations for future peace and prosperity in the region. I am grateful to my lovely Japanese friends and staff members at GrasPP for planning an unforgettable trip to Fukushima.