Last year, when I first called my mom to let her know that I would leave to Tokyo in the fall, all she managed to say was "Oh." Although she let herself be infected by my excitement just a few minutes later, her reaction still reflected the thoughts of most of my family, friends and coworkers: Going to Japan, Rike must be crazy. Not speaking the language, not being able to read, being surrounded by flickering neon lights and stuck with salarymen in crowded Tokyo trains, how is she going to survive?
My own expectations were far less dramatic and actually, since I came here in September 2013, I have found Japan to be a very normal place after all. Sure, I made some 'unusual' experiences in karaoke places or had difficulties in finding out what exactly it is that is on my plate in the restaurant. But other than that, the fact that surprised me most was how easy it is to get around in Tokyo. Most people know enough English to help you out with your everyday requests: buying a train ticket, making a reservation, or ordering the right food. And if they don't, they will either find someone else who can, or, if push comes to shove, just give their best in pantomiming which parts of the animal you are going to eat, no matter how awkward that might be for them…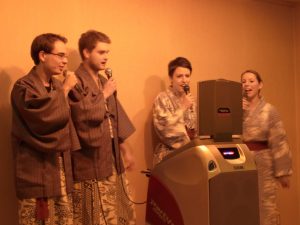 Food, by the way, is one of the things that makes life in Japan so worthwhile. Being someone who tries to eat as few animal products (especially meat and eggs) as possible, enjoying it does sometimes require some flexibility. But I can eventually say that in the six months I have spent in Japan, I have never had a single bad meal — and I went to restaurants a lot! The food is inexpensive, and if you go with your friends and add nomihodai — the "all you can drink" option — you're sure to get a good deal.
With all the excitement about getting to know a new culture and meeting new people, I sometimes almost forgot that my main purpose here was to study! Among the multiple choices, I decided to take Professor Ito's and Professor Noble's classes on "Asian Financial Markets" and the "Political Economy of Development in East Asia". As I had no previous knowledge about policy issues in Asia, my learning curve was steep, and in retrospect I gained a whole new perspective on the world from these classes.
The classes I was most looking forward to even before I came to GraSPP were Professor Tanaka's "Energy Security" courses and Professor Kusaka's "Selected Topics in Energy Policy" course, as they fit my academic and professional interests perfectly. Even more, I felt extremely privileged to be able to learn from such experienced professionals about how actual policy making looks like. Where else do you get to discuss energy issues with the former Executive Director of the International Energy Agency or long-serving insiders from Japan's Ministry of Economics, Trade and Industry?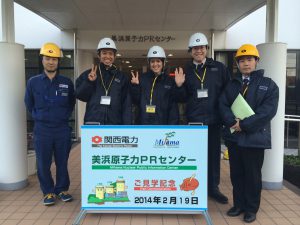 Being at GraSPP did not only open my eyes to new perspectives, but also opened doors to amazing opportunities for my professional development. Thanks to Professor Tanaka's personal advocacy, me and my classmates Val and Miko were able to participate in a three-week internship in the international department of Kansai Electric Power Company (KEPCO) in Osaka. When I was still writing my Master's thesis in Germany on investment in the electricity sector in Japan the year before, I would have never imagined that I would ever be able to experience a Japanese electric power company from the inside!
During the internship, our KEPCO mentors went out of their way to explain to us every detail of their business and even organized field trips to their power plants. It was wonderful to meet Japanese professionals who are also enthusiastic about energy and learn about their outlook on Japan's energy future. And — coming back to what I started with — they taught us a lot about Japanese culture, about Kansai's okonomiyaki and takoyaki food specialties. Considering how many people will ever get to see a nuclear or hydro power plant from the inside, I am very thankful for both Professor Tanaka and the KEPCO staff for allowing us this unique experience.
All in all, it shouldn't come as a surprise that I warmly recommend the exchange to Todai's GraSPP to anyone who is looking for challenging and practice-oriented classes on applied policy issues and is open to new cultural experiences at the same time. As for me, all those wonderful things have made it hard to leave and — thanks also to the extraordinary efforts of the International Office girls! — I was able to extend my stay. In the coming months, I can't wait to see what else Tokyo and Japan have to offer.