APEC VOF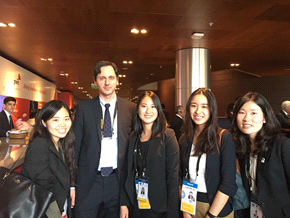 THE LIFE CHANGING EXPERIENCE
One Singaporean delegate asked me two questions on the very last day; 'What are the two biggest takeaways from this program?' and 'who are the two most interesting people you've met through this program?' These questions made me think about what this program meant for me and how this experience was going to affect my life. I am going to consider these questions and review this life changing program.
'What are the two biggest takeaways from this program?'
One takeaway for me is the idea of careers. 'What do you want to achieve over the next 20-30 years and what do you want to be?' I don't think I'm the only person who finds this question difficult. I assume this is because we don't have a concrete image of what we can possibly achieve in our life and 'how'. Meeting political leaders, CEOs from all over the world and young delegates from 14 economies certainly helped me to develop an answer to this question. The experience to meet people like Mark Zukerberg, Ian Bremmer of Eurasia Group, Xi Jinping, PM John Key, PM Malcolm Turnbull and Christine Lagarde of IMF and sharing a moment thinking about issues across regions was powerful enough to make me think I could be someone who works for these people or I could even become someone like these people in next few decades.
Another takeaway from this program is how to build relationships with others. Building relationships played an important role in terms of how deep you could engage in the program and how much you could maximize such an opportunity. If you succeed in building a good relationship, people will value your opinions, they will help you and they may give you souvenirs during the cultural night. If you can establish a strong bond, you can create a relationship in which you can work together even after APEC. The opportunities to realize this fact for me were especially found in the following three activities; making a proposal for APEC VOF within and without Japanese delegates, approaching with officials and CEOs to set up meetings with Japanese delegates and making good friends with those people in attendance.
'Who are the two most interesting people you've met through this program?'
I find this question incredibly difficult because every single person I had met through this program including other Japanese delegates and professors were interesting and inspiring. If I give just one name from the CEO summit, it would be Ian Bremmer of Eurasia Group for three reasons; what he does, how he presents and how he attracts people. He is a founder of Eurasia group which gives political risk analysis and consulting to investors and business decision-makers. At the CEO summit, he gave a keynote speech and he mentioned Trump's presidency during his speech while everyone on the stage had been avoiding this topic. He even mentioned about why US-Japan relations is going to work even under a Trump presidency. The speech stood out not just because of what he presented but also thanks to his humor and the way he talks to the audience.  
In conclusion, APEC VOF was not only a chance to deepen my knowledge of the region but also a chance to broaden my horizon and gain the explicit vision of my future. I believe this experience is going to influence on my life when it comes to making a decision about my career.
(Written by Natsuki Sakuma, International Public Policy)