Event report
GraSPP offers students an opportunity to learn under a multidisciplinary curriculum covering law, politics and economics and comprising case studies and practical training. One of the case study courses called "International Field Workshop(IFW)" is offered in each semester and aims to motivate students to seek ways to collaborate with diverse stakeholders in the international fora by providing opportunities to discuss current public policy issues with professionals.
The IFW consists of preparation by a team of students selected after rigorous screening and a field study trip to Asia in summer or the United States in winter.
The field study trip is made possible under the Global Leader Program for Social Design and Management (GSDM), one of the University of Tokyo's Programs for Leading Graduate Schools, and sponsor companies' donations for educational purposes.
The recent IFW in August 2018 involved a field study trip to China and India and focused on the following three issues: "technologies and innovations as a geopolitical tool in Asia"; "how China/India and Japan could collaborate to promote sustainable development in Asia"; and "is the Free and Open Indo-Pacific Strategy an alternative or a complement to the Belt and Road Initiative (BRI)?".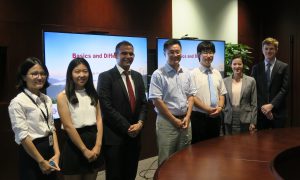 On August 20 in Beijing, the team visited UNDP China and Asian Infrastructure Investment Bank (AIIB). A series of sessions at UNDP China focused on opportunities for global partnership and sustainable infrastructure development. At AIIB, Mr. Yuanjiang Sun, Principal Communication Officer, briefed the team on the institution's policies and strategies as well as its operational achievements.
Following a tough overnight journey from Beijing to Bangalore, the team visited Indian Institute of Management Bangalore (IIMB) on August 21 with a two-hour dialogue on the three main themes with IIMB researchers and students, including Prof. G. Raghuram, IIMB's Director.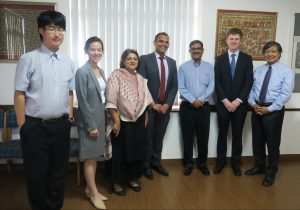 The second day in Bangalore started with a series of sessions at Infosys, a global leading company in digital services and consulting, on its corporate operational strategies with a focus on technological advancement and geopolitical uncertainties across the globe.
On August 23, a two-hour intensive discussion facilitated by Mr. R.K. Misra on "technologies as a geopolitical tool in Indo-Pacific region" at the Bangalore Political Action Committee (B.PAC) was fruitful and ended up with a new perspective on geopolitical implications of India-Japan partnership going forward.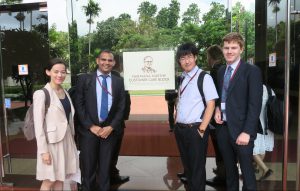 On August 24 in Delhi, the IFW team discussed with researchers at Indian Council for Research on International Economic Relations (ICRIER), one of the world-renowned think tanks in India, on geopolitical implications of India-Japan partnership as reflected in the Free and Open Indo-Pacific Strategy. Dr. Rajat Kathuria, ICRIER's Director and Chief Executive, welcomed and encouraged the team members on their contribution to discussions on important current policy challenges.