ERINA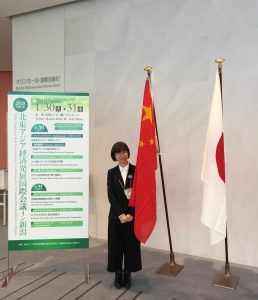 My two weeks' internship experience in ERINA (the Economic Research Institute for Northeast Asia) from January 22nd to February 2nd was filled with challenges and progresses. I am grateful for the chance to work with passionate experts in Northeast Asia economics from Japan, South Korea, China, Russia and Mongolia and exchange our views and expectations frankly during the term.
ERINA is located on the Bandai Islands, the center of Niigata City which is famous for the snow storm in winter and rice. I expected to learn more about the other side of Japan and attempted to seek opportunities of economic development for my hometown, Shenyang, which situates in Northeastern China.
During the two-week internship, I came to understand the roles of ERINA as a research institute and also a public organization supported by the regional government. Mr. Minamikawa is a researcher focusing on China's economic who helped me through the internship with patience, encouragement and instructions. For the first week, I drafted the quarterly report on China's economic development perspective based on the official data and analysis provided by China National Bureau of Statistics and the Ministry of Commerce in Japanese. I was taught with the languages to interpret the index and trends. Besides, I managed to write a short report* on the booming mobile payment services such as Alipay and Wechat in China.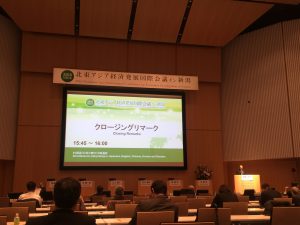 In the second week, I participated the Northeast Asia International Conference for Economic Development (NICE). It is an annual event of ERINA, inviting experts in various fields and leaders from international organizations such as IMF, ADB, the Great Tumen Initiative, and UN-ESCAP. It was a wonderful opportunity to join the heated discussions on different topics and learn from the updated researches. I was touched by the confidence in regional economic development through further integration in spite of the existing difficulties such as political distrusts and hidden financial risks. Furthermore, ERINA provided me with extraordinary experience to express my viewpoints on China's economy and regional security issues during the final presentation.
I feel blessed with the extraordinary internship experience at ERINA both for the rigorous approaches to the scholarly research and passions for the region.
*report on the booming mobile payment services in a town magazine in Niigata and ERINA website
https://www.erina.or.jp/columns-tottoki/131807/