KEPCO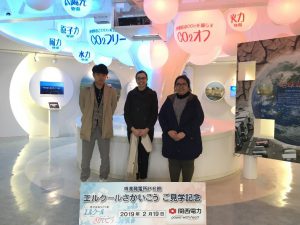 I was personally interested in working at the energy sector after attending Professor Arima Jun classes. When applying for the KEPCO's internship I did not expected as learn much as I did. I was able to understand all the responsibilities of an energy company, how the energy is produced, distributed and sold. Together with other 5 students we attended many lectures and 4 sight visits at KEPCO facilities. I would briefly describe the internship as a learning experience.
On the first day we were kindly welcomed by the supervisors of the program, who were all very friendly and helpful. The internship started with lectures about the overall aspects of KEPCO and the Japan and Kansai energy market. On the second day we had lectures over the Hydropower business and were accompanied by a specialist to the site visit at the Hydropower plant. The following day was dedicated to the Nuclear business of the company, where the presenter's kindly answers all the controversial questions, followed by the visit at the Nuclear power plant.
On the second week of the internship we had lectures regarding the company's LNG trade and the changes in the Japanese energy market. The second day of the week was dedicated to visiting the Solar and Thermal power plants, where we better understood the renewable market and the increase on the share of LNG. The last visit was at the Control Central at the main building, were we could try the simulator and try to solve an energy balance problem. The last 2 days were focused on the assignment given on the first week. In pairs we were asked to present a possible foreign investment for the company, a not very complex task that could be fulfilled during the time given.
The company employees were all very receptive and kind, patiently explaining and answering all the questions we had. During the internship period we were asked to have lunch at the company dining hall with other employees. The schedule was not tiring and allowed some free time during the night and at the weekend. KEPCO gently provided good accommodation and refund of the transportation expenses as well. It is very helpful to know Japanese, as most employees prefer to speak Japanese.
I would highly recommend this internship for students that are interested at the energy sector, either for work or just for research purposes. It is a relaxing internship more oriented to learning and experiencing the company's atmosphere. During those 10 days I could better understand the work of a energy company and think about my career options.