APEC VOF
Report on APEC Voices of the Future 2022
Kaori HORI
1st year, Internatnional Public Policy, GraSPP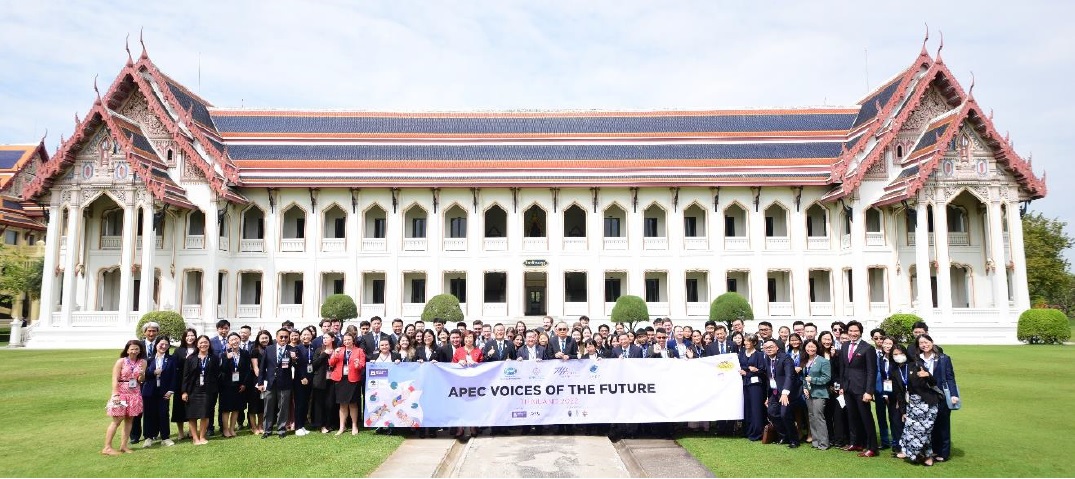 APEC Voices of the Future (VoF) was held in Bangkok, Thailand, from November 12-18, 2022. Youth delegates from 14 of 21 APEC member countries and regions (called economies) gathered, with the opportunities to develop Youth Declaration, attend the APEC CEO Summit, and exchange views with political and business leaders. The APEC VoF not only helped to deepen mutual understanding among future leaders of the APEC region but also brought valuable experiences that could not be gained in everyday life, which will surely bring new perspectives to the participants.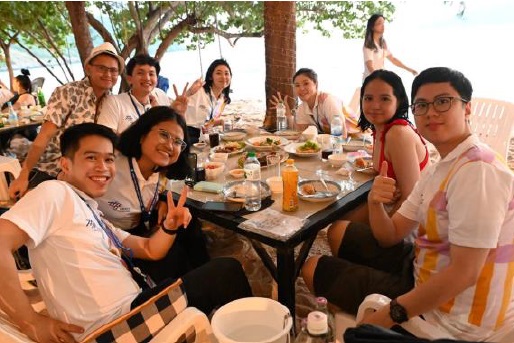 The theme this year was "Open. Connect. Balance." I spent very productive and stimulating days discussing and developing proposals leveraging the youth perspective, sharing each economy's challenge, having courtesy visits to the Thai private sector and universities to learn about their recent initiatives, and interviews with the local media. In addition, thanks to the thoughtful arrangement, such as bus seating and grouping on discussion, we were able to have a lot of opportunities to interact with delegates from different economies every day. For example, we could make friends with the Indonesian delegation, who were assigned to take the same bus, through playing local games in our respective economies during our free time. (We played one of the Japanese games, 'Acchi-Muite-Hoi,' and I became aware of how much the anime contributes to expressing Japanese culture because they were familiar with how to play it through Japanese anime!)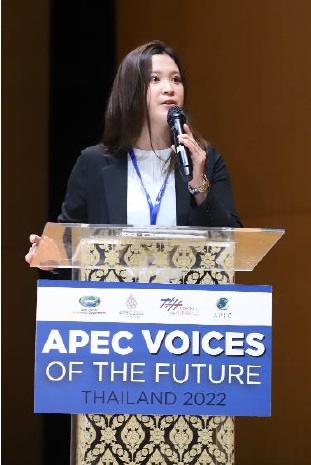 I have focused on three issues to present as a Japanese delegate during the APEC VoF; food security and production increase, gender equality and diversity, and the use of digital technology. The declining birthrate and aging population have resulted in aging and shrinking agricultural workers, which leads to a high requirement for establishing a stable supply of safe and secure food. In addition, as the working population also declines, the need to develop an empowered culture in which a diversified group of people, including women, can reach their full potential with equal power and opportunities is increasing. I also believe that we should utilize digital technology to accelerate the resolution and improve efficiency and productivity in various fields.
Since APEC is a regional economic forum to promote economic growth and integration beyond political and diplomatic positions, most youth delegates hesitated to mention the current geopolitical crisis. As I believe, however, that the youth generation can have open discussions and share perspectives on issues, which will be a springboard for future cooperation, I mentioned the possibility of a food crisis in my speech. I expressed that the food crisis is not a future problem at the time of the population explosion but an immediate issue that should be addressed with regional cooperation. I was pleased to hear, "I was moved and encouraged by your valiant speech that we, the youth, who are independent of politics, have to deliver our views," one of the youth delegates said to me. It was a moment when my beliefs could touch her and strengthen our friendship.
Other economies raised various issues, such as healthcare, equal educational opportunities, and climate change, besides these three areas I focused on. These are common issues that Japan has also been facing. Through sharing youth perspectives openly and discussing what we, the youth generation, can and should do to address them, I have been developing a feeling of fellowship to go beyond together for sustainable growth. I have no doubt that when the youth delegates serve as a leader in the fields of public, private, and academic sectors in the future, the experiences and friends at the APEC VoF will encourage them all the time.
At the APEC CEO Forum on the last day of the APEC week, I was very fortunate to have the opportunity to attend several speeches and panel discussions provided by political leaders from member economies and French President Emmanuel Macron, who was invited as a guest. We have been amid an unprecedented crisis, where various issues such as infectious diseases, energy, food, and climate change are occurring simultaneously. Many leaders emphasized not only the autonomous efforts of each economy but also the strong partnership beyond economies and sectors, both public and private, to move toward sustainable development. I am convinced that the APEC VoF could foster fellowship among young leaders which will develop the APEC region together in the future. Last but not least, there must have been a lot of challenges in organizing the international conference in person during the COVID-19 situation. I would like to express my gratitude to the host country Thailand, all the people involved in the operation, and all the youth delegates, particularly my peer delegates.