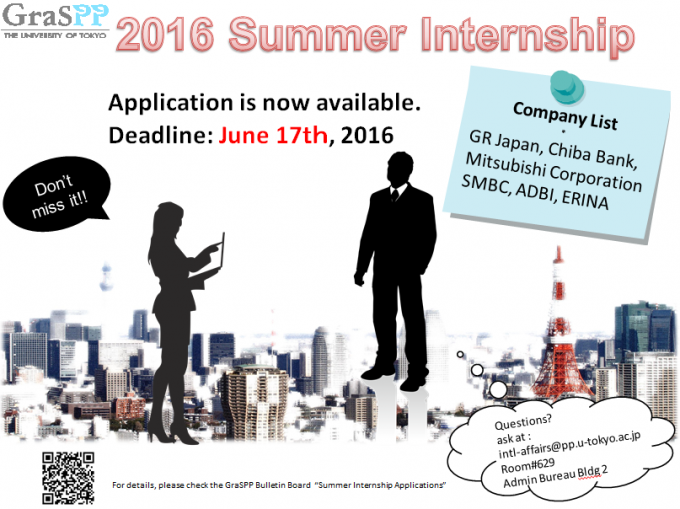 Applications of Summer Internship offered to GraSPP international students are now open.
Job post information:
GR Japan
ChibaBank
ADBI
MitsubishiCorporation
SMBC
newEconomic Research Institute for Northeast Asia(ERINA)
Application Descriptions

1 Deadline
June 17th noon
2 Eligibility
-The applicant must be a GraSPP international student (both DD and Exchange students are eligible).
-The applicant must have sufficient skills in English. (Native English speaker, or non-native with iBT95/ CBT240/ IELTS 7.0 or above)
3 Application Documents
 a) Application Form
b) CV (please put your photo )
c) Statement of Interest including introduction of yourself (within 500 words)
4 Submit Application To
 intl-affairs@pp.u-tokyo.ac.jp
Title: Summer Internship Application 2015
5 Others
 Selection Interview with faculty member(s) will be arranged from late June and then GraSPP will recommend the shortlisted applicants to each institution for the final selection (if any).
Result will be announced by email from the International Affairs Office.
-Please note that not all of these institutions are guaranteed of receiving the interns.
-Interns must take out internship insurance at the Graduate School's Office(210 JPY).
-For the procedures for Registration and Application for Course credits for Internship, please refer here
For any questions, please ask Ms. Sato (intl-affairs@pp.u-tokyo.ac.jp).