Deadlines/Event Dates November 6, 2020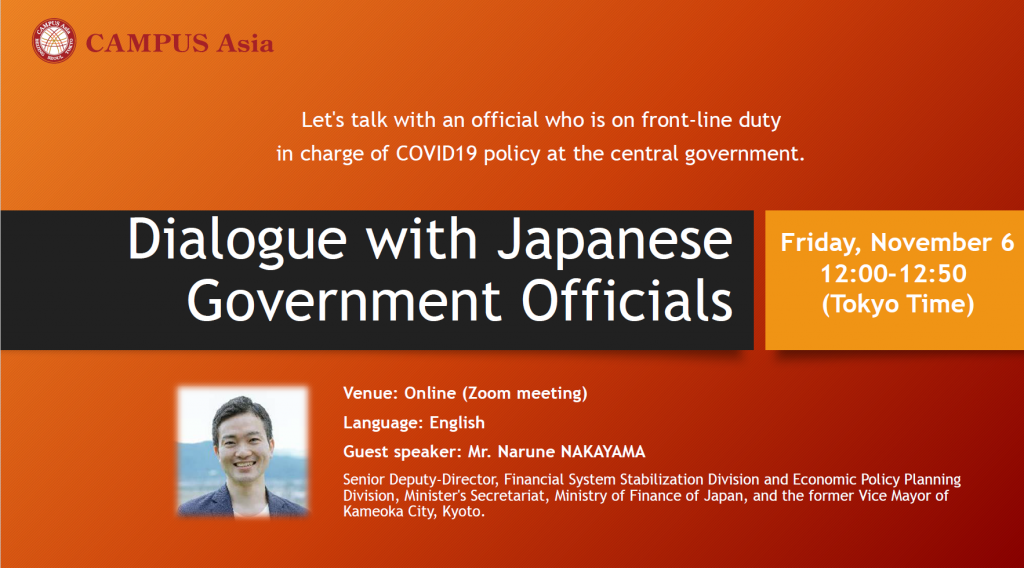 Let's talk with an official who is on front-line duty in charge of COVID19 policy at the Japanese central government.
CAMPUS Asia Program is happy to invite you to the upcoming lunchtime session that will be held on Friday, November 6, 2020. This will be a great opportunity for you to have a frank chat with a mid-career bureaucrat and get a glimpse of a life at the central government. GraSPP students are welcomed to join!
Date & Time: Friday, November 6, 12:00-12:50 (Tokyo Time)
Venue: Online (Zoom meeting)
Language: English
Guest speaker: Mr. Narune NAKAYAMA
Senior Deputy-Director, Financial System Stabilization Division and Economic Policy Planning Division, Minister's Secretariat, Ministry of Finance of Japan, and the former Vice Mayor of Kameoka City, Kyoto
Registration:
Needed. Please register from the link below.
Registration
The link for Zoom meeting room will be sent to you later.
Contact: CAMPUS Asia Program, GraSPP