Guest Speaker Seminar
A special evening with Asian Development Bank's General Counsel Thomas M. Clark and Principal Counsel Christina Pak: Challenges and opportunities for 21st-century policymakers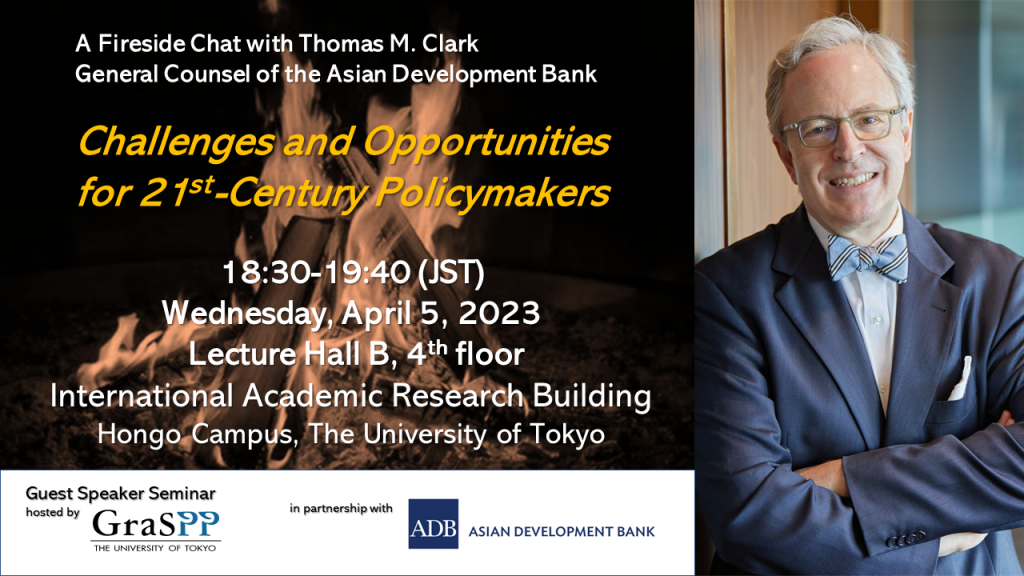 Date & time
Wednesday, April 5, 2023 | 18:30­-19:40 (JST)
Venue
Lecture Hall B, 4th floor, International Academic Research Building, Hongo Campus
Language
English
Registration
Please register here.
Agenda
18:30                 Lecture Hall opens
18:40-18:45      Welcome remarks by Professor Toshiro Nishizawa
18:45-18:50      Introduction to ADB
                         by Ms. Christina Pak, ADB Principal Counsel
                         Asian Development Bank (adb.org)
18:50-19:05      Law and Policy Reform for Inclusive and Sustainable Development in Asia and the Pacific
                         by ADB General Counsel Thomas M. Clark
19:05-19:35      Dialogue with Students
                         moderated by Professor Toshiro Nishizawa and Ms. Christina Pak, ADB Principal Counsel
19:35-19:40      ADB Internship and Young Professionals Programs
                         by Ms. Christina Pak, ADB Principal Counsel
ADB Internship Program | Asian Development Bank
ADB Young Professionals Program (YPP) | Asian Development Bank
About the speakers
Thomas Michael Clark, General Counsel, ADB
Mr. Clark holds a Doctor of Laws degree from Columbia University, where he was Notes Editor of the Columbia Law Review, and a Bachelor of Arts degree in Government from Harvard University. He has over 30 years of experience in legal and government affairs practice, spanning the financial services, energy, and infrastructure sectors, as well as the Americas, Asia-Pacific and European regions. After a judicial clerkship on the U.S. Court of Appeals for the D.C. Circuit, and legal practice at the law firms of Sullivan & Cromwell in New York and WilmerHale in Washington, D.C., Mr. Clark joined the General Electric Company, one of the world's largest infrastructure and technology companies. His 22-year career at GE included 16 years based in Japan and covering the AsiaPacific region, as General Counsel for GE's largest Asian financial services arm, and as Executive Counsel for Government Affairs and Policy, working with regulators and governments throughout the region on key legal and policy initiatives, and holding leadership roles in industry associations and private sector advisory bodies for APEC and ASEAN. Mr. Clark was also based for several years in London and Washington, DC, leading GE Capital's Global Law and Policy team, engaging with US, EU and global banking and securities regulators. Most recently before joining ADB, Mr. Clark was Managing Director and Co-Head of Americas for the Global Public Policy Group of BlackRock Inc., the world's largest asset management firm, where he drove regulatory policy engagement and thought leadership on infrastructure finance, ESG and sustainability, disclosures related to climate risk and energy transition issues, data privacy and fintech. As General Counsel at ADB, Mr. Clark is responsible for driving legal strategy and engagement on regulatory and policy reforms to support ADB's mission of achieving a sustainable, prosperous, inclusive, and resilient Asia-Pacific region.
Christina Pak, Principal Counsel, Office of the General Counsel, ADB
Ms. Christina Pak specializes in international development finance, law and policy reform, dispute resolution and ESG standards and drives thought leadership on sustainable development issues. She is currently Principal Counsel of the Asian Development Bank and manages the Office of General Counsel's Law and Policy Reform Program which designs and implements legal and judicial reform technical assistance projects across the Asia and the Pacific region. Christina oversees a diverse portfolio in the areas of environmental protection and climate change, gender equality, private sector development, public-private partnerships and digital economy. She also serves as ADB's Accountability Mechanism Policy Counsel advising the Board of Directors, the Office of the Compliance Review Panel and the Office of the Special Project Facilitator. In her previous role as a project counsel at ADB, Christina worked on complex multi-sector projects in Central Asia, Southeast Asia and East Asia regions. Prior to joining ADB, Christina was a legal counsel and vice president for markets and international banking at a UK bank based in Singapore and a finance associate at a large law firm in New York City. She is currently a Steering Committee Member of the IUCN World Commission on Environmental Law and a Member of the Chartered Institute of Arbitrators. Christina is a US-qualified lawyer, admitted in the States of New York and New Jersey.
For inquiry
Professor Toshiro Nishizawa | tnishizawa<at>pp.u-tokyo.ac.jp
Please replace <at> with @.