Messages from our Three Deans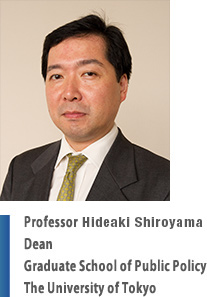 Very few universities anywhere, I believe, have ever initiated a program where students can study in not two, but three countries, and achieve a double degree. The CAMPUS Asia Program, uniting universities in Japan, China and Korea in a groundbreaking venture, now offers just such an opportunity for a unique learning experience. The program allows participating students to immerse themselves in different cultures while they study and do research. Through side-by- side learning and discussion with local students, and through everyday contact with local people, they will discover realities of life and history that could never attained through desk study or armchair theory. With our three East Asian countries today exerting a strong global presence, first-hand experience is the essential prerequisite for participating students to found the human networks that alone can forge the future. At GraSPP, our ambition is to enable students with different nationalities and backgrounds to mix with each other for collaborative joint achievement. In concert with GSIS at Seoul National University and SIS at Peking University, we have launched this venture to realize our dream, and created a new degree program, the Master of Public Policy, CAMPUS Asia Program (MPP/CAP). Since MPP/CAP is a package that includes credit transfer from Seoul National University and Peking University, the program gives participating students the opportunity to both accumulate and transfer credits systematically and effectively and, should they meet completion requirements, enable them to obtain a double degree. GraSPP has been striving for internationalization since its foundation, but I believe the CAMPUS Asia Program will add new momentum to this enterprise.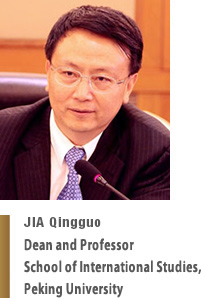 With the march of globalization and a burgeoning information revolution, we are entering a new world. The young generations of China, Japan and Korea face great responsibilities if we are to achieve peaceful and sustainable development in our corner of the world. The Campus Asia Program is a platform for youth in our three countries to learn from each other, better understand our common history, seek solutions to problems we all face, and strive for a prosperous future for all. Though practical difficulties still lie ahead, we firmly believe that, through this collaboration between Peking University, Seoul National University, and the University of Tokyo, our Program will emerge as one of the most beneficial and productive mechanisms for graduate student exchange,one that will enrich their knowledge and broaden their horizons. As a leading educational institution in international affairs, the School of International Studies of Peking University is privileged to join and facilitate Campus Asia. Young people represent the future of every nation. We sincerely hope that those who join this Program will commit themselves to building and sustaining friendly relationships among our three nations, and join hands to work for peace and prosperity in our region and around the world.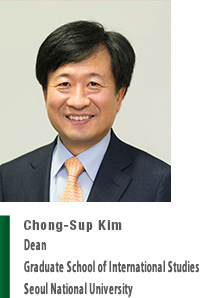 In today's globalized world, increased interconnectivity across nations has broadened the scope of choices and opportunities; at the same time, however, it has brought about profound challenges that concern not only any single nation or entity but an entire region or a chain of entities. This calls for nothing less than a global mindset and strategy based on shared understanding and commitment to global and regional issues. East Asia's leading institutions have come together, in this regard, to train a new generation of globally minded leaders who are equipped with interdisciplinary knowledge and cross-cultural experience to address various regional and international issues. Seoul National University, Peking University, and the University of Tokyo intend to fulfill this mission via the CAMPUS Asia framework. CAMPUS Asia will connect people to people. Academic and cultural exchange among students and scholars of the three partner institutions will foster a more comprehensive and transnational view on current regional and international issues. It will shape creative minds capable of providing better and more viable solutions to complex problems. In addition, CAMPUS Asia will connect theory to practice. The three partner institutions will jointly offer a unique academic curriculum in international and public policy studies blending theoretical models with real-world technical expertise. Students will be able to improve their analytical skills as well as learn state-of-the-art knowledge, thereby effectively preparing themselves for challenging tasks in the future. CAMPUS Asia will moreover contribute to the general enhancement of advanced education in the region and ultimately establish world-class academic and research programs, especially in the fields of East Asian studies. Finally, CAMPUS Asia will pave a new path for regional cooperation and development in East Asia and bring us closer as a true "community."