Letter to Future Students
Why did I choose Japan? Why the University of Tokyo? The answers became clear when I saw people bowing 90 degrees to each other, when I cheered for the champion of the sumo wrestlers and when I waited in line to have sushi at 7 a.m. in the famous Tsukiji Fish Market. Nothing tops the stimulating experience of cultural exchange.
I arrived in Tokyo in October 2006 as the first exchange student from the School of International and Public Affairs, Columbia University. Although the university curriculum of Todai(the University of Tokyo) is very different from that of Columbia, the quality of academic training and the enthusiasm of students are not unfamiliar. For example, I had a chance to take Professor Takatoshi Ito's IMF "Case Study" class during the winter semester of 2006. Drawing on his previous teaching experience in various universities around the world, he perked up the interest of both local and foreign students who hope to gain a global perspective. The class discussion was conducted in English, and I was very impressed by the English-speaking ability of the Todai students.
Not only have I enjoyed the lectures at the University of Tokyo, but meeting new friends is also a key part of my exchange student experience. I made a lot of friends from different parts of the world when taking Professor Leslie Hannah's "Business and Government" class. There were about 20 students in the class, and Japanese students accounted for half of the class. Many of them are interested in learning foreign languages, and their welcoming attitude towards foreign students eased my anxiety when I first joined the class.
In addition to friendly classmates, Todai assigned a first-year GraSPP student to be my tutor. Not only did my tutor assist me in getting through the frustrating alien registration process for foreigners, but he also introduced me to other students in the school. Although I have only been in Japan for three months, I am glad that I am able to read more Chinese characters in the newspaper, understand more slang that is popular among Japanese youngsters, and communicate my ideas more effectively.
I believe that a year in Todai will definitely be an excellent way to challenge and surprise myself while learning in a new culture. I recommend the exchange program to those interested in building fundamental knowledge about Japan, excellent career opportunity in Asia, and, most importantly, life-long friendships around the world.
The view of my room in Komaba Lodge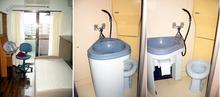 The photo is the view of my room, including the desk, window and the bed. All rooms have the same size and furniture for research students.
We need to move the sink around, in order to have some room for shower or bathroom. Very creative design!