概要報告
,
式典
AY2022 GraSPP Autumn Diploma Presentation Ceremony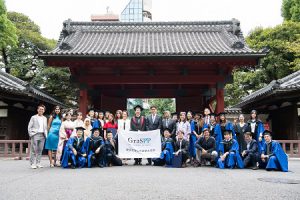 The GraSPP Autumn diploma presentation ceremony AY2022 took place on Thursday, September 22 at SMBC Academia Hall in the International Academic Research Building.
57 students have conferred the diploma this September.
The diploma was presented by the Dean of the Graduate School of Public Policy and congratulated for their completion of the program together with GraSPP staff.
The commendation ceremony for high-achieving graduates was also held. The Best Performance Award was presented to one student in the PhD program and one in the Master's program respectively.
Dean's message to graduate students
Congratulations on graduating today.
This month we are pleased to graduate fifty-seven students from the MPP/IP program, including eight double degree students, and two students from the doctoral program. Altogether, you represent twenty-one different countries including Japan.
Unfortunately, the pandemic is not over yet, and I am sorry to say that your friends and family members cannot be here, but we are broadcasting this ceremony online so that they can watch what is going on. I am sure that your family members are very proud of you.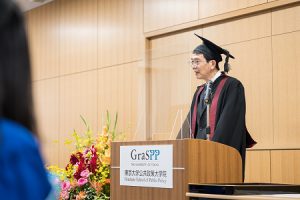 You will be forever remembered as the COVID generation. COVID-19 began to spread in Japan in March 2020, and from April 2020 to the end of September 2021, Tokyo was under the state of emergency for 262 days. Also, Tokyo was under a semi-state of emergency for 60 days at the beginning of 2022. In other words, during the two years of your affiliation with the University of Tokyo (UTokyo), you were under some kind of restrictions about half of the time.
Also, the Japanese government imposed strict border controls. From the end of November 2021 through the end of February 2022, no new entry of foreigners was allowed at all. So, some of your friends decided to stay home instead of coming here.
All of our courses were offered online during the fall of 2020 and the spring of 2021. Some classes started meeting in person in the fall of 2021, but not too many actually met in person. Even in the spring of 2022, your final semester, most of our courses were offered in hybrid mode, because some students could not enter the country.
We learned a lot of lessons from this experience; there is good news and bad news. The good news is that we can still manage to offer high-quality education even when the classes are conducted online.
On the other hand, the bad news is that solidarity is lost when everything is online. We realized that it is relatively easy to keep old friendships online, but that it is very hard to make new friends online. Therefore, the sense that "we are a community" suffered at GraSPP as well.
By now, GraSPP has a network of alumni all over the world. Please make extra efforts to get in touch with our alumni, and they will be more than happy to help you out in many different ways.
Also, now that international travel is easier, you will be able to come back to Japan anytime, and we will be happy to see you again. UTokyo has Home Coming Day every October. Please take advantage of that opportunity to see your old friends and meet new ones.
I am sure that you have learned a lot of lessons about public policy not through our courses but through observing how various governments, national and local, coped with this pandemic. These lessons, we hope, will come in handy when you come across another crisis situation next time around. Adversity builds character, and I am sure the pandemic did that to your cohort.
Congratulations.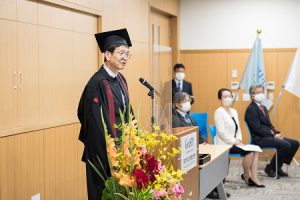 September 22, 2022
Keisuke Iida, Dean
Graduate School of Public Policy, the University of Tokyo