APEC VOF
Thoughts, Lessons, and Conclusions
APEC Voices of The Future Report 
by Rei Kataoka  
              The journey started at 3:30AM.  I forced myself out of bed, grabbed my luggage that I finished packing just four hours prior, and guzzled down the cold coffee I had concomitantly prepared.  Just one train station away, I met up with Yuuichi in the dark, and we exchanged drowsy mumbles about how hot Manila was going to be.
              We rendezvoused with the other Japanese delegates at Narita airport, and when the first puerile joke was cracked, we all foresaw that it was going to be a fun and eventful week.
              November Manila was just as boiling as we had imagined, but the other youths didn't seem to mind in the least.  We were introduced immediately upon disembarking at the Ninoy Aquino airport — our flimsy business cards and eager handshakes were swapped as fellow delegates from the Pacific dove into their respective political views, and were equally as curious about ours.  Although some may tout that the acme of the week long program was the summit itself (attending the banal and rehearsed speeches from world leaders such as Obama and Xi), the most precious, beneficial, and educational aspect of the VOF program for me was the interactions and networking opportunities with fellow youth delegates from the 17 countries represented this year.
              Every nation's delegates had excellent commands of the English language, and were knowledgeable in a variety of fields, regardless of their academic backgrounds.  I was pleasantly surprised to find that delegates' specialties ranged from international relations theory to plumbing and architecture, and everything in between.  When the discourse shifted to inclusive growth and sustainable business practices, not a single mouth was idle in offering a sophisticated opinion.  It was then that I learned firsthand that varying perspectives synchronize beautifully in forums such as APEC, and these voices manifested in a youth fiat that we were proud to share with our world leaders.
              I am still in contact with a select number of international delegates, and plan to continue fostering the budding friendships.  They're thrilled to see where I end up in life, and my feelings are mutual.  I only hope that our dialogue was somehow useful at the global stage, and that the next year's representatives can have as fruitful of an experience as we did.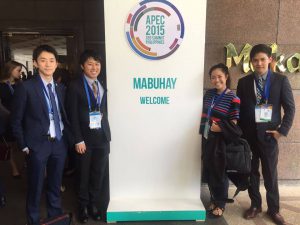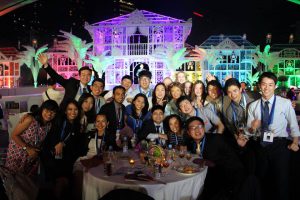 Related Link: