Internship Report
,
Nihon Keizai Shimbun
This summer, I was honored to get the internship opportunity at Nikkei, one of the world's largest financial newspapers. For a person who has always been interested in journalism and its relationship with actual policy, this experience was impressive, and I am grateful for the chance to look into Japan's journalism at a close distance.
My internship department was Nikkei's global news publication, Nikkei Asia, which offers reporting from an Asian perspective and mainly focuses on business, markets, and politics. Most of the work there is expected to be done in English, although reporters communicate with each other mainly in Japanese.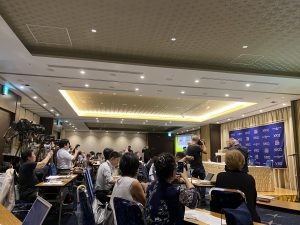 On the first day of the internship, all interns met with our supervisor to discuss topics we were interested in. We could go outside the office and participate in different interviews and press conferences based on our interests almost every day. Reporters with extensive experience in reporting in those fields also kept us company during the events. Since my area of interest is international development assistance, I was given the chance to attend a press conference on Japan's plan to help build a rehabilitation center for war-affected Ukrainians in Lviv at the Foreign Correspondents' Club of Japan.
I have also had an online interview with people from Yamaha about their aid projects in Asia. Interns are free to attend events to which other interns were initially assigned. In my case, an interview with the ambassador of the UK and a field trip to Panasonic's smart town in Fujisawa was also part of my internship experience. Those precious opportunities have exposed me to areas I am not familiar with and enabled me to learn new knowledge.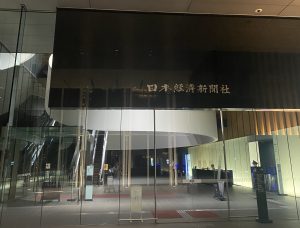 Besides all the interviews and press conferences, Nikkei Asia arranged many other sessions for us daily throughout the program. It let us, in my supervisor's words, "know as many sectors in Nikkei as possible." For example, interns got to spend time with the editorial team while editors gave lectures on how to be a good journalist using their experiences. During the sessions, we were able to contribute by helping with the editing. All the reporters and editors in Nikkei were friendly and always ready to answer our questions, from how to find sources to what they do on vacation.
For interns interested in working overseas, Nikkei Asia arranged an online meeting with reporters in foreign bureaus such as Indonesia and Singapore. One of the interns' daily missions is the translation task, which means translating articles from Nikkei's Japanese department to English and posting them on Nikkei Asia's website. This operation made me experience the importance of speed and accuracy in journalism.
Overall, the two-week internship gave me a challenging but exciting experience and an excellent opportunity to learn about new subjects. Moreover, getting to know journalists' way of thinking and how they work enables me to rethink what a research job entails. I realized that there are a lot of differences but also new understandings that I can gain. Comparing this internship with my previous learning experience in school allowed me to view some familiar issues from a different angle. This meaningful and educational experience has seriously helped me consider my future career.