Event
International Symposium Program 2019AY
Considering the global concerns over the new coronavirus outbreak, we have decided to cancel International Symposium "Business Environment under Carbon Constraint".
We would deeply appreciate your cooperation and understanding of our decision.
International Symposium "Business Environment under Carbon Constraint"
Date and Time
Thursday 12rd March 2020 13:00pm - 16:30pm
Venue:
Koshiba Hall, Hongo Campus, the University of Tokyo
Language:
Japanese, English (Simultaneous interpretation)
Organizers:
Graduate School of Public Policy, The University of Tokyo
INPEX CORPORATION
Co-Organizer:
The Institute of Energy Economics, Japan (IEEJ)
・Preregistration is required.
・Admission Free
・We will stop accepting applications once all the places are taken.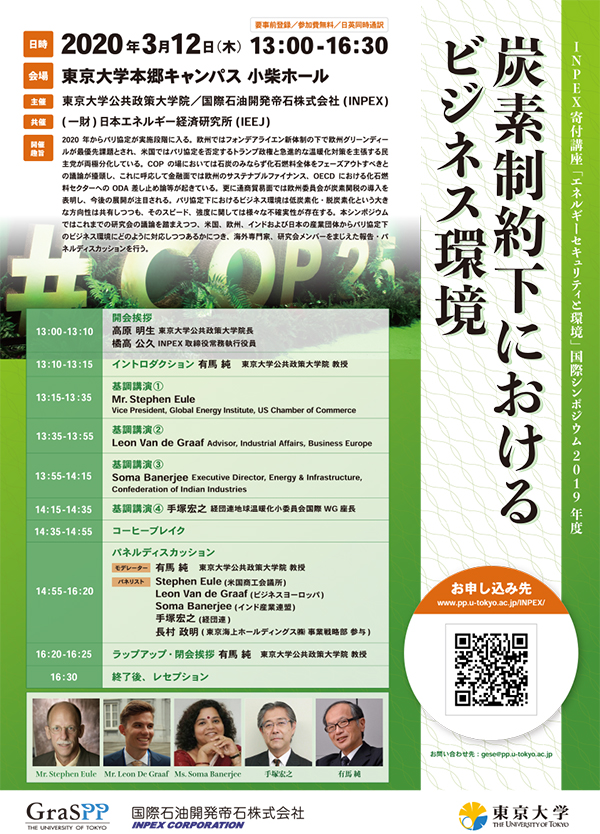 PDF(3.2MB/Japanese) 

Objective
The Pairs Agreement has come into implementation from 2020. In the EU, the European Green Deal will be put into action as the first priority under the new leadership of Ursula von der Leyen. In the US, the polarization is further progressing between President Trump having withdrawn from the Paris Agreement and Democrats advocating very ambitious climate policies. At the COP, 1.5 degree target and 2050 carbon neutrality is becoming a de facto standard and there is a growing pressure urging phase-out of coal and, in the end, fossil fuel as a whole. In the finance sector, divestment from fossil sector is going on, EU taxonomy on sustainable finance is being developed and OECD/DAC has recently proposed phase-out of ODA to all the fossil fuel related activities. These trends show stark contrast with energy reality in the Asian region where fossil fuel demand continues to grow. In the trade area, the European Commission has announced its intention to introduce "border carbon adjustment mechanism". While its details remain to be seen, this could have significant implication to global trade. Under such situation, business environment under the Paris Agreement has clear direction towards decarbonization. At the same time, there are various uncertainties with regard to geopolitical situation, regional and global economic trend as well as technology development. With the participation of business organizations from the US, EU, Japan and India, this symposium will discuss which directions business sectors should aim at amid multiple uncertainties.
Time Schedule
13:00-13:05

Opening Address:
Akio Takahara, Dean, GrasPP, U-Tokyo

13:05-13:10

Opening Address:
Kimihisa Kittaka Director, Managing Executive Officer

13:10-13:15

Introduction:
Jun Arima, Professor, GrasPP


13:15-13:35

Key Note Address 1:
Stephen Eule (US Chamber of Commerce)


13:35-13:55

Key Note Address 2:
Leon Van de Graaf (Business Europe)


13:55-14:15

Key Note Address 3:
Soma Banerjee (CII)


14:15-14:35

Key Note Address 4:
Hiroyuki Texuka (Keidanren)


14:35-14:55

Coffee Break:

14:55-16:20

Panel Discussion:
moderated by Jun Arima, Professor, GrasPP

Following key note presentations, the panel will further deepen discussion on the above issues and encourage interactions among key note presenters. In addition to key note speakers, the panel will have expert(s) from finance sector.

16:20-16:25

Wrap-up and Closing
Jun ARIMA


16:30

Reception