Evolution of Strategic Communications and North Korea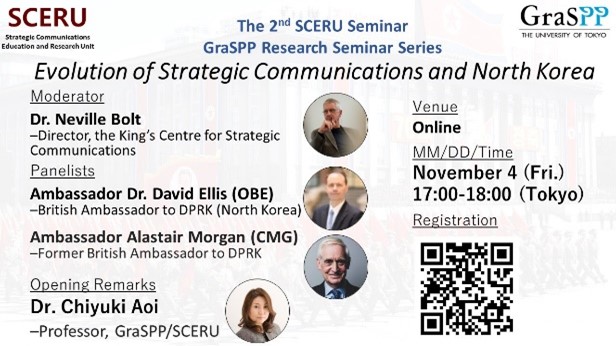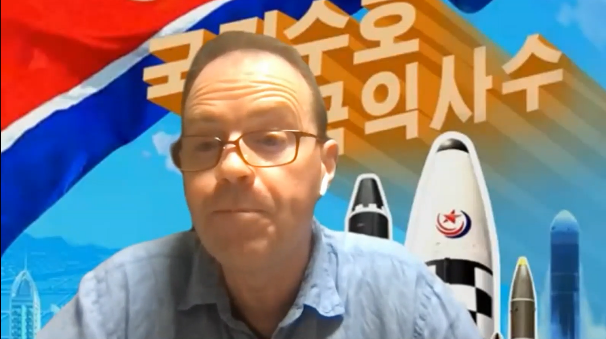 SCERU has organized a second public seminar on November 4th, 2022. Titled Evolution of Strategic Communications and North Korea, the online seminar was moderated by SCERU Senior Fellow Dr. Neville Bolt with introductory remarks from Director Chiyuki Aoi.
Synopsis
North Korea has traditionally exported propaganda based on the Soviet model. In recent years, the North Korean regime has experimented with new platforms and messages designed to appeal both to domestic and international audiences in an increasingly contested stratcoms environment. The evolving uses of communications by the DPRK raises the question whether non-democracies may resort to Strategic Communications or if the latter is the sole preserve of democracies. Dr David Ellis, British Ambassador to the Democratic People's Republic of Korea (DPRK), examines the North Korean regime's embrace of new technologies, the lessons it has learned from other regimes, and whether DPRK is developing stratcoms or simply producing more modern propaganda. Alastair Morgan, former British Ambassador to DPRK and current Ushioda Scholar (Tokyo College) and Lecturer at the Graduate School of Public Policy, will respond to David's arguments and critically assesses the DPRK's differentiation and communication of its messaging towards domestic and foreign target groups.
Moderator
Dr. Neville Bolt, Director of the King's Centre for Strategic Communications (KCSC)
Panelists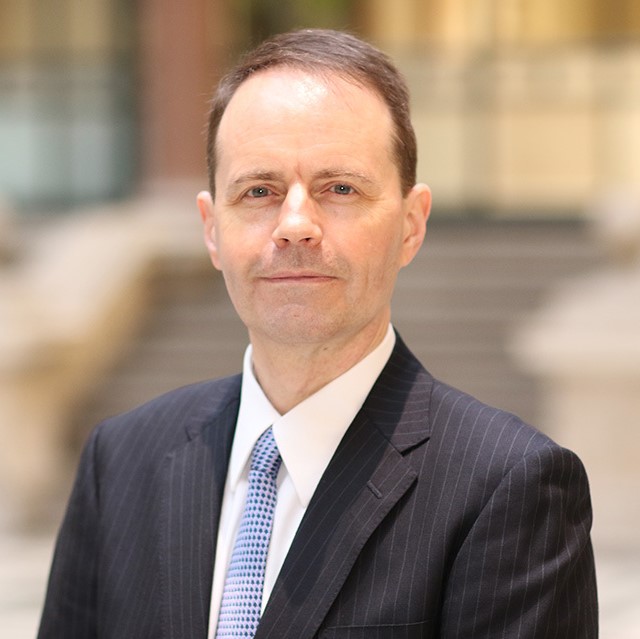 Dr. David Ellis OBE is His Majesty's Ambassador to the Democratic People's Republic of Korea. Prior to his current position, he was Minister and Deputy Head of Mission in the British Embassy in Tokyo (2016 to 2020), responsible for advancing UK-Japan relations on political and security issues. In 2011-2015, he was Minister Counsellor (Political) in British Embassy Beijing, (2011 to 2015), where he was responsible for leading political teams covering Chinese domestic politics, human rights, and foreign and security policy. Prior to this, he served for nearly twenty years at Foreign, Commonwealth and Development Office, including as Deputy Head of Afghanistan Group, and Deputy Head of Far Eastern Department. He has a PhD in 17th-century Chinese literature from the University of Edinburgh.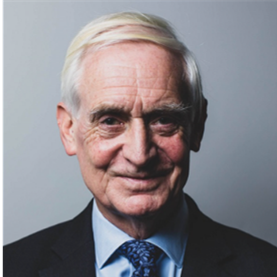 Alastair Morgan CMG is a Tokyo College Ushioda Fellow of the University of Tokyo, affiliated with Tokyo University's Graduate School of Public Policy. Previous to his current position he was regional security expert and Coordinator of the UN 1874 Panel of Experts on DPRK sanctions (2019 – 2021). Prior to that he served for over thirty years as a British civil servant and diplomat, including as British Ambassador to the Democratic People's Republic of Korea from 2015 -2018. He has also been appointed a Senior Visiting Research Fellow of the War Studies Department, King's College London.
Introductory Remarks
Director Chiyuki Aoi, PhD Professor, GraSPP/SCERU