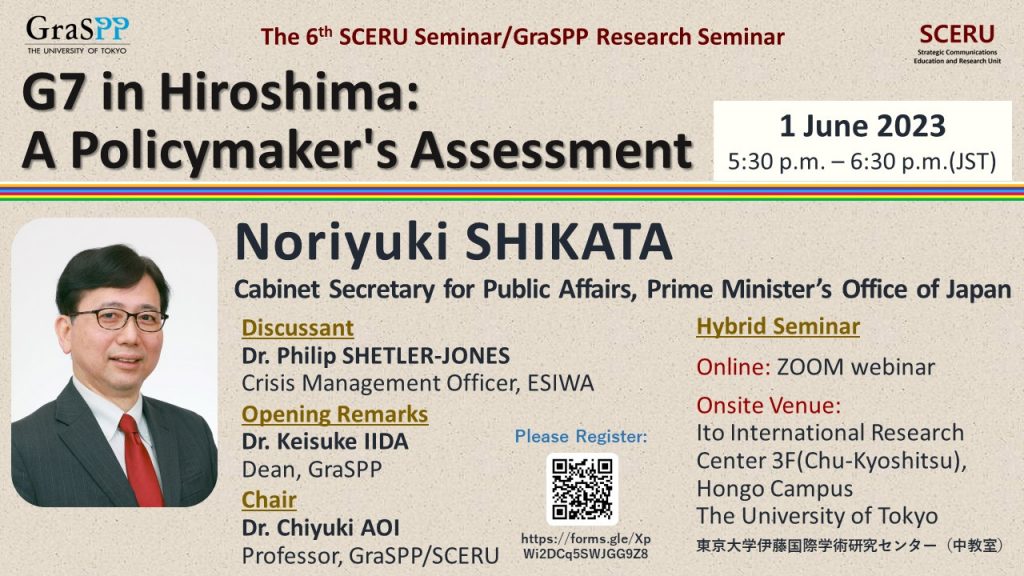 SCERU, alongside the Graduate School of Public Policy (GraSPP), will hold a public seminar titled "G7 in Hiroshima: A Policymaker's Assessment" on 1 June 2023.
Synopsis
In this lecture, Mr. Noriyuki Shikata, Cabinet Secretary for Public Affairs, Prime Minister's Office of Japan, will share his views and assessment of the achievements of the G7 summit in Hiroshima (19-21 May 2023), and Japan's role as chair of the meeting.
Mr. Shikata will highlight how Japan achieves its priorities and goals in the summit. 15 months after the Russian invasion of Ukraine, particular attention will be paid to how to maintain G7 unity in support of Ukraine, while upholding the rule of law.
A further focus will be placed on how to engage the Global South on critical issues, such as climate change, health and energy security, before elaborating on Japan's vision for strengthening the Free and Open Indo-Pacific.
Mr. Shikata will highlight the need for sensitivity when shaping the primary message the G7 sends out to the international community at such a volatile moment.
Date & time:
Thursday, 1 June 2023 | 17:30-18:30 (JST)
Venue
This will be a hybrid seminar (Please choose ONSITE or ONLINE for your participation.)
Onsite Venue:
Ito International Research Center(3F Chu-Kyoshitsu) Hongo campus, The University of Tokyo [伊藤国際学術研究センター 3階 中教室(東京大学本郷キャンパス)]
Online:
Webinar ID/code and link will be sent to the registered participants by 30 May 2023.
Language
English
Programme
Opening remarks by:
Dr. Keisuke Iida, Dean and Professor, GraSPP
Speech by:
Noriyuki SHIKATA, Cabinet Secretary for Public Affairs, Prime Minister's Office of Japan
Discussions with:
Dr. Philip Shetler-Jones, Crisis Management Officer, ESIWA
Chair:
Dr. Chiyuki Aoi, Professor, GraSPP/SCERU
Registration
Speaker
Mr. Noriyuki "Nori" SHIKATA was appointed as Cabinet Secretary for Public Affairs under Prime Minister Fumio KISHIDA in October 2021.
Most recently, he was Assistant Minister/Director General, Economic Affairs Bureau of Ministry of Foreign Affairs (MOFA) (2020-21).
His other prior positions include: Envoy Extraordinary and Minister Plenipotentiary, Deputy Chief of Mission, Embassy of Japan in China (2017-19); Deputy Director General, Asian and Oceanian Affairs Bureau, MOFA(2016-17); Political Minister, Embassy of Japan in the U.K.(2012-14); Director of Global Communications, Prime Minister's Office(2010-12),Director of respectively, Economic Treaties, Second North America (Japan-U.S. economic issues), International Press, and Status of U.S. Forces Agreement Divisions.
He has also been a Visiting Professor at Kyoto University's Graduate School of Law/Public Policy (Japan's diplomacy), and Associate, Program on U.S.-Japan Relations, Harvard University. He holds a B.A. in Law from Kyoto University and Master of Public Policy (MPP) from Harvard Kennedy School of Government.
He is a winner of the Gold Standard Award for Political Communications 2011. His Twitter handle is: @norishikata.