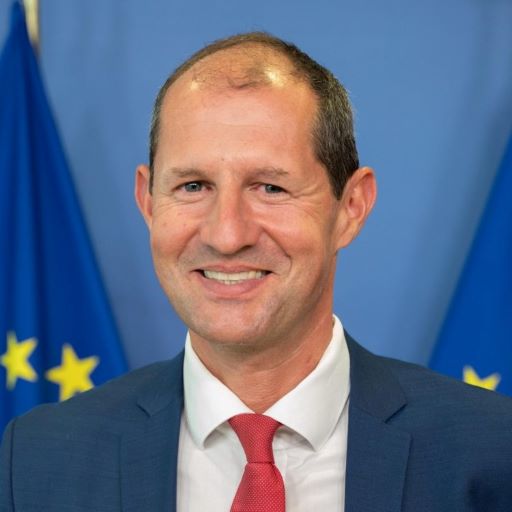 Mr. Lutz Güllner is Head of Division for Strategic Communications and Information Analysis in the European External Action Service. He leads a team of about 40 persons dealing with issues related to disinformation and foreign manipulative interference. In his work, he focuses on addressing disinformation threats for the EU and for the EU's neighbourhood region.
Prior to his current position, he served as Head of the EEAS's foreign and security policy communication team (2017– 2019) and as Head of the European Commission Directorate General for Trade communication team (2013– 17). He was also Deputy Head of the Trade Strategy Unit and responsible for the coordination of EU-US trade and economic relations.
In 2009 and 2010, Güllner was spokesperson for the High Representative of the European Union for Foreign Affairs and Security Policy, Catherine Ashton. He was also the Commission's spokesperson for trade policy. In previous positions, he oversaw economic relations between the EU and Russia.
Güllner studied political science and international relations at the Free University of Berlin and the Institut d'Etudes Politiques (Sciences Po) in Paris. He is teaching trade policy and EU foreign affairs at the post-graduate studies programme for European studies in Berlin.
Publications
Im Digitalen Fadenkreuz (Engl. "In the digital line of fire"), Internationale Politik, 4/2021, (July/August), pp. 78-81.
Händler und Verhandler (Engl. "Traders and Negotiators"), Internationale Politik, 3/2013, (May/June), pp. 38-42.
Threat or risk? The debate about energy security and Russia: five steps for a scientific research programme, Journal of Contemporary European Research, Vol. 4, No. 2, pp. 149-153. 2008
Auf dem Tiefpunkt? : Die EU-Russland-Beziehungen brauchen neue Impulse (Engl. "EU- Russia relations in need of new impetus"); in: Schreiber, N. (Hg.): Russland – Der Kaukasische Teufelskreis oder Die lupenreine Demokratie, Wieser Verlag. Also published by Friedrich Ebert Stiftung. 2007
Chancen für eine gemeinsame auswärtige Kulturpolitik (Engl. "Perspectives of a common external cultural policy"), in: Dokumente, 5/53, Europa Union Verlag, pp.389-393. 1997