GraSPP Research Seminar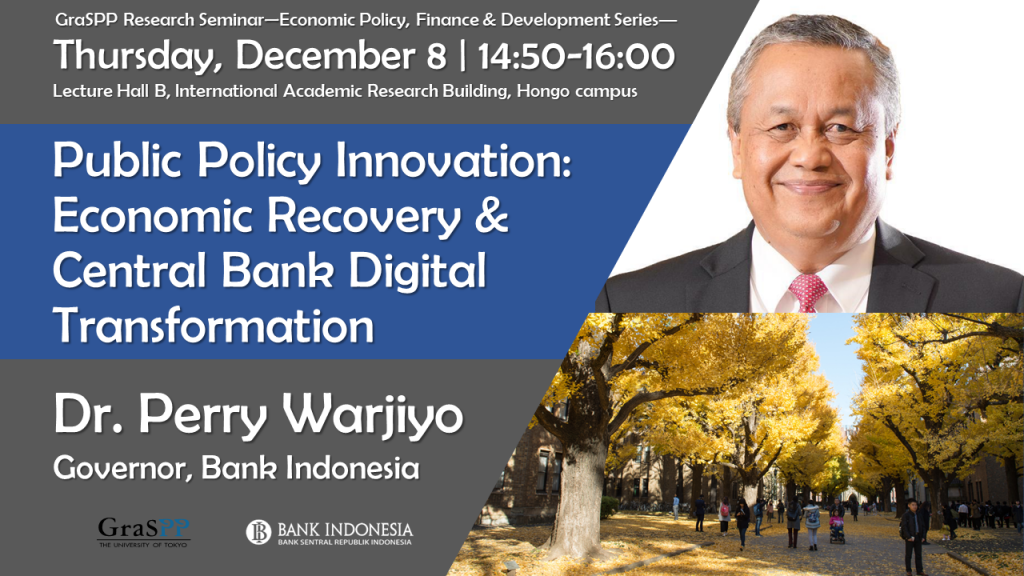 Public Policy Innovation: Economic Recovery & Central Bank Digital Transformation
Under the current volatile global economy with many uncertainties, it is a challenge to make a good policy to ensure sustainable and inclusive economic growth. Policymakers must innovate and understand the opportunities and pitfalls associated with different kinds of innovations and how they can be strategically implemented for success. Bank Indonesia Policy Mix and Central Bank Digital Transformation are Indonesia's key successes for resiliency and moving forward.
Dr. Perry Warjiyo, Governor of Bank Indonesia, will discuss public policy innovation by taking Bank Indonesia Policy Mix and Central Bank Digital Transformation as successful examples to ensure sustainable and inclusive economic growth.
Date & time:
Thursday, December 8, 2022 | 14:50-16:00 (JST)
Venue:
Lecture Hall B, 4th floor, International Academic Research Building, Hongo campus
Language:
English
Program:
Opening remarks by Dean Keisuke Iida
Lecture by Dr. Perry Warjiyo, Governor of Bank Indonesia
Q&A moderated by Professor Toshiro Nishizawa
Registration: 
For inquiry:
GraSPP Research Seminar Secretariat | graspp_eventinfo<at>pp.u-tokyo.ac.jp
Professor Toshiro Nishizawa | tnishizawa<at>pp.u-tokyo.ac.jp
Please replace <at> with @.
About the speaker:
Dr. Perry Warjiyo has been serving as the Governor of Bank Indonesia since May 24, 2018. Before becoming the Governor, he was the Deputy Governor from 2013-2018 in charge of monetary policy, international policy, sharia economics, finance, and financial market deepening. Prior to these positions, Dr. Perry served as the Assistant Governor for monetary, macroprudential, and international policy, after serving as the Executive Director of the Economic Research and Monetary Policy Department. He also served for two years as the Executive Director of the International Monetary Fund (IMF), representing the 13 member countries in the South-East Asia Voting Group (SEAVG).
Dr. Perry is also an extramural lecturer in post-graduate studies at the University of Indonesia, a distinguished lecturer on international economics and monetary economics at Gadjah Mada University, and a visiting lecturer at a number of reputable universities in Indonesia and abroad including the University of Sydney. In addition, he has authored and published a number of books and journal papers on economic, monetary, and international issues. He has also delivered numerous high-level keynote speeches that have influenced public policy around the globe.
Dr. Perry was born in Sukoharjo, Indonesia in 1959. He received a bachelor's degree in accounting in 1982 from Gadjah Mada University, a master's degree in 1989, and a Ph.D. in 1991, both in Monetary and International Finance from Iowa State University.
About Bank Indonesia:
In accordance with the BI Act, Bank Indonesia is a fully autonomous state institution in terms of formulating and implementing its duties and responsibilities. Furthermore, Bank Indonesia has a duty to reject or disregard any attempt of intervention or interference by any party, while external parties have no grounds or justification to interfere with task implementation at Bank Indonesia.
Bank Indonesia is firmly committed to creating and maintaining rupiah stability through monetary and payment system management as well as financial system stability. Those three aspects are managed through policies instituted by Bank Indonesia and operationalized through various instruments optimized for the specific task at hand.