Application Information
Application Schedule AY2024 (updated on Sep 19)
Information Session

October 18, 2023 (Not mandatory)

Application Period

October 18 to November 16, 2023

GraSPP Interview

November 30 to December 4, 2023

* Interview date will be informed to the successful applicants via e-mail 2-3 days before the interview.

Preliminary Announcement

Mid-December

Document submission to the destination universities

Early February

Final announcement of successful applicants

March to May
*The schedule is subject to change.
Application Guidelines
(NEW: updated on Oct 18)
 Application 
Documents
<1st step for all applicants>
1. GraSPP Application Form
Double Degree / Exchange (NEW: updated on Oct 18)
2. Statement of Purpose for all schools you wish to be nominated (500-1,000 words in English)
3. TOEFL/IELTS Certificate (Copy)
 *Should be no more than two years old by the month in the year you apply for a partner university
4. Official Academic Transcripts

<2nd step for those who GraSPP nominates as successful applicants>
5. Recommendation Letters (2 for D.D; 1 for Ex)
6. Curriculum Vitae (CV)
7. Personal Statement of Purpose specifically for the destination university
*Documents submission for each destination university depends on each university.
Details will be notified to those of successful applicants of GraSPP.
Related Links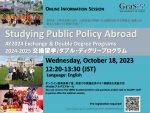 AY2024 Information Session for GraSPP Double Degree/Exchange Programs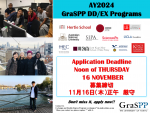 Application Open for AY2024 GraSPP Exchange/Double Degree Programs (NEW! updated on Oct 18)
Partner Schools
GraSPP actively engages in international exchange, with a current total of 14 partner universities. Under the dual degree programs, students can obtain degrees from both the University of Tokyo and the partner university upon satisfying the graduation requirements of both degrees.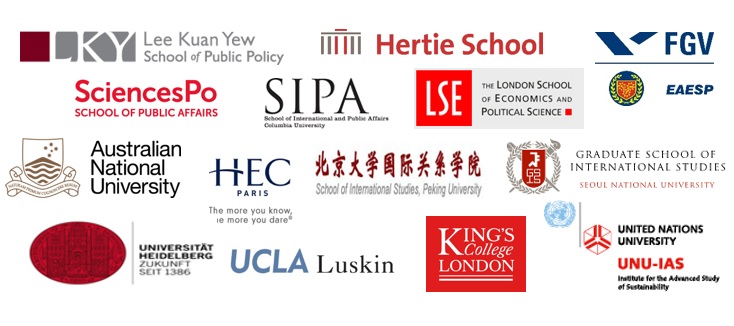 GPPN (Global Public Policy Network)

GraSPP is a member of the Global Public Policy Network (GPPN), a partnership among seven top public policy schools from around the world. GPPN is a platform for institutional partnership, research collaboration, and student exchange.
CAMPUS Asia Plus Program

The CAMPUS Asia* program began in 2011 as part of the Inter-University Exchange Project initiative led by the Ministry of Education, Culture, Sports, Science and Technology (MEXT), aiming to promote exchange between the students and faculty and staff of universities in Japan, China and Korea, and, through such close cooperation and interactions, nurture the next generation of world leaders who will mold the future of Asia. In 2021, the framework for exchange between Japan, China and Korea expanded to ASEAN, with the Lee Kuan Yew School of Public Policy (LKYSPP) of the National University of Singapore (NUS) joining the BESETO consortium comprising the School of International Studies (SIS) at Peking University (PKU), the Graduate School of International Studies (GSIS) at Seoul National University (SNU), and the Graduate School of Public Policy (GraSPP) of The University of Tokyo (UTokyo), and the BESETO consortium was renamed as BESETOSING (Beijing-Seoul-Tokyo-Singapore).
*CAMPUS Asia stands for "Collective Action for Mobility Program of University Students in Asia"
*GraSPP – Sciences Po Dual Degree Program

This two-year double degree program with Sciences Po's School of Public Affairs is designed for young professionals who want to gain expertise in the management and evaluation of public policy in both Japanese and European contexts. Students are selected separately through joint admissions by GraSPP and Sciences Po. Candidates must apply online at Sciences Po's website. First-year students will study in Paris and the second year in Tokyo.
WHY STUDY AT GraSPP?
-Learning opportunities for future global leaders in a uniquely international environment combined with Asian values
Opportunities to learn cutting-edge multidisciplinary approaches from renowned faculty consisting of world-class academics and public policy practitioners to address current public policy challenges
Network access to a growing number of alumni both in Japan and in nearly 70 countries internationally
Affordable annual tuition (535,800 JPY) for attendance at one of the top universities in Japan
find more

Learning opportunities are made possible by strategic partnerships with world-leading public policy schools, including the Global Public Policy Network
Extracurricular activities, including internship opportunities, that enhance student exposure to and understanding of real-world challenges
Locational advantage at the heart of Tokyo, offering students easy access to leading practitioners in government and business
Comfortable and pleasant campus life in Tokyo, one of the cleanest and safest cities in the world, facilitated and supported by dedicated staff

WHY STUDY ABROAD?
– Exploring new horizons in your future professional development globally
Opportunities to foster intellectual and practical competencies at an international level

Access to educational resources complimentary to what GraSPP offers

Lifelong networking opportunities with future global leaders worldwide
find more

Diverse cultural experiences to broaden your perspective

Environments to enhance communication skills and adaptability outside your comfort
Past Information
MA-level double degree programme with King's College London (News released on July 15 2021)
PhD Student Exchange with KCL (Department of War Studies) will launch!  (News released on Dec 3 2018)
(First partnership programme between KCL and UTokyo)
PhD Student Exchange with the University of Copenhagen will launch!  (News released on Nov 27 2018)