教員業績報告
,
受賞
Dr. Singh Faye, a visiting lecturer in GraSPP, was awarded "The Order of the Sacred Treasure, Gold Rays with Neck Ribbon" from the Government of Japan.
Dr. Faye has contributed to our program by teaching English academic writing and presentation techniques since 2011.
Message from Dr. Singh Faye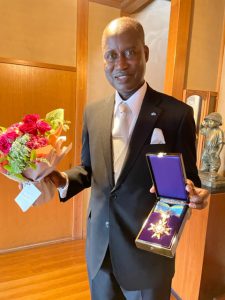 In August 2011, I was made aware of a job opening at 3 pm that was to close at 5. "At this late hour, the prospect of being considered is slim," thought I, but the yearning to teach at this distinguished academic institution tilted the balance in favor of applying. Compelled, I frantically updated my CV and got it in time, invoking the blessing of Goddess Fortuna.
Within the following week, pleasant was my surprise when I received a reply requesting me to submit a piece of writing. I hurried all the same to send the requested information. What seemed an elusive goal was starting to take the contours of reachability, and to wit, an invitation to an interview at suggested dates and times ensued a week or so later.
The interview was conducted by a professor of parts, who was pleasant and accommodating, but thorough not only in their questions to me but also in their answers to mine. My high expectations were met, and I guest theirs were, as I received a personal call from them congratulating me for being the one selected among the highly competent applicants who had vied for the position.
Academic Excellence
I am not disappointed. To achieve academic excellence, it is essential to create an environment that fosters the development of a student body that can grow intellectually, socially, and ethically and is, therefore, able to pursue successful and fulfilling careers. GraSPP has made this goal its objective. It exerts all efforts in instilling in its students the significance of academic excellence, challenging them to strive for it within the framework of academic integrity, which involves all acts upholding ethical values and maintaining a good moral character within the academic environment. Such a mission is brought to salience in its overview in these terms, "GraSPP aims to train students so that they are able to discover issues confronting modern society, to plan public policy and systems to cope with such issues from a global perspective, and to transform students into experts ready to serve as public officials who are capable of communicating and consensus- building." (https://www.u-tokyo.ac.jp/en/academics/grad_public_policy.html)
I couldn't agree more. Since I have started teaching here in 2011, I have been blessed with such academic excellence around me. In effect, throughout my tenure, the students have always exhibited just that. Intellectually, they possess amazing capacities for critical thinking and the ability to understand, analyze, and synthesize information, deductively, and inductively, matching analogous reasoning ability, scholarly curiosity, and problem-solving skills. They excel, indeed, in their academic endeavors and contribute their best with top-notch abilities to the success of the seminars when performing their academic undertakings such as participating in classes, conducting research projects, giving presentations, writing essays, sitting exams, taking on leadership roles, only to cite a few. Nested near Akamon, the famous red gate of the University of Tokyo, GraSPP is one of the most cosmopolitan graduate schools in Japan, if not say, Asia, "with 50% of the student body composed of international students from over 30 different countries (both advanced and emerging economies)" (idem) granted scholarships after rigorous tests by the World Bank, the Asian Development Bank, the International Monetary Fund, JICA among other household names. I am blessed to be one of the teachers of the Master of Public Policy International Program (MPP/IP) Summer Preparatory Program that these brilliant scholars attend every year since 2012 supported by the dedicated GraSPP Team whose relentless efforts are visible in the success of the programs. I commend their diligence and their efficiency in building a culture of community and inclusion that engages with, learns about, and respects individual differences, diversity of opinions, and international cultures.
Last, but not least, GraSPP has consolidated my experiences teaching at the Foreign Service Institute of the US State Department and the Foreign Service Training Institute of the Ministry of Foreign Affairs of Japan among other academic institutions of training and learning.
GraSPP has contributed, in no small part, to consensus building my being honored with The Order of the Sacred Treasure, Gold Rays with Neck Ribbon by the Government of Japan.
Surely, GraSPP will leave an indelible positive mark on my teaching career!
Much appreciation.
Singh FAYE
Related news
Newspaper in Senegal