Guest Speaker Seminar
,
概要報告
On May 22, 2023, a group of students had an online dialogue with Secretary-General Ou Boqian of the Trilateral Cooperation Secretariat (TCS) on the "Shared future in our hands."
SG Ou introduced the history of trilateral cooperation and the TCS's role and programs of activities. A dialogue, moderated by Professor Toshiro Nishizawa, had three themes, how to address geopolitical complexities, common challenges facing China, Japan, and the Republic of Korea ("CJK"), and cooperation beyond the scope of CJK, such as with ASEAN members. The students actively raised questions on human security, economic cooperation, gender equality, declining mutual perception, aging society, and disaster reduction, among others.
SG Ou emphasized the importance of cooperation based on face-to-face exchanges as the key to maintaining lasting peace in the region despite the changing geopolitical landscape and challenges. The SG Ou's key message was, "Where there is a strong youth, there is a strong Northeast Asia!"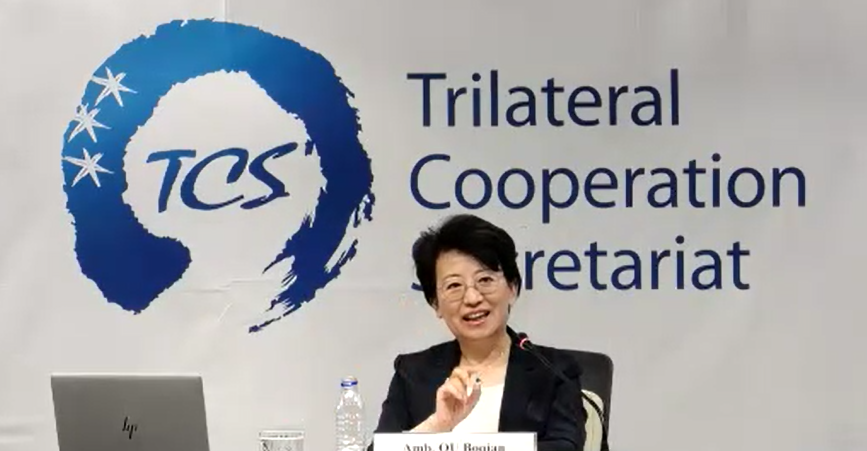 A message from the guest speaker
"Dear all,
It had been a nice conversation between us during my lecture to the Graduate School of Public Policy, University of Tokyo on May 22, 2023. I am quite impressed with, and indeed thankful for, your enthusiasm in Trilateral Cooperation, and your strong message on solidarity and cooperation towards a future-oriented and friendly China-Japan-ROK relationship, which greatly incent Trilateral Cooperation Secretariat to fulfill our missions.
A strong youth community, a strong Northeast Asia. A brighter future of our region — featuring Lasting Peace, Common Prosperity, and Shared culture — truly lies in your hands. To this end, Trilateral Cooperation Secretariat will continue to work relentlessly to revitalize and expand trilateral youth exchanges by further engaging you in our various projects.
To reach the above, Trilateral Cooperation Secretariat accomplished an important step and forged a Trilateral Youth Exchange Network early this year. I sincerely invite you to join this communal-based platform — a platform that helps you to find your peers in other countries as well as opportunities for personal advancement.
Last but not least, I also invite you to join our colorful youth projects under Trilateral Youth Exchange Network. Currently, Trilateral Cooperation Secretariat, in partnership with institutes of the three countries, is recruiting 100 undergraduates and postgraduates for the upcoming Trilateral Youth Summit in this August. I look forward to your participation."
Student feedback
"It seems to me that the TCS is really keen on building and strengthening the relations among the three countries through youth cooperation. This is in my view, the right step to move towards shared prosperity in the future."
"Northeast Asia is one of the very unique and complicated regions when it comes to peace and security, and territorial issues, with a changing geopolitical landscape. Cooperation is the only choice to keep common peace and lasting prosperity. Despite the challenges faced, TCS is committed to playing an increased role in establishing peace and prosperity in the region."
"The dialogue with Secretary-General Ou Boqian provided an in-depth discussion on how the Trilateral Cooperation Secretariat navigates and responds to various issues and complexities of geopolitical disputes and economic challenges. She emphasized the importance of having peace, common prosperity, and shared culture in achieving cooperation and people-to-people exchange."
"I very much agree with Secretary-General Ou Boqian that we are born at the best time in our own countries, and what we need to do is to try to have a better understanding of other countries. We can shape a better future by cooperating with each other. Furthermore, I am also intrigued by several TCS Youth Programs, such as Young Ambassador Program and Trilateral Youth Summit 2023. I will definitely look up more details and see if I can attend some of the events in the future. Thank you, Secretary-General Ou Boqian, for presenting such insightful information to us."
"What impressed me was that we have to build a 3-countries corporation even if the 2-countries relationship changes. Additionally, TCS emphasized multicultural education for strong relationships, but I wonder how it affects the future."
"The context of today's geopolitical tensions and regional competition must be seen through the lens of history. Northeast Asia has experienced tremendous instability and competition. Yet, it is also a region that has had almost 70 years of peace until now. Cooperation has been and still is the key."
"Given their history, China, Japan, and South Korea have managed to foster regional harmony. Cooperation, as the Secretary-General emphasized, is the key. Cooperation helps bridge differences and promotes mutual understanding, leading to prosperity. Since its inception, TCS has been a driving force in these three nations' cooperation."
"TCS emphasizes cooperation and addressing common challenges among CJK countries in various fields. A greater mandate should be considered for TCS, similar to the ASEAN secretariat's, to make the cooperation more comprehensive. TCS can also be expanded as a negotiation platform to solve conflicts in the region."
"The TCS is effectively navigating East Asia's geoeconomic challenges by promoting regional cooperation, gender equality, technological innovation, environmental sustainability, and resilience in the face of global uncertainties."
"Before the dialogue, I had never heard of the TCS, but its existence struck me the most. In the past, China, Japan, and Korea were occasionally in conflict with each other. It is good to see that they are collaborating even with occasional tensions. This shows their dedication to improving and maintaining economic and political ties with each other. Further, TCS's initiatives to coordinate with ASEAN members also show its commitment to being connected with other countries in Asia. TCS's Youth programs reflect how it values and sees the youth as the promise for the future."