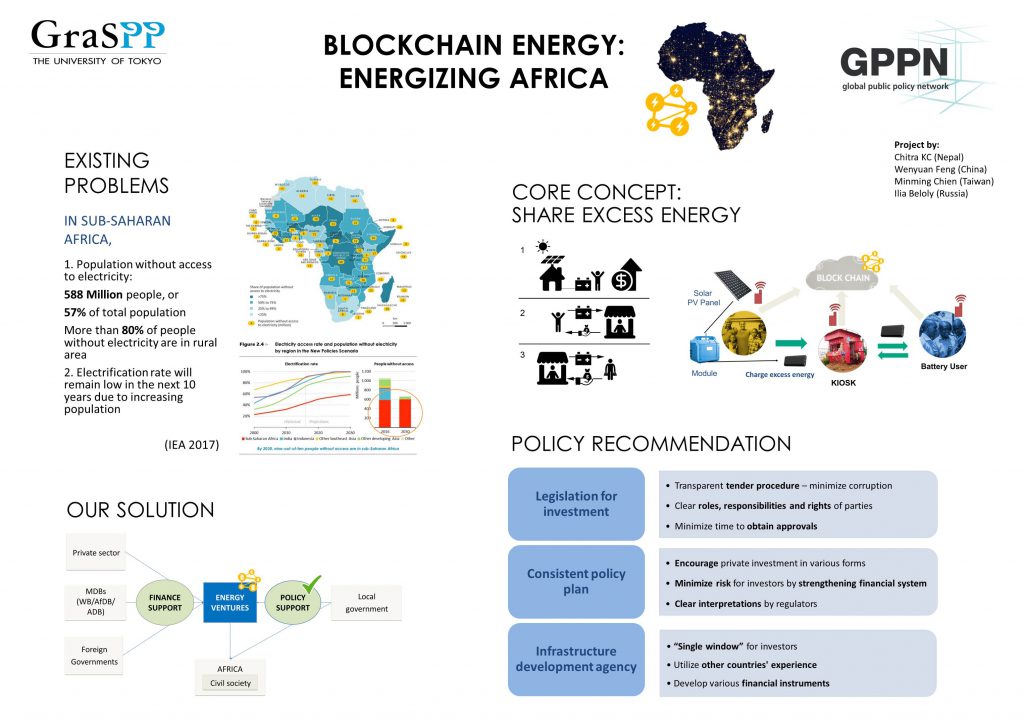 Focusing on SDG 7: Energy, our team was looking for private-led technical solution which can potentially improve lives of millions of people in the developing world. In our project, we suggest an easy and feasible technical solution with a "shared economy" touch: physical energy exchange system operated on Blockchain technology principles. We back up out technical solution with policy recommendations in order to make our project executable in states with various political, economic and social systems.
We believe our idea can be useful to address the problem of electrification in the least lucky areas of the world, which are not likely to be electrified by local government: poorest, remote, rural areas with low population density. That is why we believe in importance of our project and looking forward to see it implemented in real life.

Ilia Beloly Originally from Russia, Ilia received his undergraduate degree in Management from Saint-Petersburg State University with year abroad in Belgium, Louvain School of Management. After getting work experience in Finance and Quality Management, Ilia entered The University of Tokyo, Graduate School of Engineering to study about Lean Management. Later his interests shifted to Energy issues, so he entered Graduate School of Public Policy focusing on Asian Energy Security and Renewable Energy issues, expecting to graduate in March 2018.
Wenyuan Feng This outstandingly bright individual completed his undergraduate in Shandong University, China, Wenyuan took his economics studies to the next level by entering the Gradute School in The University of Tokyo. In his free time, he did a year abroad in France, Universite de Rennes, and joined several financial institutions for Equity Research and Renewable Energy Finance areas internships. Wenyuan will start his financial career in China from April 2018.
Chitra KC Chitra is a student of Public Policy. He is an employee of the Ministry of Finance, Nepal. His career started as a teacher in a remote village of Nepal during his teenage. Before joining the Ministry of Finance, he witnessed the Constitution formulation process of Nepal as an employee of the Constituent Assembly. He has worked in the education sector of Nepal for 3 years. He wants to enhance his skill in the public-policy area.
Minming Chien Minming is originally from Taiwan, received her undergraduate degree in East Asian Studies and Economics in the US and moved for Master of Public Policy program to The University of Tokyo. While aspiring career in financial sphere, Minming is giving much attention to current geopolitical issues in the Asian region: Trilateral relationships and potential future scenarios. Her hobby is spinning classes, where she can prepare for her first Iron Man triathlon competition expected in 2018.