April 2022
On February 24, Russia troops invaded Ukraine on the pretext of protecting pro-Russia forces in the eastern part of that country. The world watched in horror many Ukrainian citizens being killed and injured by incessant bombardment from Russian forces. At the time of this writing, refugees from Ukraine to the neighboring countries number more than three million and are expected to further increase. G-7 and NATO members were firmly united in denouncing Russia and imposing an unprecedented level of economic sanctions. Japan, which is usually not so enthusiastic about imposing economic sanctions on foreign countries, was also firm in walking in lockstep with other G7 nations in sanctioning Russia this time around.
The international community showed both weaknesses and strengths: At the time of the invasion, Russia was the chair of the United Nations (UN) Security Council, and Russia vetoed a draft Security Council resolution, which called for immediate withdrawal of Russian troops from Ukrainian territory. Then, the case of Ukraine moved to the UN General Assembly, and the General Assembly resolution calling for Russian withdrawal passed with 141 members in favor and only five members opposed.
I am sorry to start my inaugural address with such an unhappy story, but this is the harsh reality that we must face. Over the past two years, the world was gripped by the travails of COVID-19, and countries were increasingly inward-looking. Now with this crisis unfolding in front of our eyes, we cannot but face the music and think and act in close cooperation with other like-minded countries. Political and economic ramifications of this war will be very profound and well beyond our imagination to say the least.
The good news is that the University of Tokyo's Graduate School of Public Policy (GraSPP) is staffed with many experts versed in intricacies of international security and diplomacy. Also, many of our economists will be able to estimate the economic impact of oil and gas price hikes arising from this war and perhaps the economic costs of post-conflict reconstruction. Together with our faculty, you will be active participants in conducting these analyses and proposing solutions.
GraSPP offers an extremely rich environment if you are eager to take advantage of its resources. We are a relatively young institution on this campus, with its beginning tracing back only to 2004. Over the years, however, GraSPP has managed to grow both in size and diversity. Both the faculty and the student body are very international and diverse. Our international students come from over thirty countries, including developed and developing countries. GraSPP started primarily as a teaching institution with the aim of training students for the practice of public policy, but now with the Ph.D. program being firmly established, we are also an active research organization at the same time. So, whatever your primary interests in public policy may be, you will surely find comfortable space in which to interact with people with similar interests.
GraSPP is also endowed with numerous opportunities if you are interested in going out into the world. GraSPP has dual-degree programs with many of our counterparts in the rest of the world such as Columbia University, the London School of Economics (LSE), and SciencesPo. We are about to start a new dual-degree program with the King's College London as well. To be sure, our international programs were somewhat stymied by the COVID pandemic over the past few years, but 2022 promises to be the year of recovery for us, with many students being finally able to travel abroad more freely. Please try to take advantage of these opportunities as well.
I would like to extend my warmest welcome to those of you who just joined GraSPP, and I hope you will find your experience at GraSPP enriching and invigorating.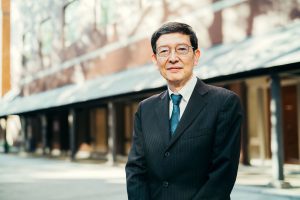 Keisuke Iida
Dean, Graduate School of Public Policy, The University of Tokyo