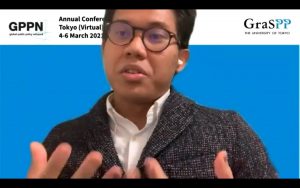 It all began rather as a "dare" when I asked my teammates David, Martina, and Ting-Yi to join one of the intensive classes offered by GraSPP, not knowing it would be our own "Breakfast Club" for the rest of the semester. Now that I am reflecting back upon the past six months, this event had me thinking: "what are the successful odds of an Italian, Indonesian, American, and Taiwanese working together on a project?" I should say it would even be quite unthinkable for four individuals with each distinctively-unique origin and nationality to have the opportunity to work together had it not been for GraSPP. Nevertheless, we did this despite all of the obstacles along the way.
The thing that amazes me the most was the fact how unlikely this project could have been conducted in the beginning. I am very fortunate that I have been in Japan since my admission to GraSPP. However the truth was Martina was in Italy for the first three months; David is still in the United States; while Ting-Yi is in Taiwan. Martina, having to wake up at 6 AM on many occasions just before she was able to enter Japan. David had to repeatedly Zoom us at the most undesirable time such as 11 PM or 4 AM. And Ting-Yi needing to adjust to the time difference between Japan and Taiwan. Our first meetings can be succinctly described as "pajama party on Zoom."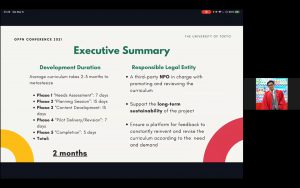 Time differences truly were troublesome at times. But the behind the scene stories can provide a better picture of our journey. Throughout our discussion sessions, we have had multiple conversations stating that the project is a "Mission Impossible". I may have lost count towards how many times we said: "let's just quit" or "can we opt out of this course, please?" after receiving a number of scathing reviews about our initial proposal. The reality is this was not a course for the faint-hearted ones. As someone who has undergone the final round of the competition phase, I can understand why we will face a rigorous selection process by the advisors and faculty members. It's a policy-making competition after all. Added to that is the fact that our opponents are five other top graduate schools of public policy from all over the world.
In the end, after several nights spent on reading our advisors' feedback line by line and rearranging our proposal and delivery, we are extraordinarily humbled to have been awarded the "Best Educator" distinction at the 2021 Global Public Policy Network Conference 2021. Would I do it all over again with my teammates? Absolutely, in a heartbeat. Our discussion sessions turned out to function beyond than a mere banal deliberation about the school works. Rather, as I stated earlier, it became our own "Breakfast Club" where we shared countless stories about life: past, present, and future. I would not wish to have it any other way.