I first heard about GraSPP Policy Challenge and the GPPN conference not long after starting my new path at GraSPP. I was certainly intrigued, enthusiastic about the idea to experience first hand what it means to formulate a policy proposal from scratch. At the same time, I thought it would be extremely challenging. I knew that teamwork would be pivotal to a successful outcome.
 Bagas was the first one to talk to me about forming a team together. I was grateful he had thought of me and excited to work with such a bright and energetic colleague. Person after person, contacted by the contagiously enthusiast Bagas, our group came together.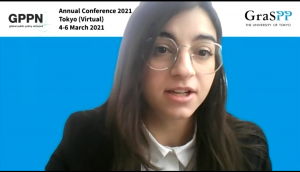 Identifying relevant issues connected with the theme of this year's GPC and coming up with an innovative idea was the first, great challenge. As other duties started piling up, I started wondering whether I could really take a part in this project. If I am to be honest, I would have probably given up then, were it not for my friends and team members David, TingYi and Bagas. I saw in each and one of them great, different qualities from which I wanted to learn, and I was also inspired by their passion to complete the proposal.
 The team and I called for hours and hours once, sometimes twice a week, trying to find a suitable time from everyone, across time zones, but often sacrificing precious hours of sleep. David called us from Wisconsin, U.S.A., Ting Yi from Taiwan, Bagas from Japan and, at least for the first few months, I called from back home, in Italy. 
 We saw our initial project be harshly criticised. It seemed impractical, not feasible and too political. We rolled up our sleeves, and meeting after meeting, thanks to the precious inputs from Professor Orsi, Professor Arima and Jem, we revolutionised our proposal.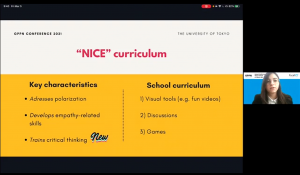 Many months have passed since we embarked on this project. A lot of early mornings, late nights and frustrating moments. When, during the GPPN Conference 2021, we were told we would present our policy proposal as finalists, we couldn't believe it. Not only that, but also being recognised the Educator's Award is something we hadn't hoped for, and something for which we are truly thankful. While working on the proposal, we were focused on doing our best, on learning how to be good policy makers. After this long path, I feel very blessed that our efforts have been recognised. However, above all, I perhaps treasure the most all that I have learnt from my team members, and I am proud of the true comradeship we have built.