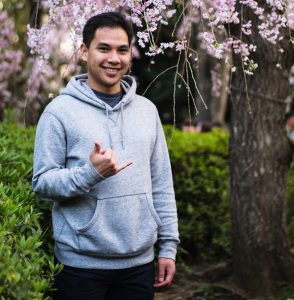 One of the reasons I decided to move to Japan and study at Todai was to learn more about the history of my homeland, and, indirectly, my own upbringing. Though I am not ethnically Japanese – I am Hawaiian, Filipino, Chinese, English, Irish, and German – the Japanese people played a significant role in shaping the historical forces that transformed Hawaii into what it is today. Throughout my time at the Graduate School of Public Policy, I gained a greater understanding of the shared history between Hawaii and Japan and the challenges we overcame together. With these lessons in tow, I now launch my political career with more tools, and more hope, to bridge the current divisions in my home community.
 In the last century, the people of Hawaii and Japan suffered through several events that could have permanently snuffed out the prospects of a peaceful and prosperous relationship. To use my family as an example: my grandfather watched the bombing of Pearl Harbor from his intermediate-school campus, and my grandmother was a child when the Imperial Japanese Army invaded her village in the Philippines. Most families in my neighborhood have similar stories, and I know that many Japanese citizens also have painful memories of war. Though potent, these ordeals do not define the connection between Hawaii and Japan, and at Todai, I learned a bit about why our relationship is instead defined through rich historical and cultural bonds.
 Among the most consequential components of my Todai experience were the persistent confrontations with the misdeeds of WWII, both those conducted by and inflicted upon my ancestors. Several professors asked that I share my views on the war, and then empathize with others who expressed different perspectives; I contrasted post-WWII tribunals with South Africa's post-apartheid Truth and Reconciliation Commission; and I considered heated disagreements over whether certain countries still need atonement for past sins. These constant exercises were extremely moving, and helped me understand the various policy instruments that allow societies to gain forgiveness for their trespasses, as well as forgive those who trespass against them.
 After graduating, I returned to Hawaii with great memories and important lessons learned in what turned out to be one of the most transformative periods of my life. In addition to learning the analytical skills needed to evaluate policy, I learned, most importantly, the value of compassion and empathy in good governance. I believe those lessons are critical in my country's current era of political partisanship, and intend to apply them to my upcoming campaign for the Hawaii House of Representatives. My message is focused on bringing people together through recognition of our shared future.