My semester abroad at the Graduate School of Public Policy was one of the most insightful and fulfilling experiences that I have had in both the academic and personal aspect. Coming from Latin America and having done my first year of Master in Germany, I was more familiar with the Western and European reality and therefore I had a very limited knowledge of Asian politics, society and culture. Doing a semester at the University of Tokyo was not only an opportunity to have a better understanding of Asia and specifically Japan, but also to be part of one of the most prestigious and competitive institutions around the world. The courses offered were quite varied and a great complement to my programme at the Hertie School of Governance. The professors had a lot of understanding and knowledge in their fields which enabled spaces for significant debates. Furthermore, the international and highly diverse student body gave me the opportunity to meet people from all around the world and learn from their backgrounds.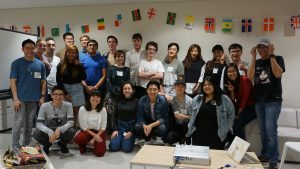 I consider that none of this experience would have been possible without the support of the whole administrative team at the Graduate School of Public Policy. Since before our departure to Japan, the office was in close contact, providing us with valuable information on travel and accommodations arrangements, legal procedures, courses, and any additional topic that was needed. This allowed for a very smooth and easy process settling in. Likewise, throughout the semester the administrative team were fully supportive and made sure to provide us with a number of opportunities to fully enjoy our stay in Japan and to take advantage of all the programs that the University of Tokyo has to offer.
These past months have been a unique and rewarding process experience of which I am very proud but at the same time know that it would not have been possible without the support and openness of all the people that are part of the University of Tokyo and the Graduate School of Public Policy.
Finally, I want to thank and praise the work of the Japan Student Services Organization, to whom I owe the financial support necessary to conduct my studies in Japan.