― Have you enjoyed your time at GraSPP?
Of course! GraSPP is a great place to study at because you can choose what you want to study and take classes you're interested in. On top of that, some of my classmates are studying while working as lawyers, they have a lot of different experiences, so I get a lot of motivation even from my friends. I'm going to China to study in February 2019. I've always wanted to study about East Asia, so Campus Asia was perfect for me. I could do what I wanted to do and go where I wanted to go, I was really lucky!
― You were the head of the student council, I believe?
I always wanted to be president, ever since I was young. So I put myself up to become the head of the student council as the first step on the way there (laughs). I got to know a lot more people after I became a candidate. I want to create more interaction between the international students and the Japanese students, but everyone is so busy, I had big goals but it was hard to actually achieve them. We had a mini event called a quiz night, plus we had a tour to Akasaka Palace, and went to see the autumn leaves on Mount Takao.
I think a good point about GraSPP is that there aren't so many other students in the same grade, so you stay connected to people above and below your grade the whole way. Also the people here are very open and friendly, it's no problem to casually invite them out for a drink. There are a lot of classes with group work, plus meetings as well, so you end up wondering how many times you've met with so-and-so during the week (laughs). It just shows you how there are so many chances to spend time with your friends.
― What are your future goals?
I'm very concerned about territorial issues, so in the future I'd like to involved in that field in the United Nations. I got interested in that after joining in an exchange meeting with a Korean school in Japan when I was a high school student.
When I was younger I lived in the Philippines, I came to Japan in my second year of junior high school and went on to high school from there. As part of international relations we had joint classes with the Korean school and were invited to cultural festivals, we learned about each other. One time I talked with them about the territorial issues, and came up against a clash in our values and cultural differences. I was surprised at the gap between my own thinking and that of other people, so that sparked my interest in the territorial issues. In my third undergraduate year I spent a year studying in the USA, which was a chance to learn about how they saw East Asia. I wondered at that time why the three countries of East Asia are so similar and yet have such poor relations with each other. So after returning to Japan, I entered GraSPP so that I could learn about security issues in East Asia.
― You're going to study in China soon, aren't you?
Yes. It's sad to be spending time away from my friends, but I'm also looking forward to it. I like the experience of living in another country with a different culture and customs. Territorial issues have been studied by many researchers yet remain very difficult to solve. So I'm trying to learn widely about politics and economics now so that I can look at the territorial issues from lots of different perspectives, in the hope that I can make some small contribution to them in the future. If I'm going to do it I want to be at the top – you should set your targets high, so I'm aiming to be the secretary general of the UN! (Laughs)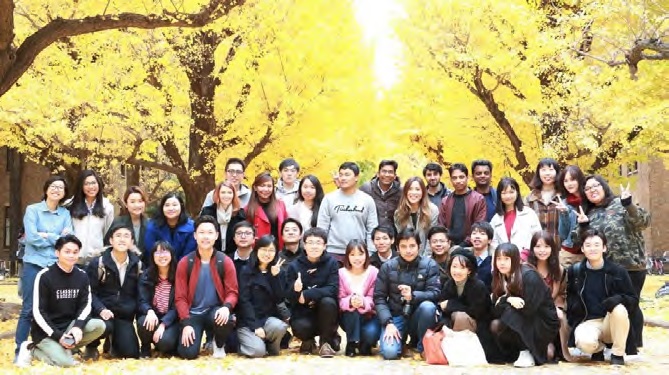 With her classmates at Hongo Campus. Jiezel on the left.