You came to GraSPP from the Japan Self Defense Forces (SDF)?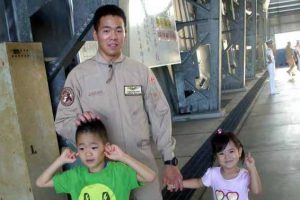 Yes. I am in the Japan Maritime Self Defense Force (JMSDF). I've spent most of my time in the Fleet Air Wings. I always wanted to be a pilot and found out about the opportunity of flying with the SDF while looking for a job.
After joining up, I studied at the JMSDF's Officer Candidate School at Etajima (Hiroshima). My year was made up of students who had graduated from either university or from the National Defense Academy, about 100 from each. After graduating, I spent about half a year on an Overseas Training Cruise. We visited Hawaii, San Diego on the US west coast, Mexico, El Salvador, Peru, Chile, Tahiti, New Zealand, Australia, Malaysia, and South Korea. Our final port of call, South Korea, had never had an Overseas Training Cruise visit before and we were finally able to mingle with peers of South Korea. El Salvador in particular left a strong impression. Due to the country's unstable public order, the trip to our training ground turned into a grand convoy with an escort of police and soldiers. My first son was born while I was sailing off the American west coast. I remember how, when I arrived back safely at Harumi, Tokyo, I made him start crying loudly on what should have been my emotional first sight of him!
Although I wanted to be a pilot, I ended up as a tactical coordinator (TACO) for P-3C patrol planes. After flight navigator training at the Ozuki (Yamaguchi) and Shimofusa (Chiba) bases, I was stationed at Naha (Okinawa), and then Atsugi (Kanagawa) bases. For four months in 2013, I was in Djibouti participating in anti-piracy activities in the ocean off Somalia and in the Gulf of Aden. As Djibouti has the first operational facility for the SDF outside Japan, we had many visits by observers and VIPs from various countries. My responsibilities
included dealing with and supporting these visitors. I had an exciting time in Djibouti, including opening a judo gym for the local people, putting on the Okinawa Eisa folk dance as part of cultural exchange, and interacting with the military facilities of other countries. Although thought of as a Muslim country, Djibouti is secular and has excellent wine and food, the latter a result of being a former French colony. It was a very fulfilling time with less on-the-ground work to do than in Japan, allowing us to focus on operational flights as well as providing ample opportunity for exercise and training.
How does it feel coming back to a student lifestyle?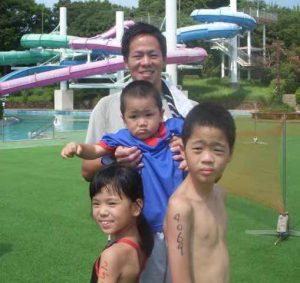 I am the first person to come to GraSPP from the SDF. Having been given the opportunity, I am sitting in on as many courses as I can over and above those I am doing for credits. I have set myself a target of taking all of the courses on area politics, whether as part of my degree or not. Actually, I have set a rule of not giving up on any of the courses I have introduced myself to at the beginning however tough they get. For better or worse, a background like mine means you tend to stick in people's mind. If I don't show up for the next class, they will think that "the SDF guy has given up!" To finish up as a graduate school student, I am writing a thesis. I have asked Professor Kiichi Fujiwara to be my supervisor and I am writing it on the changes in NATO before and after the Ukraine crisis.
I try to spend my weekends with my children. A positive side effect of seeing their father hunched over his studies at home seems to be that the children come to think that they too should study. At the moment we are all working toward passing the Kanji Aptitude Test so we can get a family certificate for it. Recently, we have also been training for the kids' triathlon.
I want them to grow up as strong human beings able to take on both the academic and sporting sides of life without succumbing to the challenges.