Inspiring Myself with the GraSPP Network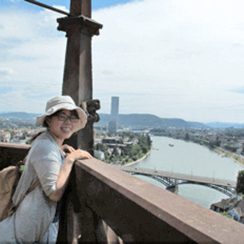 Tomoko Akao Muth
Public Management Program
Class of 2008
In March 2016, I moved to Basel, the third largest city in Switzerland, to get married to a Swiss man I met ten months before, leaving Tokyo, where I had lived for thirty-four years. Although it was difficult for me to be away from my dear family and friends, I chose to create a new family.
I had to put away my academics and career for a while. Having graduated from the Faculty of Law at the University of Tokyo, gone on to GraSPP and worked at one of Japan's leading newspapers for eight years, the move I made was drastic. My classmates at GraSPP have fantastic careers. They're busy working for the country and the people of Japan or on rather hectic overseas business trips for international organizations. Some of them have started their own companies and opened up a lot of business opportunities. The impressive faculty lineup includes many opinion leaders who assume a heavy responsibility at various capacities. They're also frequently asked for comments by the media. We always talk up a storm about politics and economics at our reunions. The network of contacts that I have built though GraSPP has been an inspiration for my life both personally and professionally. To be honest, I felt a great deal of anxiety that I might feel inferior on my next meeting with them after giving up my title and becoming a housewife.
However, on the other hand, I was proud that I don't lose my sense, no matter the situation. That was because of the network I had built. In fact, I often see Facebook posts from my friends and acquaintances telling of their recent successes or what they have been up to in real time. I can't just make self-deprecating posts. Since I was a journalist in the past, I have always wanted to write and report about differences between cultures, which I experienced through living in Switzerland. I have my fellow classmates that are happy to see me when I return temporarily to Japan because I stay connected with them, and that's what keeps me motivated to work.
I'm thankful enough for what the social media have done to make it possible, but I believe there are some other reasons why I'm able to keep connected with my GraSPP classmates. I enrolled at GraSPP in 2006, the third year of the school's existence. Since there had been no graduates yet when I was accepted into the school, I did not know exactly what kind of job opportunities I would have after a graduating. When I was on campus, I used to go back and forth between Administration Bureau Building 2, the School of Law Building and the Faculty of Economics. Professor Akira Morita, the first Dean of GraSPP, was having lunch meetings with students to improve the studying environment. It was a period you might call the early days of GraSPP. I feel like we all shared a spirit of determination to make GraSPP into something and make it widely known, although no one has said that. There was also a little bit of a feeling halfway between rivalry and inferiority to law school students studying upstairs. You rarely come across so many friends and associates with whom you can share such distinctive feelings in your life.
The classes the school offered were all fascinating for me, as my initial goal was to work for the government. Both active and former government officials gave lectures by sharing their experiences and different perspectives on topical issues. As part of the classes, I developed a reform plan for the social security system and actually wrote the text of a law. Another example of the classes is one where we arrange appointments for interviews with experts and write articles. As the school is known to offer practical training, the classes consisted essentially of practical exercises, all of which were beyond my expectations.
However, I realized that the policy making process was much more complicated, dynamic and raw in reality after becoming a journalist. I don't know how many times I wanted to take those classes again and bombard professors with questions. Even after graduating, GraSPP can really enrich my life by keeping me in touch with professors and fellow students.
If I had continued working as a reporter for another few years, many fellow classmates who are now government officials would have been promoted to the level of division chief. Some of them might have become vice ministers or powerful politicians 30 years later, and I could have gotten all the exclusive information I wanted from them. Part of me feels a kind of regret about quitting, but I knew I could do something in my new set-up. Fortunately, I got a job as a reporter and editor for a website that provides Swiss news in Japanese. What I wanted to do as a Japanese person living in Switzerland was to report on various economic and financial issues that are common to both Switzerland and Japan, such as aging and breaking with nuclear power. It may not be anything sensational, but it's certainly worth doing. More importantly, I can still pursue a career in the media while securing sufficient time for my family. I think it's quite a favorable and luxurious environment for me.
Lastly, I was asked to give advice to young students, but I have found it difficult to come up with things to tell them, who are much better students and more promising than I was. Instead, I would like to ask you to be involved in the alumni association (Tatsuoka Kai) as much as possible and its events in order to keep it active. Being a staff member is wonderful, but just participating in the events or replying quickly to a name list renewal notice will be extremely helpful. If you happen to see me at those events, please feel free to say hello, and I will appreciate getting to know what you're studying or what line of work you're pursuing.
Swissinfo.ch https://www.swissinfo.ch/jpn
(October 3, 2017)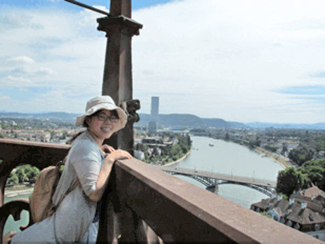 Overlooking the Rhine from the Basel Minister (July 2016)