During my master's degree at The Australian National University, I was informed of the opportunity to participate in a newly-established Double Degree Program with GraSPP. I applied after considering both the quality of staff and the relevance of the subjects to my areas and was accepted into the Program for 2018. I first noticed that the GraSPP administration greatly facilitated the complicated process of preparing to live in another country through always being responsive and understanding.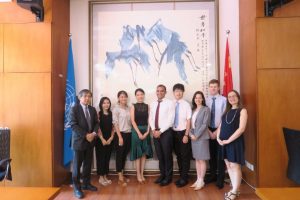 In entering the program, I quickly found I could easily fit into the welcoming GraSPP student community coming from both within Japan and around the world. I also realised that the school not only met my expectations of excellent staff and course papers, but it had another quality with the many opportunities available at such a highly-connected institution.
I joined a group of enthusiastic students for the International Field Workshop in August, travelling to Beijing, Delhi and Bangalore to discuss policy issues and our fields of interest with actors at the forefront of policy making in the region. These actors were all interested in us as students and encouraged us to share our opinions and ideas which I found to be exceptionally valuable.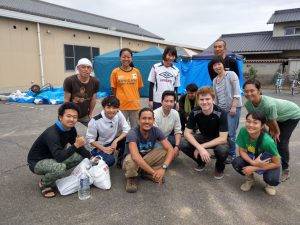 Soon after this trip, I joined other students in the West Flooding International Student Volunteer Program and travelled to the Okayama prefecture to lend our efforts and learn about initiatives in flood recovery and management. On our return to Tokyo, we were able to discuss our shared experiences with the students from the ASEAN, Central and South Asian Youth Mission to Japan to learn from each other on solving these issues.
The highlight of my second semester was a trip to Vietnam, where I took part in the 2018 Vietnam-Japan Policy Research Forum and presented in a workshop at the Central Institute of Economic Management.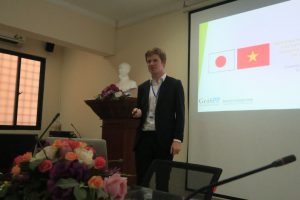 This was a highly meaningful experience that substantially contributed to my interest area in cross-country collaboration.
Finally, I had the opportunity to intern at the Asian Development Bank Institute, through which I have been able to gain a highly rewarding experience for my future career through assisting research projects and experiencing an environment of a top global think tank.
None of these activities would have been possible without the assistance of GraSPP, and I have found them all to be highly organized and prepared. Additionally, between these opportunities have been the fulfilling day-to-day experiences of enjoying life in Tokyo with the other students, travelling around Japan, and having many lively classroom discussions through the semester. I have found my action-packed year to be extremely fruitful for my career path and myself and feel incredibly grateful for the continued support from the professors and administration staff at GraSPP throughout my time in Japan.