As the world continues to deal with the fallout from the COVID-19 pandemic, we find ourselves in the middle of a paradigm shift that could upend the global order and rewrite human history for the foreseeable future. In these uncertain times, I can't think of a more important moment to pursue an education that can equip the next generation of analysts and practitioners with the tools necessary to seek proactive policy solutions and to strengthen cooperation across countries and continents in the face of unprecedented challenges. As I reflect on my time at GraSPP and the ways my experience has informed my career, I believe that the classes and learning environment provided by the program offer the ideal atmosphere for this kind of development.
After several years working as a news producer covering U.S. politics, I decided to pursue a graduate degree in order to deepen my understanding of international relations and public policy with a focus on Asia, making the program at GraSPP a natural fit. The coursework pushed me to sharpen my analytic skills and pursue new areas of study covering the breadth of topics relevant to public policy, from fundamental economic principles and policy negotiation tactics to the complexities of the social, diplomatic, and security challenges facing international society. GraSPP also brings together students from across Asia and around the world, giving me the opportunity to build a personal and professional network that spans the globe.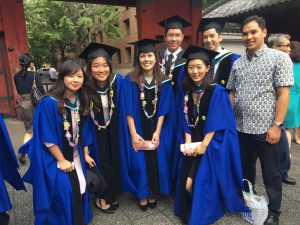 I can confidently say that my studies at GraSPP provided the platform for me to take the next step in my career. Since graduating in 2018, I have worked as Chief Editor of the English website at the Sasakawa Peace Foundation (SPF), a public interest foundation in Tokyo dedicated to confronting global challenges through research and collaborative projects with international partners. Many of the topics featured by specialists in the foundation directly mirror my studies at GraSPP, including efforts to bolster Japan-U.S. relations and people-to-people connections, analysis of emerging security challenges in Japan and around the world, as well as conflict resolution and peacebuilding, just to name a few.
As a member of the public relations team, I coordinate with specialists across the different departments to report on the projects and events organized by SPF as well as conduct interviews with many of the academics, activists, and politicians that work with the foundation. These tasks require me to call upon the full toolkit of knowledge I acquired at GraSPP on a daily basis, not only the theoretical context that grounds many of the subjects covered by the foundation but also strategies for academic inquiry.
In many ways the world today seems unrecognizable to the world when I initially entered GraSPP in 2016. However, based on my experience I would encourage others to take advantage of the opportunities provided by this program to confront the range of challenges facing the global community.
*Thumbnail photo: Photo courtesy of the Sasakawa Peace Foundation