The public policy of the government affects all aspects of our daily lives. The world is constantly changing and this has increased the movement towards the greater use of policy design and implementation. Now we are facing a very rare disaster, the coronavirus pandemic, which has spread all over the world with alarming speed and infected millions of people. No country is spared from this crisis. We have seen the magnitude of its effects on the global economy, which is unlike anything that we have experienced before. Governments are implementing policies to contain the pandemic while struggling to maintain the economic activities of their countries. It makes me realize that our role as public servants is now more important than ever in sharing rapid and transparent information, elevating awareness, strategizing and planning amidst the chaos of containing the spread of the virus, saving lives, ensuring social protections, and sustaining economies.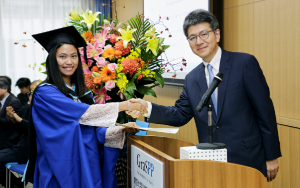 Studying at GraSPP has broadened my knowledge in economics, public policy, and the developmental issues of countries. I graduated from GraSPP in 2018. Being a diplomat, my job requires me to be familiar with subjects like non-traditional and traditional security issues, human rights, climate change, etc. These requirements became a driving force for my pursuit of further study in public policy, which can cover a wide range of disciplines. As I was working in the ASEAN Affairs Department of the Ministry of Foreign Affairs in Myanmar, I preferred to study in one of its partner countries and at a prestigious university in Asia. Therefore, I chose MPP/IP at GraSPP at the University of Tokyo, which has cutting-edge research capacity with high-profile faculty members who are world-leading academics and practitioners in the public policy field.
At GraSPP, I got the opportunity to study more in-depth on subjects of interest to me that also support my current career. As public policy is a broad subject, I was also able to learn different fields such as politics and international relations, cybersecurity, energy, finance, etc. This knowledge is very useful and efficient in my career, as it is applicable to the future of policy making in my country. Long before my study at GraSPP, I always wanted to learn more about ethnicity, conflict issues, and other subjects related to conflict study as Myanmar is a country that has suffered from long-standing civil war and ethnic conflicts. Our government is also prioritizing building peace in the country to end the decades-long conflicts of Myanmar. Therefore, during my study at GraSPP, I focused on the courses that were related to peace building and conflict prevention. It was a great opportunity for me to study all of these subjects at GraSPP, as they are useful for my career and for the problem solving of my country. Upon graduation, I came back and resumed my diplomatic career in Myanmar. The knowledge, proficiency, and experience I acquired at GraSPP has sharpened my thinking, understanding of policy making, and research and problem-solving skills in my profession.
GraSPP gives us the opportunity to study a wide range of interesting subjects depending on our preferences and helps us sharpen our ability to identify issues and challenges of the public policy field. It is also partnered with other prestigious universities around the world. We can communicate and study together with students from these partner universities in projects and case studies through online communication in classes. Meeting with not only the Japanese students but also other international students who come from different countries, different fields, and different cultural backgrounds is also an incredible learning experience at the University of Tokyo.
Therefore, I would like to recommend those who are interested in studying public policy to try the MPP/IP programme, as it will provide you a great learning opportunity to advance your skills and profession. I can assure you that you will never regret studying at GraSPP.